Press Release
Cook County RNs to hold one-day strike over staffing concerns that could jeopardize patient care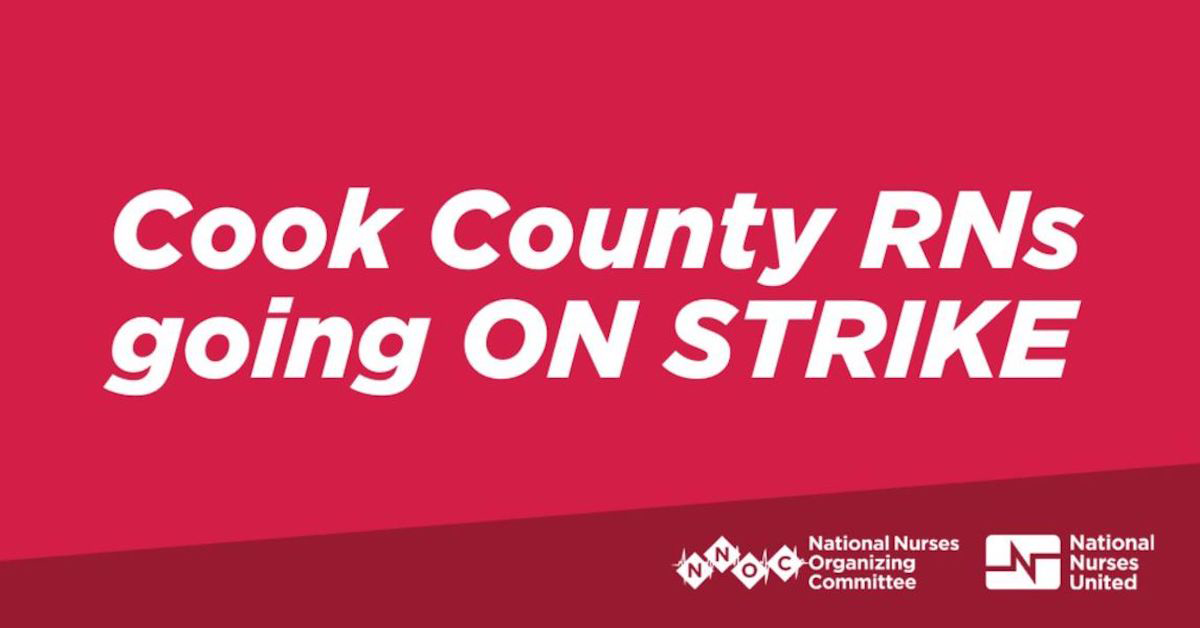 Registered nurses represented by National Nurses Organizing Committee (NNOC) who work at Cook County Health will hold a one-day strike Thursday, June 24, 2021. The strike comes after negotiations at the bargaining table failed to adequately address the persistent lack of nursing staff throughout the Cook County Health system, which is eroding patient care, announced NNOC/National Nurses United.
"We are working with a skeletal staff throughout our hospital," said Martese Chism, a registered nurse and board member of National Nurses Organizing Committee. "We have far too few nurses working in our hospitals and clinics and we have witnessed a reduction of services over the last 10 years that have left many patients with few – if any – options. These reductions in services mean that care is delayed or missed entirely and people become sicker and have poorer outcomes. Cook County must address our staffing crisis now."
What: Cook County one-day strike and picket lines

Where

: Stroger Hospital

   1969 W Ogden Ave, Chicago
   Provident Hospital
   500 E 51st St, Chicago
   Cermak Health Services
   2800 S California Ave, Chicago

When

: Thursday, June 24,

   8 a.m. to 10 a.m.
   1 a.m. to 1 p.m.
   2 p.m. to 4 p.m.
Picket times are for all three locations
Nurses will hold a virtual rally at 6 p.m. The press and community members can access the rally on National Nurses United's Facebook page.
"Every day, we see nurses leave our hospital because they are so frustrated with the lack of resources and their inability to provide the kind of care they are committed to giving their patients," said Consuelo Vargas, an emergency room nurse. "When an experienced nurse walks out the door, they take with them years of skill and expertise that are critical in caring for our patients and mentoring other nurses. We must address our staffing issues in order to retain and recruit experienced nurses."
Vargas notes that Cook County's own staffing guidelines say there should be 35 nurses in the emergency room at Stroger Hospital at the start of each day, but on their best days they have only 30 and more often only 22 to 25.
These kinds of staffing failures are rampant throughout the hospital and the Cook County system. Records show that in 2019, Cook County Health failed to staff at least one unit at Stroger Hospital according to its own staffing guidelines 244 days of the year or 67 percent of the days. From January through May 2021, the hospital had at least one unit out of compliance with the staffing guidelines 50 percent of the days.
Nurses say that, in the long term, lack of staffing negatively impacts patient care. Numerous studies show that higher patient assignments over time have been linked to a higher risk of preventable medical errors, avoidable complications, falls and injuries, pressure sores, increased length of stay, readmissions, and higher death rates.
"Our patients are unnecessarily put at risk every day because we are not given the resources and staff necessary to do our jobs," said Falguni Dave, a registered nurse at Stroger Hospital. "As chair of the staffing committee, we conducted an audit to see how many nurses we would need to safely staff the hospital and provide optimal patient care. Per our analysis, we would need to add hundreds of additional positions across the system. We have been starved of resources for far too long and we are fed up. Our patients deserve better."
"Our clinics aren't staffed to answer our patients' calls and our patients pay for this with increased hospital stays and terrible damage to their bodies," said Devin O'Neal, a registered nurse who works in an endocrinology clinic. "We have hundreds and hundreds of calls coming into the system every day from patients who can't get their insulin and they don't know what to do. When we can't answer those calls or messages, that patient continues to go without insulin. When that happens, our patients eventually end up back in the ER and maybe the ICU. We are striking today to get our patients the resources and care they deserve."
Nurses say the lack of staffing leads to operations being canceled on a daily basis, and some patients have had their surgery canceled and rescheduled several times.
NNOC/NNU represents 1,250 nurses throughout Cook County Health.
National Nurses Organizing Committee is a national union and professional organization for registered nurses, advance practice nurses, and RN organizations who want to pursue a more powerful agenda of advocacy, promoting the interests of patients, direct care nurses, and RN professional practice. NNOC was launched by the California Nurses Association, and together with CNA belongs to National Nurses United.