Press Release
Contra Costa County Nurses, Nurse Practitioners to Picket Thurs. Sept. 13, Citing Safe Patient Care Concerns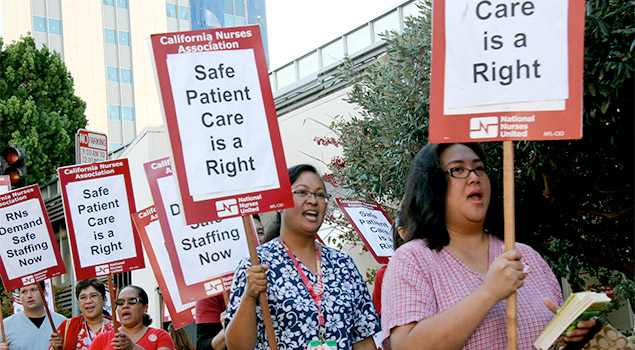 RNs, NPs Demand County Address Conditions Causing Mass Turnover of Experienced Nurses
Contra Costa County registered nurses (RNs) and nurse practitioners (NPs) will be holding an informational picket, Thursday, Sept. 13 at Contra Costa County Medical Center to highlight con­cerns about patient safety, unsafe staffing and overall poor working conditions at Contra Costa County, the California Nurses Association announced today.
"We serve the most vulnerable patients in our county, and with the closure of Doctors Medical Center of San Pablo in 2015, our community hospital has been the primary source of care for these patients," said Rosalind "Roz" Walker, RN. "We cannot stand by while the county fails to provide the patient care conditions that our community deserves—and also fails to address a working environment that causes experienced nurses to leave for surrounding facilities. We demand a county health system that work for patients and nurses!"
What: RN, NP Picket for Safe Patient Care, Safe Staffing
Where: Contra Costa County Medical Center
2500 Alhambra Ave, Martinez, CA (in front of the hospital)
When: Thursday, Sept. 13, 2 p.m. to 4 p.m.
Over the years, say nurses, Contra Costa County Medical Center has been unable to retain qualified registered nurses and nurse practitioners. Specifically, 146 RNs and NPs in 2016 and 140 RNs and NPs in 2017 left Contra Costa County for other hospitals—for a total of al­most 300 RNs and NPs in two years. As of December 12, 2017 there were 137 vacant RN and NP positions Countywide.
According to nurses, the mass exodus is the result of poor working conditions, patient safety, and unsafe staffing. Nurses at Contra Costa County are uniting to achieve a fair contract that addresses these concerns—and say community support is key in ensuring the county is held accountable for resolving these critical issues.
"As RNs and NPs, it's our job to advocate for our patients, and we will always speak up for them," said Vicky Davidson, RN. "We invite the community to come out and stand with us on Thursday, to say that In order to resolve the recruitment and retention problem, Contra Costa County must be compet­itive with other hospitals and must make a conscious effort to improve the unsafe staffing situa­tion that currently exists within the system. The only way to make that possible is to take action!"
The California Nurses Association has 100,000 members statewide and is affiliated with National Nurses United, the largest and fastest growing union of RNs in the nation. CNA/NNU has won landmark health and safety protections for nurses and patients in the areas of staffing, safe patient handling, infectious disease and workplace violence protection.