Press Release
Community Long Beach RNs Vote by 76% to Join CNA/NNU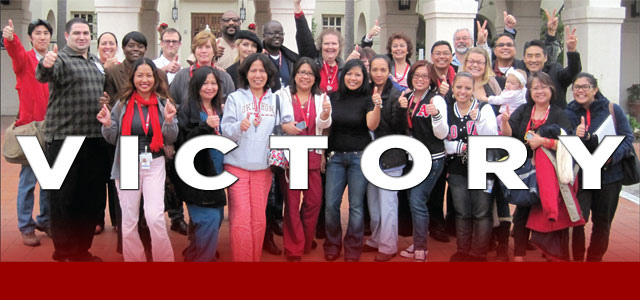 Exactly three years ago today, CNA joined with nurses from Massachusetts, Michigan, Minnesota, Washington DC, and a number of other states to form the largest organization of nurses in U.S. history.

A key goal of that unification was the pledge to bring union representation to the tens of thousands of unrepresented registered nurses across the U.S. – a task which CNA and NNU have been actively pursuing.

Another step on that path was taken today with the vote this morning by RNs at Community Hospital Long Beach to join CNA, as well as to link arms with their CNA-represented colleagues at Long Beach Memorial Medical Center, like Community part of the Memorial Care Health System based in Fountain Valley, Ca.

Overall, NNU, possibly the fastest growing union in the U.S., has won representation elections for more than 14,000 RNs at 38 hospitals in 11 states in the three years since its founding.

At Community Long Beach, the RNs voted by 76 percent, 94 to 30, to join CNA which will now represent 200 nurses at the hospital. The National Labor Relations Board conducted the secret ballot election.

"I am so glad we were successful at joining CNA," said Community RN Gerardine Ramos-Monton. "We built our organization in just a few weeks because we are more united than ever by our deep concern for improving patient care practices at our hospital."
 
"We are ecstatic to welcome Community RNs into our CNA and NNU family," said Long Beach Memorial RN DeAnn McEwen, RN, a co-president of CNA, vice-president of NNU.

"Today's vote reminds us of the tremendous progress we are making in our dream of uniting all RNs in the nation into a common organization that will strengthen our ability to advocate for better patient care for all patients, protect and increase professional and economic standards for nurses, and fight for economic and social justice for all Americans," said McEwen.

Long Beach Memorial RN Margie Keenan, who is also the CNA Secretary, congratulated the Community Hospital RNs on the election outcome. "We look forward to working together to promote safe patient care standards at all Long Memorial Care facilities. When RNs unite together, patients, nurses and our communities win."

In campaigning to join CNA, Community RNs said they favored a collective voice to work to achieve staffing improvements to enhance patient care, a safe lift policy to prevent patient falls and other accidents that injure patients and nurses, assurance that RNs can take meal and rest breaks without leaving patients with inadequate care, and other patient protections and strengthened standards for RNs.

Community RNs will next elect a team of RNs to represent them in talks with hospital managers for a first contract at the hospital.