Press Release
Community Health Systems faces up to $4.5 million in fines over alleged unfair labor practices toward nurses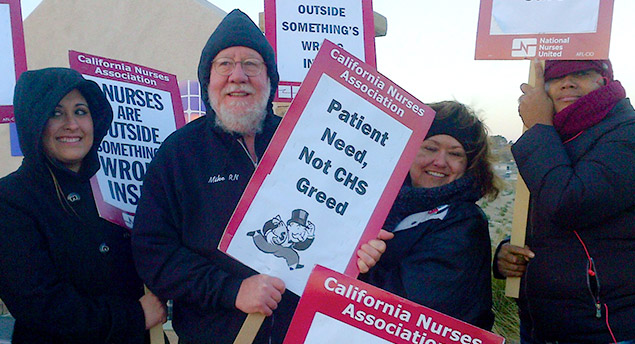 National labor board pushes CHS to intense bargaining with nurses to settle issues
One of the country's largest for-profit hospital chains, Community Health Systems (CHS), and its affiliated hospital management arm Quorum Health Corporation, are facing projected fines of up to $4.5 million dollars to settle more than 30 charges of unfair labor practices against registered nurses in West Virginia, Ohio, and California represented by their union, National Nurses Organizing Committee. The charges, which include denying RNs rate increases, reducing time off, and contracting out job classifications, have been investigated in a series of federal labor board hearings across the country. In an effort to encourage CHS to resolve many of these issues by bargaining and settling labor contracts with these nurses, the National Labor Relations Board ("NLRB") recently postponed some of those hearing dates and pushed CHS-affiliated hospitals to instead engage in 10 days of accelerated bargaining with NNOC to begin Oct. 30, a decision welcomed by nurses. 
Some 675 RNs at hospitals in Bluefield Regional Medical Center and Greenbrier Valley Medical Center in West Virginia, Affinity Medical Center in Ohio, and Barstow Community Hospital in California have been working toward a contract to address such issues as having sufficient numbers of staff to ensure patient safety, fair treatment of RNs, recruitment and retention of the RN workforce, and other patient safety issues.  Since the nurses unionized, these hospitals owned by CHS and QHC have already been found to engage in illegal activity against the nurses' efforts including retaliation against nurses who are union supporters, engaging in bad-faith bargaining, and other intimidation tactics. Now, a whole new round of allegations are being litigated by the NLRB against CHS and its affiliates. Despite these tactics, RNs in all four facilities have persisted in their fight to win fair contracts and resolve issues that they say stymie them from being able to provide the nursing care their communities deserve.
"Despite years of CHS' efforts to undermine our union, we registered nurses have stayed united and focused in our fight to address working conditions that address these patient safety concerns," said Rose Ann Wilson, an RN at Affinity Medical Center. "Any one of us could be lying in that hospital bed one day, and we want to make sure when that day comes, that nurses have the workplace respect, safe working conditions, and numbers needed to care for you and anyone else in our communities."
The NLRB has consolidated many of these unfair labor practice cases into two hearings that have been held in California, Ohio, West Virginia, and at CHS headquarters in Nashville, Tenn. The Board has given a preliminary estimate that at the conclusion of the hearings, if CHS were held responsible, it might be required to pay RNs in the various states up to $4.5 million.  
"CHS has a long history of poor behavior toward its workers who are just fighting through their union to protect themselves and their patients," said Brenda Meadwell, an RN at Bluefield Regional Medical Center. "It's high time CHS settles these contracts and not waste any more resources fighting nurses who are struggling daily to care for their patients. Justice must be served."
 Virginia Garza, an RN at Barstow Community Hospital, agreed. "Quorum should be devoting resources to ending the RN turnover at Barstow Community Hospital and all across the system, rather than diverting them to resist RNs' efforts to improve patient care," Garza said.
Bargaining will take place the week of Oct. 30 in West Virginia, then the week of Nov. 6 in Ohio and California.