Press Release
RNs at Community First issue 10-day notice for 3-day strike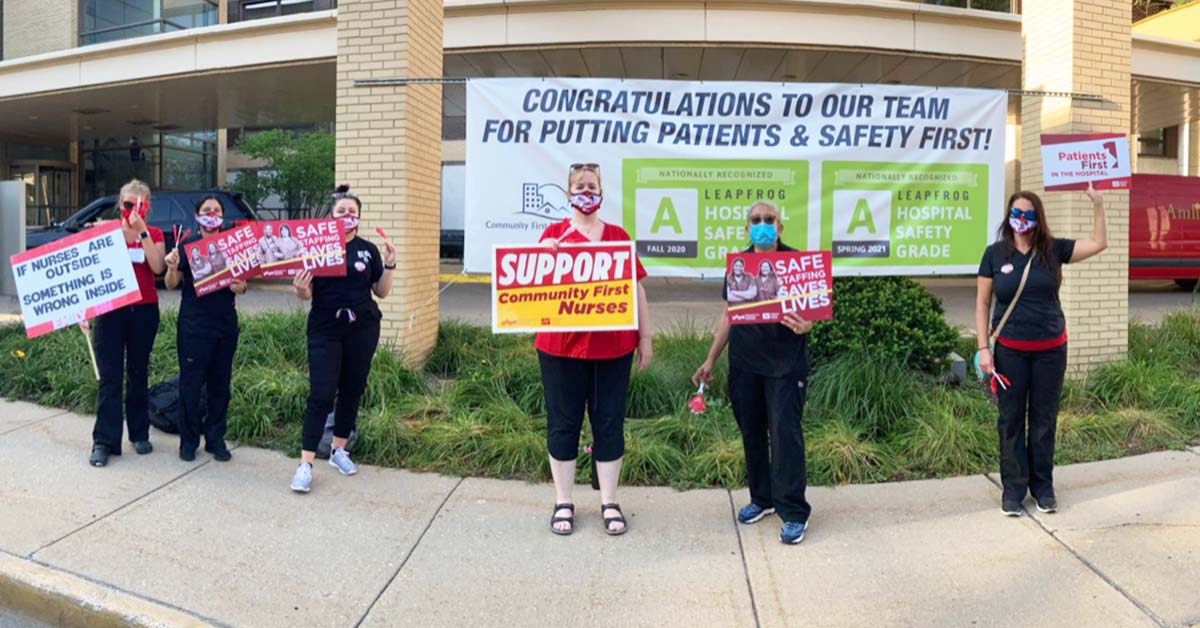 RNs charge management with unfair labor practices, cite patient safety concerns, and demand to know what happened to more than $60 million in federal grants
Registered nurses at Community First Medical Center in Chicago have issued a 10-day notice to hospital management announcing they will hold a three-day strike from Oct. 29 through Nov. 1, 2021, announced National Nurses Organizing Committee/National Nurses United (NNOC/NNU). The nurses have filed unfair labor practice charges against the hospital, charging that management has failed to engage in good faith bargaining with the union.
"As registered nurses at Community First, we are extremely concerned about the deteriorating conditions at our hospital and the failure of the owners to address persistent problems that have been exacerbated by their disregard and disrespect for nurses and the safety of our patients," said Desirae Efrosinis, an emergency department registered nurse. "The hospital is now failing to bargain in good faith and refusing to honor prior negotiated commitments. Furthermore, we are deeply troubled to learn that Community First received more than $60 million in federal Covid relief money, yet we have failed to see improvements in staffing, supplies, or other resources. We must ask, where did the millions of taxpayer dollars go?"
According to public documents, Community First Medical Center has been awarded nearly $62 million dollars in grants and more than $13 million in loans through Covid relief funding.
"It is hard to see where all that money went as we still are incredibly short-staffed, our equipment is very often broken, and we struggle to find adequate on-site resources to care for our patients," said Oleg Kurtash, RN.
Poor working conditions have led to high turnover of staff. While the hospital currently employs around 250 staff nurses, more than 300 have quit since January 2020, as so many nurses leave after just a few months. Furthermore, internal reporting shows that 25 to 40 percent of the hospital's full-time nursing positions are vacant, and the hospital is failing to hire nurses to fill these positions or to bring in temporary agency staff. The lack of nurses means that nurses are forced to care for more patients than is optimal and this puts patient safety at risk.
Three nurses died from Covid-19, and dozens of other nurses at Community First Medical Center have tested positive for Covid since the start of the pandemic. Nurses say the deaths and illnesses are linked to the lack of appropriate personal protective equipment, failure to follow OSHA-mandated rules, inadequate supplies, and inadequate staffing.
In April 2021, nurses initiated an OSHA investigation for what they charge are numerous safety and employment violations at Community First Medical Center. Nurses have also called on the Illinois Department of Public Health, the Illinois Department of Labor, and the Illinois Attorney General's office to launch investigations.
In July, RNs held a one-day unfair labor practices strike after nurses charged management with reneging on previously agreed upon proposals and seeing hospital negotiators end negotiations abruptly without cause.
Community First Medical Center is a privately owned hospital that was purchased in 2015 by Ed Green and another investor. The nurses at the hospital joined NNOC/NNU in 2019. Last year, eight emergency room physicians quit the hospital, citing patient safety concerns.
National Nurses United is the largest and fastest-growing union and professional association of registered nurses in the United States with more than 175,000 members nationwide. NNU plays a leadership role in safeguarding the health and safety of RNs and their patients and has won landmark legislation in the areas of staffing, safe patient handling, infectious disease, and workplace violence prevention.