Press Release
Community First Medical Center nurses ratify new contract with strong measures to improve patient safety and nurse retention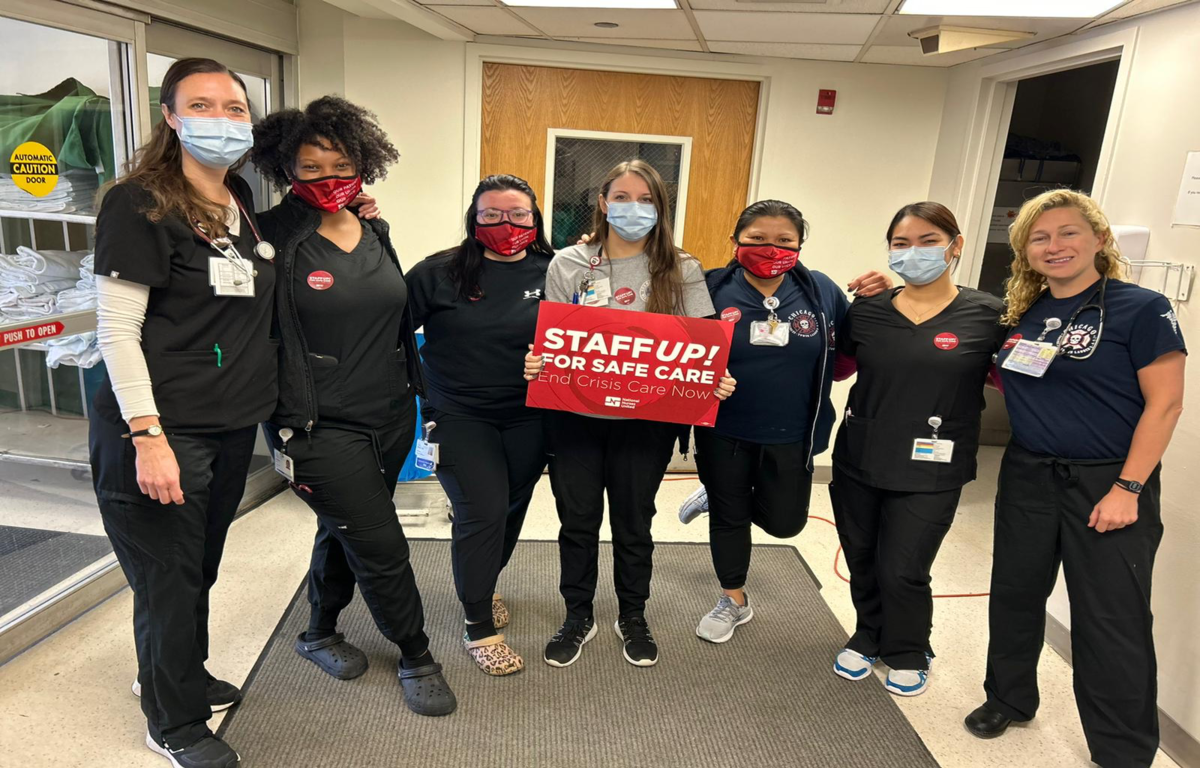 Registered nurses at Community First Medical Center in Chicago, Ill., voted overwhelmingly in favor of ratifying a new 40-month contract, winning protections to improve patient safety and nurse recruitment and retention, announced National Nurses Organizing Committee/National Nurses United (NNOC/NNU) today. 
"We are so pleased we have been able to win contract language that promotes the hiring of staff nurses who will remain at Community First and get to know our patients and our community," said Dan Sipkowski, an emergency department nurse. "We fought hard to gain language that limited the use of temporary contract nurses, and we established staffing guidelines that will allow nurses to provide more individual care to their patients. We know safe staffing leads to improved patient outcomes and our patients feeling that their needs are being met and their concerns are addressed."
Highlights of the contract include: 
Safe staffing guidelines and a formalized process for nurses to address staffing concerns and problems with management through a nursing care committee. According to the agreement, the employer will abide by staffing guidelines which outline safe nurse-to-patient ratios, limiting an individual nurse's patient load by unit to no more than two intensive care unit patients, no more than four emergency department patients, no more than four telemetry patients, and no more than five medical-surgical patients. 
Contract language that promotes a stable, committed nurse workforce by capping the number of temporary contract nurses. Nurses know the best care is provided by staff nurses who are familiar with their community, their hospital's procedures, and the expertise of other medical personnel at their facility.
Economic gains and wage structure improvements to help retain and recruit experienced nurses. The agreement includes an average 18 percent wage increase over the life of the contract.
"With the improved wage scale, we know that we will be able to better recruit and better retain RNs to better staff our floors," said Tish Ryan, a registered nurse in the cardiac catheterization lab. "These improved wages make us competitive with other hospitals in our area. We're looking forward to enforcing our newly ratified contract and securing the resources needed to provide the best patient care possible."
NNOC/NNU represents more than 185 nurses at Community First Medical Center.
---
National Nurses Organizing Committee is an affiliate of National Nurses United, the largest and fastest-growing union and professional association of registered nurses in the United States with nearly 225,000 members nationwide. NNU affiliates also include California Nurses Association, DC Nurses Association, Michigan Nurses Association, Minnesota Nurses Association, and New York State Nurses Association.