Press Release
Coalition for a Humane Hopkins to Hold an Action to Demand that Hopkins Drop Medical Lawsuits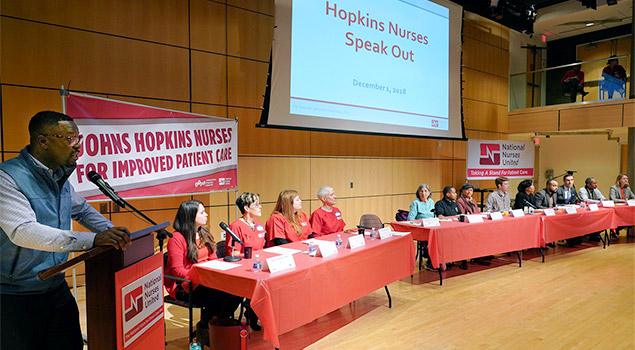 Two dozen members of the Coalition for a Humane Hopkins marched on the office of Redonda Miller, the president of Johns Hopkins Hospital, this morning to deliver a demand letter and petitions. The letter and petitions, signed by more than 1,000 people, demand that the nonprofit medical institution immediately suspend the filing of new medical debt lawsuits and drop current lawsuits against Johns Hopkins Hospital patients.
 
"As nurses we take our responsibility as patient advocates seriously and that advocacy does not end when our patients leave the hospital" said Meredith Zoltick, a registered nurse at Johns Hopkins. "We are saying enough is enough to the exploitive practice of suing low-income patients which causes unnecessary suffering, hardship, and distress and discourages people from seeking the care they need."
 
Monday's action comes as Johns Hopkins Hospital continues its legal harassment of former patient Lakesha Spence, cleaning out her bank account for the second time in just two months. Johns Hopkins seized Spence's last $152 in April, leaving her without money to care for her sick mother and young son. After that first garnishment, Spence went to court, and went public with her story. A judge ruled Johns Hopkins had to return her money, as the seizure caused an undue financial burden on Spence and her family. Johns Hopkins then filed a second writ of garnishment and Spence discovered her bank account had been emptied again last week.
 
"To think that Johns Hopkins would go after Lakesha Spence after the court already found seizing her assets would cause undue financial harm is unconscionable. This is a bully tactic designed to silence those who are seeking to change Johns Hopkins' morally abhorrent behavior," said Rev. Ty Hullinger, a pastor at three Catholic parishes in Baltimore, and member of the Coalition for a Humane Hopkins.
 
In May, National Nurses United, the AFL-CIO, and the Coalition for a Humane Hopkins released a report detailing Johns Hopkins' aggressive use of lawsuits to pursue alleged medical debt from low-income patients. In more than 400 cases, the hospital won garnishment orders of wages or seized bank accounts. In at least two cases, Johns Hopkins Hospital cleared out the last $100 from patients' bank accounts.
 
The study also found that Johns Hopkins' medical debt practices hit African American Baltimore residents particularly hard.  The 21213 zip code area, which contains the largest number of residents sued by Hopkins, is 90 percent African American and has a poverty rate nearly triple the state average.
 
"It is appalling to find out that Johns Hopkins is suing so many people from the black and brown communities instead of fulfilling its obligation as a nonprofit to provide charity care to those who are eligible for it," said Sharon Alkalay, a public school teacher and member of the Coalition for a Humane Hopkins. "These lawsuits don't seem to be about profit, but rather about maintaining the balance of power in the city, and ultimately forcing people out of their community. These lawsuits are the latest effort by Johns Hopkins Hospital to create a city that revolves around Johns Hopkins and doesn't include the black and brown communities that have been here for generations."
The Coalition for a Humane Hopkins is demanding that Johns Hopkins Hospital:
Suspend the filing of medical debt lawsuits, and drop all current medical debt lawsuits against patients.
Review prior cases in order to reimburse those patients who have been billed more than they should have paid under charity care rules.
Screen all patients for charity care eligibility at admissions and increase signage and notifications about charity care.
Remove citizenship requirement policy for charity care.
Meet with the Coalition for a Humane Hopkins to negotiate a process for implementing these demands in a transparent manner that is accountable to the community.
 
View the full report here:
Taking Neighbors to Court: Johns Hopkins Hospital Medical Debt Lawsuits