Press Release
CNA Applauds First Vote on Bill to Strengthen Public Protections in Advance of Hospital and ER Closures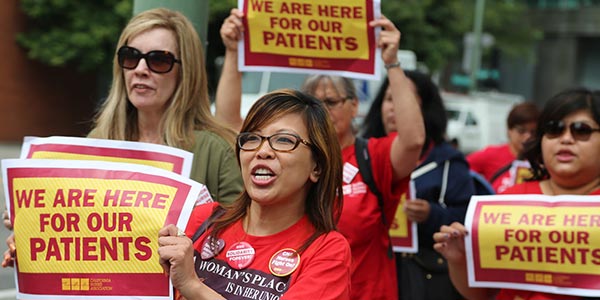 A bill to strengthen requirements for public notice and other requirements prior to hospital and emergency room closures or other major health services cuts passed its first legislative test late Tuesday afternoon in the California Assembly Health Committee.
AB 2874 by Assembly member Tony Thurmond, and sponsored by the California Nurses Association/National Nurses United would expand public notice requirements – warnings to the public – to at least 180 days before a hospital or other health facilities closures or makes other substantive cuts in services that affect communities and public safety.
Additionally, the bill would require the facility to obtain the written consent of the California Attorney General prior to closing a hospital or eliminating supplemental services, as currently required for the sale of a non-profit hospital.
"At a time when we are seeing an increasing spread of hospital and emergency room closures and elimination of vital community health services based on profit-first decisions, this bill is a critical step forward to protecting public safety," said CNA Co-President Zenei Cortez, RN.
"Hospitals are an integral part of our communities," said Thurmond Tuesday. "Because of that close relationship, hospitals are a vital part of the public interest. When choosing to close a facility or service, hospitals should be working with community residents and elected officials to ensure that all alternative solutions to closure could be discussed."
Cortez notes that hospital closures are devastating for communities which all need a local emergency room within a safe distance of their homes and schools.
In the past few weeks, for example, CNA RNs have been working with local elected officials and community leaders and activists to challenge the closure of Community Hospital Long Beach. MemorialCare, a highly profitable Southern California hospital chain, began diverting patients from CHLB's emergency room just 48 hours after announcing plans to close the hospital, and shut major hospital services with no public notice.
In Northern California, CNA RNs are also working with community leaders to stop the planned closure of Alta Bates Medical Center in Berkeley by one of California's wealthiest hospital systems, Sutter Health. That closure would leave Berkeley, a city of more than 120,000 people, with no acute care hospital, and only one small private emergency room between North Oakland and Vallejo, one of the most heavily trafficked corridors in the state.
"Hospital giants, and in some cases corporate hedge funds that buy up local hospitals, increasingly exploit or ignore existing public notice rules to make a hospital or ER closure or major reductions in critical services inevitable, and to limit public efforts to stop a closure," noted Cortez.
"Expanded public notice, and requiring approval by the Attorney General as is now needed for the sale of non-profit hospitals, also would assist community efforts to find a different operator of the hospital to protect public safety," Cortez said.
"More people than ever in California are dependent on hospital and emergency room care, due to budget cuts, reductions in health coverage by Congress and many employers, and the rise in the adverse health impact of environmental pollution and climate change, we need to be expanding critical health services, not cutting them," said Cortez. "This bill is an important component of strengthening our public safety net."