Press Release
City of Hope nurses to hold silent protest and press conference demanding patient safety improvements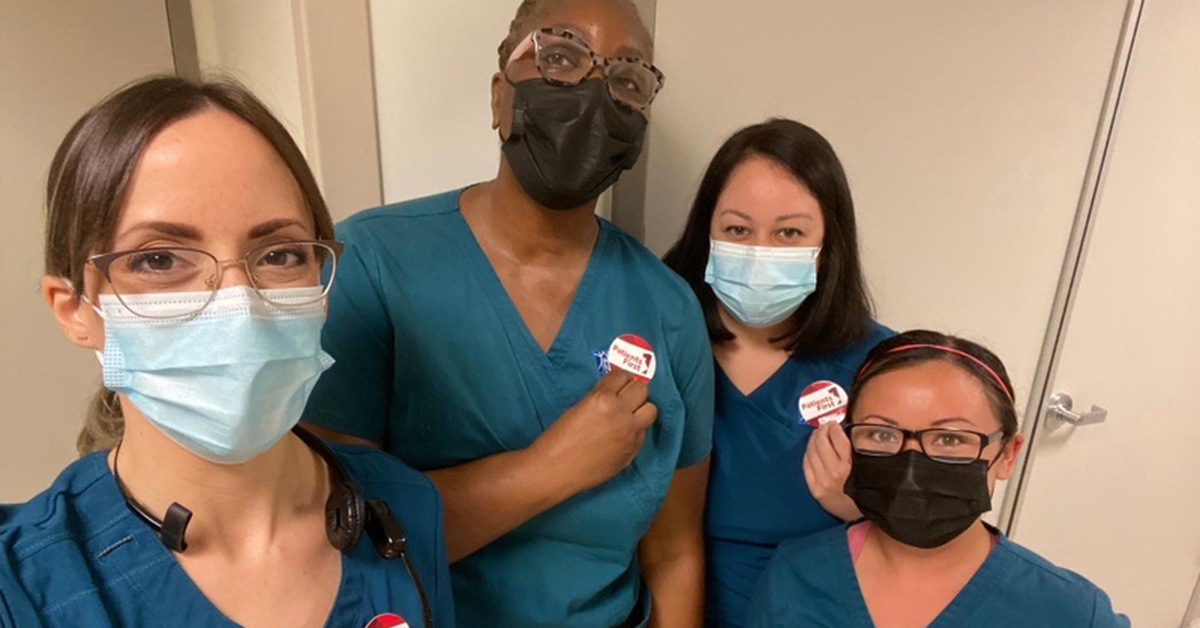 Registered nurses at City of Hope National Medical Center in Duarte, Calif., will hold a socially distant silent protest and press conference March 10 to protest the hospital administration's refusal to address RNs' ongoing patient care and safe-staffing concerns, California Nurses Association/National Nurses United (CNA/NNU) announced today.
Nurses say the hospital's failure to address critical patient safety and equipment concerns creates unnecessary risk for the immunocompromised patient population at City of Hope.
Who:

City of Hope registered nurses

What:

Silent protest for patient safety and press conference

When:

Thursday, March 10, 8:30 am – 9:00 am silent protest, 9:00 am – 10:00 am press conference

Where:

1500 E. Duarte Rd., Duarte, CA, 91010
"At the height of the pandemic, City of Hope opened a designated Covid-19 unit," said Katrina Duncan, nurse practitioner and co-chief nurse representative. "But that unit was closed, and the hospital refused to reopen the unit despite the clear need during the Omicron surge."
"Our outpatient hematology nurses are being asked to provide Covid-positive patients with blood transfusions without adequate access to necessary equipment," said Deborah Thomas, RN, nurse representative and co-chair of the facility's Professional Performance Committee.
City of Hope recently converted single-occupancy rooms into double-occupancy rooms. Nurses say that creating these double rooms is a safety concern, especially when it comes to infection control, since there is no cohorting of Covid patients. "We are happy to care for more patients when we have the staff, space, and resources to provide the highest quality of care," said Zuri Zamora, RN, a nurse representative who works in a medical/surgical unit.
A significant number of inpatient rooms are in aging buildings with malfunctioning temperature control and a history of plumbing issues (overflowing toilets, sinks, and showers). The proximity of dumpsters located outside these rooms attracts pests, causing the units to have a persistent problem with insects and rodents. "We see new construction all over campus, yet these issues go unaddressed," said Jasmine Briones, RN and co-chief nurse representative. "Our patients deserve better."
"Management has failed to staff the facility based on the acuity level of the patients," said Melody Hidalgo, RN, a nurse representative who works in the pediatrics unit. "With so many nurses out sick due to Covid and so many unfilled staffing vacancies, we are forced to carry heavier workloads."
City of Hope nurses have met with hospital leadership numerous times and have made every attempt to provide solutions to these urgent issues. But nurses say the administration continues to implement policies without front line nurse feedback.
CNA represents almost 1,400 registered nurses at City of Hope.
The California Nurses Association/National Nurses United is the largest and fastest growing union and professional association of registered nurses in the nation with 100,000 members in more than 200 facilities throughout California and more than 175,000 RNs nationwide.