Press Release
Centinela Hospital Medical Center Nurses to Picket Monday, Nov. 25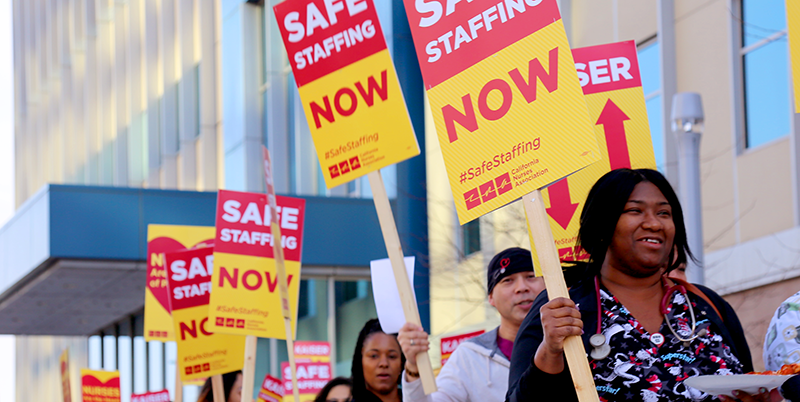 Nurses demand hospital's corporate owner, Prime Health care, stop shortchanging patients
Registered nurses at Centinela Hospital Medical Center will be holding an informational picket, Monday, Nov. 25 to highlight con­cerns about patient safety, unsafe staffing and overall poor working conditions, the California Nurses Association announced today.
"As nurses, our education and our calling is to protect our patients, but we can't do that when corners are cut on staffing," said Emergency Room RN Siraze Bawa. "We need to be able to focus on our patients—especially when they are extremely ill or injured. Prime Healthcare should be investing in staffing enough nurses to safely care for our patients and stop putting profits above people."
What: RN Picket for Safe Patient Care, Safe Staffing
Where: Centinela Hospital, 575 E. Hardly Street, Inglewood, CA 90301
When: Monday, November 25, 7 a.m. – 1 p.m.
Along with staffing, nurses say other major patient safety issues that inspired the picket are:
Nurses are required to cover colleagues' patients, due to lack of break and resource nurses, putting nurses at twice the number of patients they should be caring for according to California's safe nurse-to-patient staffing ratio law.

Due to low staffing, the Emergency Room becomes backed up and created excessive wait times.

An increased number of patients are falling or experiencing life-threatening delays in care due to ongoing short staffing, and lack of support staff and resources.

New grads with only one or two months of experience are given assignments with minimal orientation and no competencies — without any other back up RN assigned to the patients.

Patients in critical and unstable condition are left alone, and nurses are required to transport patients due to staff shortages.
Nurses say unsafe working conditions at the hospital are part of a larger trend of corporate greed on the part of Prime Healthcare, the parent company of Centinela Hospital. Prime Healthcare and Prime CEO Dr. Prem Reddy were recently, forced to enter into settlements of $65 million with the United States Department of Justice over knowingly submitting false claims to Medicare by admitting patients who required less costly, outpatient care and billing for more expensive patient diagnoses. According to nurses, Prime and Dr. Reddy are now are short changing patients at Centinela Hospital by putting their bottom line over investing in safe patient care conditions.  
Nurses say the hospital has been unable to retain experienced registered nurses, with a turnover rate of around 50 percent in recent years, due to poor working conditions and sub-par wages that are not competitive with area hospitals.
"Our patients deserve experienced nurses—and we want nothing more than to stay and take care of them.  Prime just needs to have fair compensation so that nurses don't have to go elsewhere to support their families," said Intensive Care Unit RN Monica Allen.
Nurses say the oath they take as patient advocates is what drove them to hold an informational picket.

"There's a saying, 'If nurses are outside, something is wrong inside,'" said Bawa. "We're holding this informational picket to inform the community about unsafe staffing and overall poor working conditions at Centinela. We're asking them to stand with us in demanding change because that's what our patients deserve."