Press Release
As Carr Fire Rages Out of Control, CNA/NNU Nurses are Both Heroes and Victims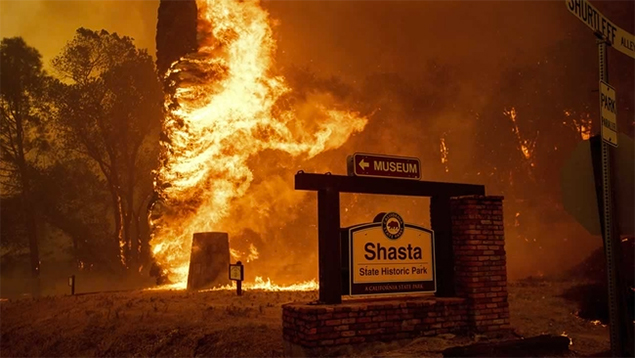 The Carr fire sweeping through Redding has affected hundreds of nurses in the Redding area. California Nurses Association/National Nurses United represents registered nurses at the two main hospitals in Shasta County, Shasta Regional Medical Center and Mercy Medical Center Redding.
The blaze, which has consumed nearly 95,000 acres, has been particularly harrowing for Kari Williams, a Neonatal Intensive Care Unit (NICU) nurse who works at Mercy Medical Center.
"When I was a child we lost our house to a fire. After that I had night terrors. Fire or smoke just sent me over the edge, " says Williams.
For Williams, the terror is back. Her neighborhood was evacuated on Thursday. "We lost power. It was completely dark. There was no law enforcement, no one directing traffic. I was just pulling pictures off of the wall in the dark, clothes out of the closet. I had no idea what I was taking."
Later Williams found out that her house was safe. "We were covered in ash. When I looked in the side yard of our house, I saw the burnt page from a children's book that had flown there from the fire zone a few miles away."
Unpredictable winds have shifted the direction of the fire repeatedly during the onslaught. "One day fires are burning in one direction and later in another," says Williams, who believes that the climate crisis is a factor in the blaze. "Everything is so dry. This is the worst fire we've ever had."
Williams wasn't in the NICU the day that RNs and other caregivers evacuated five babies from Mercy Medical Center, but she says she knows why it went so smoothly. She says she is part of a team comprised of impressive RNs, some of whom have worked there for twenty or thirty years.
"We've been together a long time. We have good teamwork, good communication, " Williams says. "I know that everyone pitched in to get those babies out safely."
CNA/NNU has been monitoring the situation in Redding, with union staff in constant contact with CNA/NNU members, as well as members of its sister union, Caregivers and Healthcare Employees Union (CHEU). Many have been evacuated; some have lost their homes to the blaze. Staff heard from one nurse who was organizing a call list to make sure her hospital was staffed in case of more evacuations. She also said that a plan to evacuate high-risk ICU patients was ready to go at Mercy Medical Center if needed.
RNs' dedication to their patients despite their personal risks and struggles has been impressive.
Latest reports indicate that over 800 structures have been lost, and over 650 homes are among the structures destroyed by fire. Over 38,000 people are under evacuation orders, and over 5,000 structures continue to be threatened by the inferno.
Calfire has deemed not just the fire itself, but the fire's behavior, as "extreme."
Michelle Gaffney, ICU RN at Shasta Regional Medical Center, would agree. Like Williams, she believes that the climate crisis is partly responsible for the fire. As the fire progressed, Gaffney called on NNU's RN Response Network to monitor conditions because just months ago she attended an RNRN training sponsored by CNA/NNU that talked about what to expect as environmental crises continue and climate change worsens.
"You can't deny the connection," says Gaffney. "None of us have ever seen anything like this. I think climate change is pretty obvious." Gaffney says that SRMC has not had to evacuate any ICU patients, and they are ready to accept critically ill patients as needed. She's also aware that things are likely to get worse as the fire progresses. "We just saw on the news that there are home health and hospice patients who may have been displaced by the fire. That means we're probably going to get very busy in the near future."
Gaffney was evacuated from her own home on Thursday, and she is currently residing with friends south of Redding.
CNA/NNU Executive Director Bonnie Castillo, RN, issued a statement to nurses in Shasta County, saying, "We are researching how best to provide support to our members and to the community at large during this devastating crisis. Our hearts go out to everyone affected. We know that RNs and other caregivers are tireless advocates working at the center of every disaster, even when the crisis affects them. They deserve our greatest respect."
The California Nurses Association represents nearly 100,000 nurses in the state, as part of National Nurses United, the largest union of RNs in the U.S.