Press Release
Carondelet St. Mary's and St. Joseph's nurses to hold car procession to urge hospitals to provide optimal staffing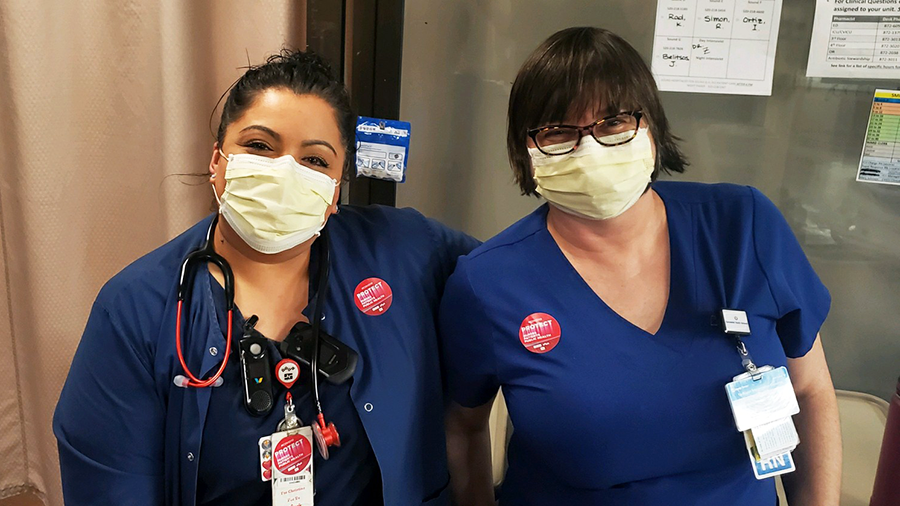 Tucson, Ariz. — NNOC/NNU-represented registered nurses will hold a car procession honk-a-thon on Tuesday, Jan. 12 at 8:15 a.m., to urge their hospitals to provide optimal staffing and alert the community of the current public health crisis in Arizona. In recent days, Arizona has become the hot spot for coronavirus infections with record numbers being recorded each day. As of Sunday, Pima County saw 1,555 new cases and 44 deaths.
In times of this pandemic hospitals should be providing optimal staffing so nurses may provide the highest level of quality patient care. Where nurses typically in an ICU would have two patients, they are now tasked to care for three critically-ill patients. This situation is playing out throughout the hospitals with nurses taking on additional patients. Additionally, nurses are being floated to work in units where they have no prior competency in, and already exhausted critical care nurses are being mandated to work additional shifts to provide care for patients.
"In the ICU, we typically have two patients maximum and when you add on a third patient that means we have less time with each patient who are all in critical conditions," said Christine Valenzuela, an ICU RN at St. Mary's's Hospital.
Nurses are seeing the trauma of the pandemic daily and urge the community to stay home and only leave for essential reasons, wear masks and practice social distancing.  Nurses want to be able provide optimal patient care and unless the community does its part in curbing the number of infections this will make it difficult for them.
What: Nurses to hold car procession honk-a-thon in Tucson, Arizona
When: Tuesday, Jan. 12 at 8:15 a.m., to 9 a.m.
Where: Procession starts at St. Mary's Hospital on N. Silverbell Road
St. Joseph's nurses will travel to St. Mary's as part of the procession.
NNOC/NNU represents more than 800 nurses at Carondelet St. Mary's and St. Joseph's Hospital.