Press Release
California Single Payer Bill SB 562 Takes Another Step Forward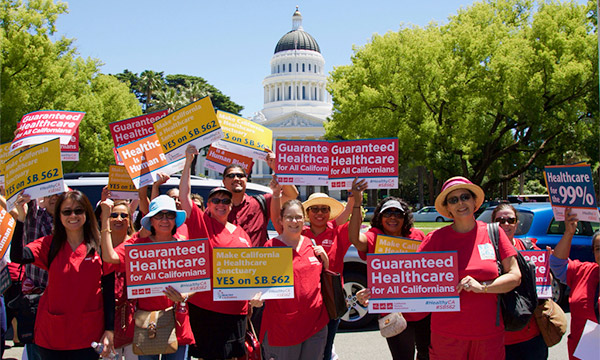 SB 562, the Healthy California Act, took another step forward in the California legislature Monday in a hearing by the state Senate Appropriations Committee and appears headed to a full vote on the Senate floor by early June. The Appropriations Committee will formally vote on the bill Thursday.
The bill would establish an improved Medicare for all type system in California. It would deliver full health coverage for all Californians, without the devastating deductibles and co-pays that prompt many to ration care, and ensure real patient choice.
In introducing the bill to the Appropriations committee, which focuses on costs, SB 562 co-author Sen. Ricardo Lara noted how current healthcare spending consumes 14 percent of the state's gross domestic product. "Health care spending is growing faster than the overall economy, and by 2025 will be 20 percent of national GDP.
Today, Americans pay more than any industrialized nation for health care, almost $10,000 per person. Yet we do not have better health outcomes and we cover fewer people," said Lara.
The threat of repeal of the ACA by Congress and the Trump Administration would further exacerbate the health crisis for many, making SB 562 even more timely.
New data released May 18 published by The Lancet found that the U.S. ranks a paltry 35th out of 195 countries surveyed when assessing deaths that could have potentially been avoided by timely and effective care. The researches examined 32 causes of death.
Christopher Murray, a University of Washington researcher who worked on the study, told the Washington Post that "having a strong economy" or "great medical technology… does not guarantee good health care." 
As to the financing mechanism for the system proposed by SB 562, Lara explained "we currently have a financing study underway by researchers at the University of Massachusetts Amherst" that "will identify potential funding sources and savings that will allow California to reach universal coverage" and be made public when completed.
But there are a number of savings that will accrue, said both Lara and Michael Lighty, policy director for the California Nurses Association/National Nurses United, lead sponsor of the bill.
"This bill proposes to clamp down on healthcare costs in several ways," said Lara. That includes eliminating the insurance industry's administrative costs, waste, and profit, pooling health care funds in a publicly-run fund, (to) get the bargaining power of the seventh largest economy in the world," and ensuring that "all Californians will have access to full scope care and preventative services."
Family coverage premiums have skyrocketed by 234 percent in California since 2002, and the costs are significantly higher than the national average, Lighty testified. 
Meanwhile, insurance companies in California have racked up nearly $27 billion in profits since 2011, according to the California Department of Managed Care, and employ over 100 executives with annual compensation packages over $100 million.
"The present system is not sustainable despite the gains of the Affordable Care Act," and has even become dependent on taxpayer subsidies to private insurers, said Lighty.
A 2016 UCLA Center for Health Policy Research analysis noted 71 percent of health care expenditures in California are paid for with public funds, Lighty noted.
"Yet we're not getting our money's worth" given the massive administrative waste, fraud and overall administrative costs that are four times more than the administrative costs of the publicly financed Medicare system. Cutting those costs will produce savings over what is currently spent for the present system. It's the "industry model itself that is driving up costs," Lighty said.
Patient, healthcare, and consumer activists and representatives of a number of cities and counties spoke in support of SB 562. Insurance industry and large corporate employers led the opposition.
Lara and Sen. Toni Atkins jointly introduced the bill, joined by Senators Benjamin Allen, Cathleen Galgiani, Mike McGuire, Nancy Skinner, and Scott Wiener as co-authors. CNA is joined by the Healthy California Campaign in working to pass the bill http://www.healthycaliforniaact.org/
Assembly Members Rob Bonta, David Chiu, Laura Friedman, Ash Kalra, Kevin McCarty, Adrin Nazarian, Mark Stone, and Tony Thurmond are also co-authors of the bill.
Key features of SB 562 include:
Every Californian eligible to enroll, regardless of age, income, employment or other status
No out of pocket costs, such as high deductibles and co-pays, for covered health services
Comprehensive coverage, including hospital and outpatient medical care, primary and preventive care, vision, dental, hearing, women's reproductive health services, mental health, lab tests, rehab and other basic medical needs
Lower prescription drug costs
Long term care services provided under Medi-Cal continue, and will be expanded with an emphasis on community and in-home care
No narrow insurance networks, one medical card, real patient choice of provider
No insurance claims denials based on corporate profit goals