Press Release
California RNs mark Nurses Week by urging state legislators to pass bills to protect nurses and public health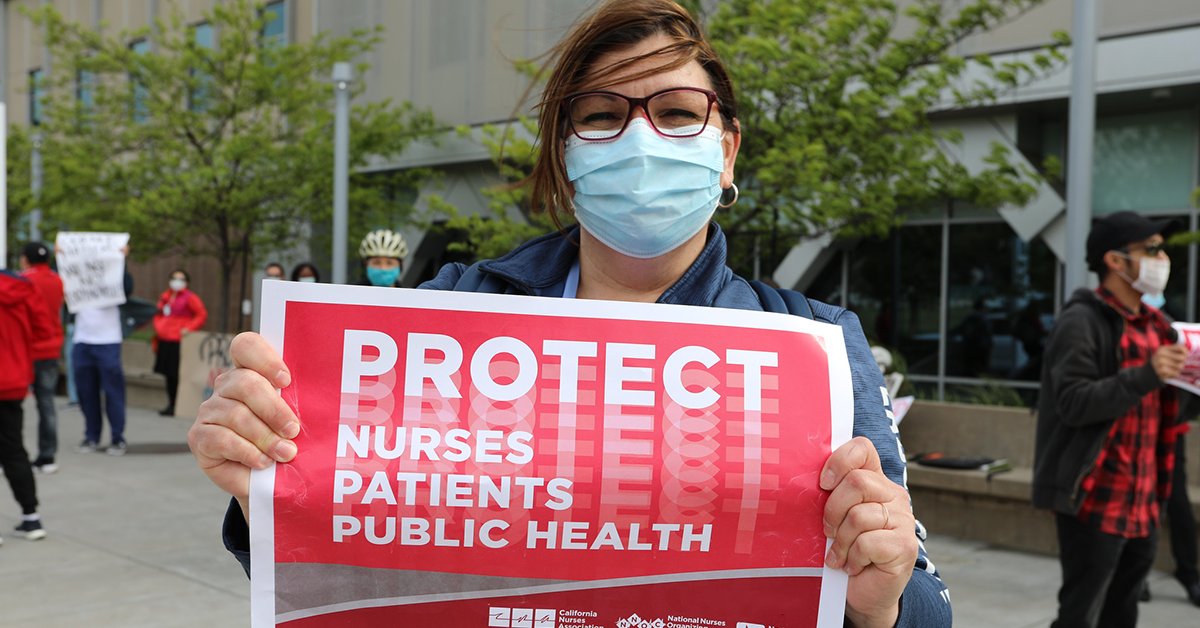 To mark Nurses Week, registered nurses from across California will pay online visits to state legislators on Tuesday, May 11 and Wednesday, May 12, to advocate in support of bills that advance the work of nurses and protect public health, the California Nurses Association (CNA) announced today.
"Nurses are fierce fighters and patient advocates," said Zenei Triunfo-Cortez, RN and a president of California Nurses Association/National Nurses Organizing Committee (CNA/NNOC). "We know that lobbying for the betterment of our patients and public health is an integral part of that work. The Covid-19 pandemic has illuminated in stark and deadly relief that there is an immediate necessity for lawmakers to create enforceable standards around infection control, equipment inventory and distribution, Covid-19 testing for nurses, and to address the implicit biases that impact the health and well-being of millions of Californians."
"As nurses who have been at the bedside during this devastating pandemic, we have seen how our hospitals failed both nurses and patients," said Sandy Reding, RN and a president of CNA/NNOC. "While we carry the emotional scars of this pandemic, we also hold the insights on how best to address the failings that tragically led to the deaths of more than 62,000 Californians and 578,000 people in the United States. The changes we seek will strengthen our ability to care for our patients, and lead to a healthier California."
The bills nurses are supporting include:     
AB 805 Public disclosure of personal protection equipment (PPE) distribution (Maienschien)
This bill will create transparency around PPE procurement and distribution at a local level by requiring Medical Health Operational Area Coordinators to regularly report the distribution of PPE to the California Office of Emergency Services.
SB 637 Ensuring quality patient care during public health emergencies (Newman)
This bill would require general acute-care hospitals to report levels of PPE on a daily basis during any health-related state of emergency proclaimed by the governor of California or the president of the United States. In addition, hospitals would also be required to report staffing shortages and publicly post notices of any nurse-to-patient waivers in effect.
Throughout the pandemic, hospitals have faced shortages of all types of PPE and have demanded that nurses reuse PPE, a practice that violates proper infection control, and would have led to disciplinary action against a nurse prior to the pandemic. 
AB 858 Protecting patients from biased or inaccurate medical algorithms (Jones-Sawyer)
This bill promotes patient safety by allowing nurses to use their clinical judgement when providing care to override a hospital's algorithm when it is in the best interest of the patient. Algorithms are used to assist managing the care of millions of patients, but a 2019 study found that a widely used commercial algorithm severely underestimated the health needs of the sickest Black patients and was far less likely to refer Black patients for additional care than white patients.
The bill would also create protections from retaliation for nurses when they override algorithms.
"We know computer algorithms are created by people who are shaped by their own implicit biases, so it should come as no surprise that these biases appear in our technology," said Cathy Kennedy, RN and a president of CNA/NNOC. "That is why, we the nurses, must have the ability to use our clinical judgment to override computer-generated decisions, as we are the ones interacting with the patient, a living person, in front of us. We know there are enormous racial disparities in health care, disparities that translate into Black, Indigenous, and Latinx people dying from Covid-19 at about twice the rate of white people. We must do everything we can to address these disparities and implicit bias that harms so many of our patients."
AB 1407 Implicit bias education for nursing students and new graduates (Burke)
Recognizing the devastating impact of implicit bias, this bill would require nursing schools to include implicit bias coursework in their curriculum. It would also require hospitals to implement an evidence-based implicit bias program as part of their new graduate training program.
"The first step to addressing implicit bias is to raise awareness and educate nurses to what it is and how it pervades our health care system," said Triunfo-Cortez. "We know it is only through education, discussion, and acknowledgement that we can bring an end to structural racism."
AB 1105 Frontline health care worker weekly Covid-19 testing (Rodriguez)
This bill would require public and private employers of nurses in general acute-care hospitals to develop and implement a program to offer weekly Covid-19 testing for health care workers. The failure to test and trace all Covid-19 infections has resulted in undetected transmission, delays in critical treatment, and hastened the spread of the virus.
As of May 6, at least 41 nurses in California have died from Covid-19. Tragically, health care facilities across the state continue to put nurses, and their patients, at risk of exposure and infection to the virus.
"We have seen throughout this pandemic that hospitals treat nurses as expendable and must be compelled to protect us and our patients," said Reding. "That is why we fought for regular testing of nurses, which led to the November 2020 California Department of Public Health's guidance for weekly testing of health care workers. This bill codifies this guidance into a law."
SB 213 Frontline health care worker workers' compensation (Cortese)
When nurses become ill with an infectious disease, suffer musculoskeletal injuries, or develop post-traumatic stress disorder, it falls on the nurse to prove they became injured or ill due to their employment and are therefore eligible for workers' compensation. This bill would expand workers' compensation presumptive eligibility protections to nurses and other hospital employees. Currently, presumptive eligibility exists only for male-dominated first responders, such as firefighters and police officers.
"We know that 90 percent of registered nurses are female, and it is simply unjust that we are being denied the same protections as male first responders," said Kennedy. "This bill would address this damaging gender disparity that makes it harder for nurses to get the timely care they deserve and need."
AB 1400 California Guaranteed Health Care for All Act (CalCare) (Ashra)
This bill would establish a single-payer healthcare system in California, called CalCare, which would ensure that all Californians, regardless of employment, income, immigration status, race, gender or any other considerations, can get the health care they need, free of charge at the point of service.
Despite lawmakers deciding to delay action on this critically important legislation, nurses continue to advocate for CalCare noting that 3 million Californians remain uninsured, and millions more are underinsured.
"Every day we see the cost of our patients going without care, or delaying care," said Kennedy. "The pandemic has further exacerbated the health care inequities which contributed to the loss of tens of thousands of Californians. Yet, for-profit health companies recorded record-breaking profits. There is a fundamental flaw in our current system, profits should never take priority over patients. CalCare affirms health care as a human right by establishing a single-payer health care system that meets the needs of all Californians.
The California Nurses Association has 100,000 members and is a founding member of National Nurses United, the largest and fastest growing union and professional association of registered nurses in the United States with more than 170,000 members nationwide. CNA/NNU plays a leadership role in safeguarding the health and safety of RNs and their patients and has won landmark legislation in the areas of staffing, safe patient handling, infectious disease, and workplace violence prevention.