Press Release
California nurses mark Nurses' Week by lobbying state legislators on bills that protect nurses and public health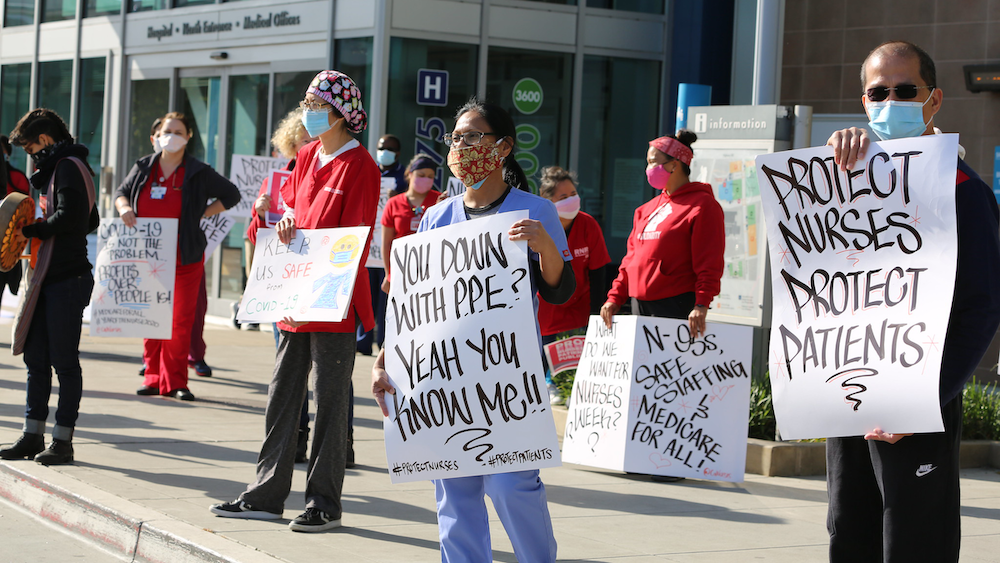 Registered nurses from across California will pay online lobby visits to state legislators on Thursday, May 7 and Friday, May 8, in support of bills to advance the work of nurses and to protect public health, the California Nurses Association (CNA) announced today.
Nurses note that the lobbying will take place during Nurses Week in the International Year of the Nurse, and say the COVID-19 pandemic underscores the importance of listening to nurses about the bills that matter to them and their patients.
"It's our duty, as registered nurses, to speak out for our patients, our communities, and each other, everywhere our voice makes a difference, including in online lobby visits," said California Nurses Association Executive Director Bonnie Castillo, RN. "Nurses are the most trusted profession, and we look forward to speaking with our state representatives in the Senate and Assembly about bills that can protect nurses, our patients, and our communities during the COVID-19 pandemic and beyond."
"Nurses are fighters with a strong sense of justice, and our power is magnified through our union to correct whatever is wrong," said CNA President Zenei Cortez. "When we come together at events like lobby day, we feel the power of our solidarity and know that we can win change."
The bills nurses are lobbying for legislators to support include:
AB 664 (Cooper and Gonzalez) Work Comp Presumption of COVID-19 for First Responders
This bill would ensure frontline nurses and other first responders' workers right to a conclusive worker's compensation presumption of SARS-CoV-2 also known as COVID-19 as California faces this current pandemic.
"When nurses are infected with COVID-19, some of our employers are saying that nurses got their infection 'in the community.' This is outrageous, and it's a way for our employers to avoid responsibility for providing nurses workers' compensation," said CNA President Deborah Burger, RN. "Assembly Bill 664 would make a big difference for nurses."
AB 2028 (Aguiar Curry) Closing Loopholes in the Bagley- Keene Open Meeting Act
This bill will close loopholes in the Bagley-Keene Open Meeting Act of 1967 (Bagley-Keene) and provide for greater transparency and disclosure in state public meetings. As our state is plagued by the global pandemic of COVID-19, nurses say it is even more crucial we hold our public agencies accountable and protect the standards of transparency.
AB 2037 (Wicks) Banning hospital closures during a pandemic and increasing public notice of closures
This bill expands current notice requirements to 180 days for hospitals closing, and 90 days for the elimination of an existing service. AB 2037 also proposes to expand public notice to include the local city council, a posting on the hospital website, a posting in the county's community clinics, and postings in the local newspaper and on the local newspaper's website. Additionally, AB 2037 is being amended to address the current health crisis by eliminating hospitals' ability to close a facility or essential departments during a pandemic, which nurses say is especially critical. This bill will also ensure if a hospital wishes to sell a facility during a pandemic, they must give first right of refusal to the state and local government.
"This issue is close to my heart because the huge, greedy hospital corporation HCA, which owns my hospital, is planning to close Women's Services at my sister hospital, Regional Medical Center," said CNA President Malinda Markowitz, RN. "This is outrageous—especially during a pandemic, and nurses will by lobbying for AB 2037 to ensure that hospitals and essential services stay open for their community."
SB 893 (Caballero) Work Comp Presumption of Musculoskeletal Injuries, and Infectious & Respiratory Diseases
This bill creates a worker's compensation presumption for nurses and healthcare workers that obtain infectious diseases, respiratory diseases, and musculoskeletal injuries, outside of our current pandemic. Nurses say this will protect them from common hospital illnesses and injuries and protect them from whatever illness is the next COVID-19.