Press Release
California Nurses Association Opposes Antelope Valley Healthcare District (AVHD) Measure H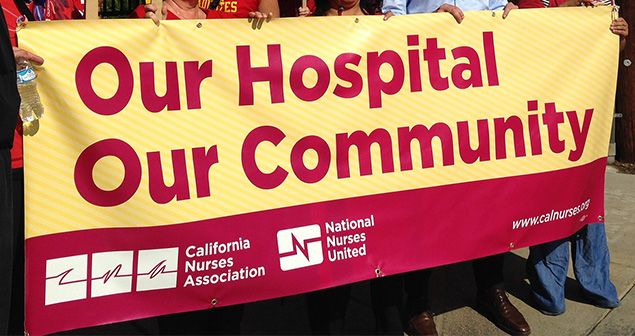 The California Nurses Association /National Nurses United (CNA/NNU) today announced its opposition to Antelope Valley Healthcare District (AVHD) Measure H.
Currently, the AVHD is controlled by a democratically-elected Board of Directors, now comprised of area nurses and doctors. Measure H seeks to legally change this governance model by supplementing the current board with additional privately-appointed voting members for terms of up to 12 years.
In addition, Measure H seeks to create a private corporation to assume control of Antelope Valley Hospital (AVH) staff, assets, facilities, and operations for a term of 30 years.
"We do not want unknown lawyers, businessmen, or developers appointed to be charge of patient resources over the next 30 years," says Dani Demyen, RN. "Healthcare in the District should be overseen by those whose top priority is patient care, and they should be subject to a vote by the community."
"Supporters of the Measure are claiming that it takes the politics out of healthcare, " says Kathleen Stalter, RN. "Instead, it takes the democratic process out of the District."
Established more than 60 years ago, Antelope Valley Hospital's doors are open to the community's insured and uninsured patients alike. It is also the only Trauma Center in a 40-mile radius. As such, it is a vital public resource.
"The nurses at AVH have chosen to dedicate their careers to a public facility that is owned by the community and open to everyone. Measure H promises stability, but it is actually presenting us with more questions than answers," says Maria Altamirano, RN. "This community is being rushed into a 30-year deal with a private corporation. We shouldn't wager our hospital on unknowns."
At risk is the autonomy of the Antelope Valley Healthcare District, where the community, including nurses and patients are stakeholders. Nurses encourage voters to reject this corporate takeover of Antelope Valley Hospital.
CNA/NNU will be reaching out to voters in the District by mail and bedside nurses will be reaching out to their neighbors, friends, and family members to urge them to Vote No on Measure H.