Press Release
Nurses on Buffalo massacre: Moral outrage not enough, it's long past time for accountability and action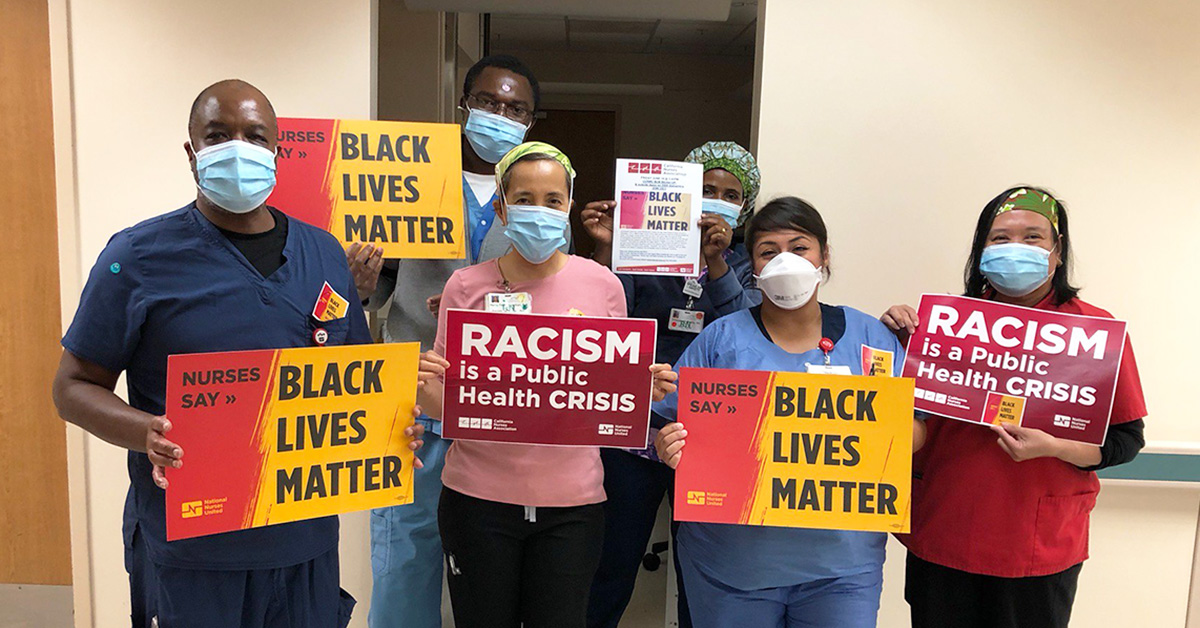 Today, National Nurses United echoed the widespread shock and horror at the deadly, racist attack in Buffalo and pledged to work with elected officials and community organizations to hold accountable not just the perpetrators of white supremacist terrorism, but also those who inspire and encourage them.
"We need to hold these online platforms and people accountable," said Edith Nesbitt, an ICU RN, nursing educator, and associate director of her union, NNU-VA, at the Buffalo VA Hospital. "The nursing motto is, 'It's better to prevent than to treat.' After people have been killed, that damage is done, and you have destroyed more than just one life. These 10 people were pillars in our community and each touched and changed thousands of lives."
Nesbitt said her wife is a teacher and that her entire family works in public service professions, and many are now afraid to go out in public, go to work, and send their children to school. "We dedicate our lives to taking care of people, regardless of who you are," said Nesbitt. "And now people want to kill us just because of the color of our skin? It's devastating."
The Buffalo community is tight-knit and her Buffalo VA colleague Nicole White shared deeply in Nesbitt's sorrow and anger. "I sit in pain with the African American community over the events of May 14," said White, who is a float pool RN, also a nursing educator, and serves as NNU-VA director at her facility. She grew up in the Tops market neighborhood and a family member was working inside the store during the shooting. "A hate-filled man pulled the trigger, but he was handed the gun by every person, politician, news outlet, and social media platform that espouses white supremacy ideology."
Both Nesbitt and White said that because of the public's high esteem and trust of nurses, nurses' expertise in caring for all members of society, and nurses' strong educational backgrounds, that nurses have an important role to play in public policy conversations and decisions about how to prevent racist violence in our communities as a matter of public health. Buffalo VA nurses plan to start and organize nurses through a Social Justice Committee at their hospital to participate in such efforts. "We will do our part to dismantle this culture of oppression and violence and build a community where my Black and Brown brothers and sisters know that their lives matter," said White.
Nurses throughout New York state share in the Buffalo community's grief and determination to prevent racist violence. "Our hearts go out to the victims, survivors, and their family and friends," said New York State Nurses Association (NYSNA) President Nancy Hagans, RN. "Those lost had many connections and loved ones in Buffalo's East Side community and beyond. We are thankful for our first responders, caregivers and NYSNA nurses at Erie County Medical Center (ECMC) who treated the victims and survivors of the shooting. Our union family at ECMC is part of these connections and is especially mourning the tragic loss of loved ones."
As has been widely reported, the shooter, who deliberately targeted a Black neighborhood in one of the country's most segregated cities, wrote in a hate-filled manifesto that he was "not born racist nor grew up to be racist" but that he "learned" it from other sources, touting both other racist massacres and racist conspiracy theories promoted by prominent Republicans and one of Fox News' most-watched pundits, Tucker Carlson. Similar ideas and political movements motivated recent deadly attacks and other violence against African American, Latinx, Muslim, Jewish, and immigrant people in the United States, as well as similar attacks in Canada, Europe, and New Zealand. 
"Our democracy cannot continue to withstand an environment in which violence inspired by racism, anti-Semitism, Islamophobia, misogyny, or vitriolic anti-trans, anti-LGBTQ , anti-immigrant rhetoric is promoted on our airwaves, or in legislative halls," said Jean Ross, RN and NNU president. "It is up to all of us to find solutions that stop the spread of white supremacist politics and ideology that has aided and abetted the violence and bloodshed that have ripped this nation apart. We stand ready to work in coalition and cooperation with others to continue the fight. Out of respect for those we've lost and for our future generations, we must urgently seize the time."
National Nurses United is the country's largest and fastest-growing union and professional association of registered nurses, with more than 175,000 members nationwide.