Press Release
Brooklyn VA nurses and veterans demand VA leadership address short-staffing crisis following passage of PACT Act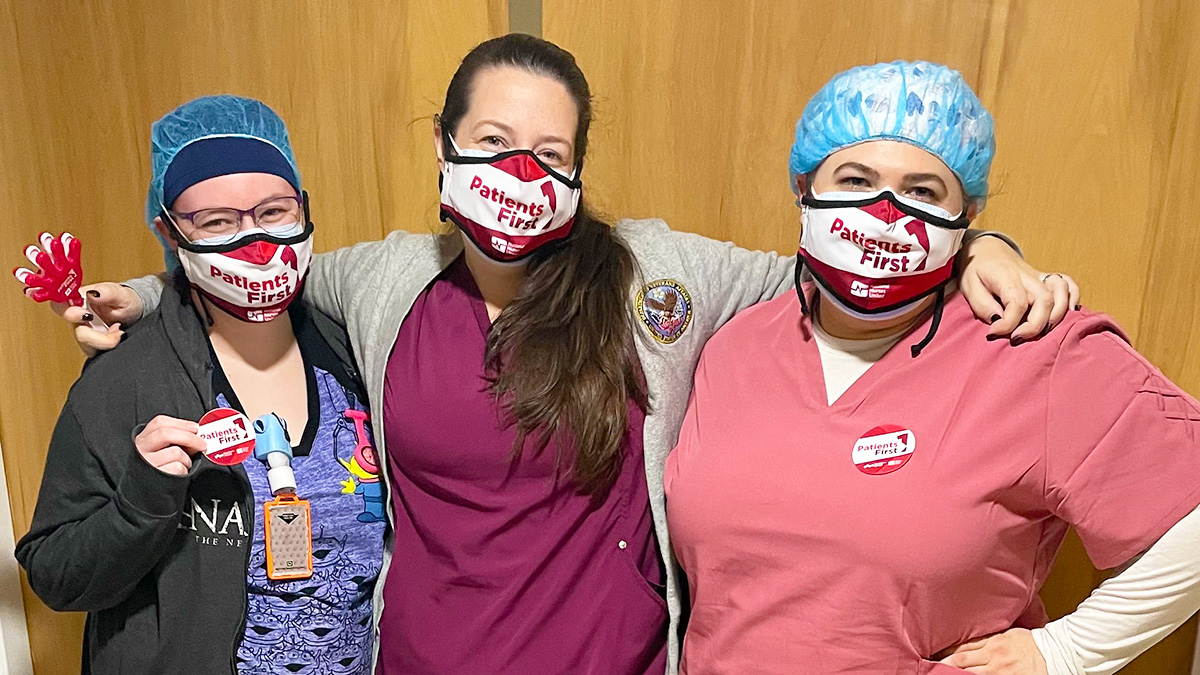 RNs say chronic short-staffing, stalled RN contract, lack of schedule flexibility exacerbate recruitment and retention problems
Nurses at Brooklyn VA Medical Center and veterans will hold a rally on Aug. 31, 2022, to demand the VA regional leadership urge the Veterans Affairs Secretary to sign the long-stalled nurses' contract, address chronic short-staffing issues, and allow for more flexibility in scheduling, announced National Nurses United (NNU) today.
With the passage of The Promise to Address Comprehensive Toxics (PACT) Act, millions of veterans will be able to seek VA care for toxic exposure linked to their military service. Nurses and veterans know that it is paramount that the VA be able to recruit and retain experienced nurses who can provide every veteran who seeks care at the VA the highest quality of care they need and deserve.
"As a nurse who is a veteran and who cares for veterans, I understand how important readiness is, both in the field and in our medical facilities," said Ann Marie Carlin, RN, a retired Navy Captain, who served in the military for nearly 38 years, and a member of NNU. "Just as we must have the appropriate number of military personnel to carry out a mission, so we must have the appropriate number of nurses to care for our sick. We must bolster our ranks by improving our working conditions, finalizing our contract, and allowing schedule flexibility in order to recruit and retain experienced nurses. The passage of the PACT Act is a huge victory for our veteran community, and we applaud the work our veterans did to make it happen. Now, we have an obligation to make sure we work together so we can make good on the PACT Act's promise."
What:

Nurses and veterans rally to demand VA leadership address chronic issues jeopardizing patient care

When:

Wednesday, Aug. 31, 4:45 p.m.

Where:

Brooklyn VA Medical Center, 800 Poly Place (near the main gate)
Speakers include:
Ann Marie Carlin, RN, retired Navy Captain, NNU member       
Danny Friedman, Vietnam Veterans of America (VVA) Brooklyn Chapter 72 president                   
Gene DiGiacomo, Vietnam Veterans of America (VVA) Chapter 421 president, United Staten Island Veterans Organization treasurer
Kyle Bibby, Common Defense deputy political director
A VA Office of Inspector general report released in July found that 91 percent of VA facilities reported a severe shortage of nurses. It should be noted that this is not due to any shortage of nurses, as is often falsely claimed. In fact, Department of Labor statistics show that, as of November 2021, there were 4.4 million licensed nurses in the U.S. but only 3.2 million people working as RNs and just 1.8 million working in hospitals. Nurses contend it is the poor working conditions that are forcing nurses away from the bedside. That is why VA nurses say that by improving staffing, allowing flexible scheduling, and ensuring a strong contract, it would be far easier to recruit and retain experienced nurses.
"The federal government and our elected officials always say they are behind our veterans 100 percent," said Danny Friendman, the president of the VVA Brooklyn Chapter 72. "They were behind us when they sent us off to war or exposed us to toxic chemicals. 'Behind' is the operative word. They talk about improving health care by farming it out to the lowest bidder. We shot them down on that but they haven't returned the staffing levels to the optimum levels before they let it run down in the anticipation of downsizing. Veterans need and veterans demand full staffing of all positions at all VA medical facilities, especially here at the Brooklyn VAMC."
"Once again, our government proves that they do not care about the nurses in the VA system," said Gene DiGiacomo, president of VVA Chapter 421. "The VA Administrators have been long promising to bring in more caretakers but refuse to put the proper administrator in place to start the process. I know that there are some out there that are fighting for us, but not hardly enough. For the ones that turn a blind eye to this all I can feel for them is shame. As a veteran that has served his country honorably, I thank God that we had and still have nurses like the ones at the VA Hospital in Brooklyn. If only others can see that.
Nurses are calling on the regional VA directors to encourage VA Secretary Denis McDonough to sign the long-stalled master contract with NNU nurses that was agreed upon in 2018. The contract was negotiated and agreed upon with the help of the Federal Service Impasse Panel, which had been brought in at the behest of the VA.
NNU represents more than 12,000 registered nurses at 23 VA facilities across the country, including 200 nurses in Brooklyn.
National Nurses Organizing Committee is an affiliate of National Nurses United, the largest and fastest-growing union and professional association of registered nurses in the United States with more than 175,000 members nationwide.