Press Release
Blake Medical Center RNs Protest Unsafe Protections as COVID-19 Surges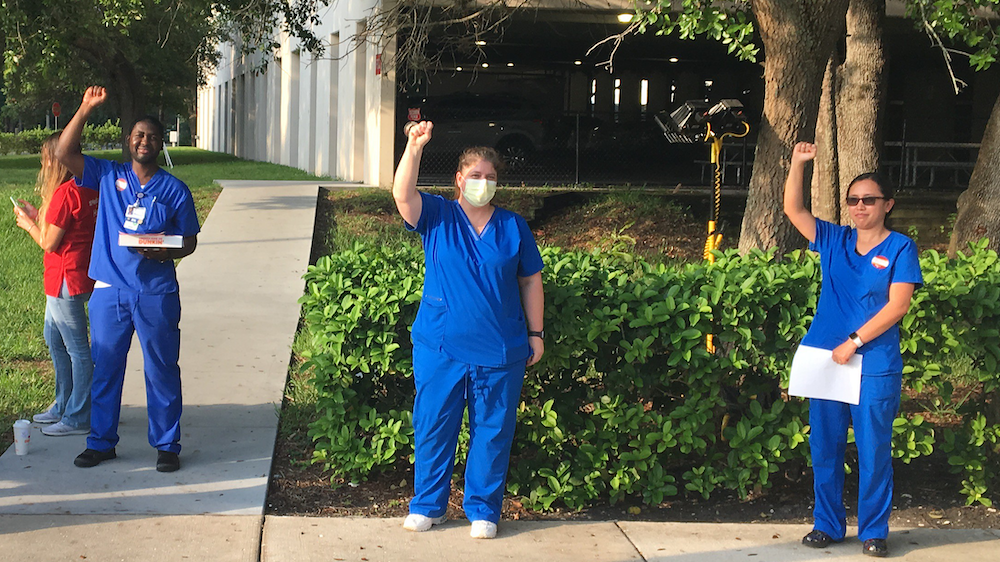 With cases of the coronavirus pandemic surging across the state, Registered Nurses at HCA's Blake Medical Center in Bradenton, FL will protest Friday to voice alarm at what they call unsafe protections for registered nurses, other health care workers and patients.

"HCA and Blake management are putting the lives and safety of our frontline caregivers and patients in jeopardy by not providing proper protections and ignoring safety standards that will make conditions worse, and risk further spread of the pandemic," said Blake RN Candice Cordero.

What: RNs Protest Unsafe Conditions
When: Friday, July 3, 8 a.m.
Where: Blake Medical Center,
             2020 59th St. West, Bradenton, FL (by the parking garage)

In a social distancing shift change protest Friday morning, the Blake RNs will criticize HCA and hospital management for:
Not notifying RNs when they have been exposed to COVID-19

Requiring exposed RNs to continue working until they have symptoms of COVID-19

Not testing all patients prior to a procedure or operation

Failure to provide personal protective equipment replacements for broken masks

Threatening RNs with discipline for raising safety concerns
National Nurses Organizing Committee-Florida, which represents Blake RNs, has filed complaints with the Occupational Safety and Health Administration regarding the unsafe conditions. NNOC is an affiliate of National Nurses United.

Blake RNs report that at least 10 patients in the hospital have tested positive for the virus outside the COVID-19 units, indicating the likely spread of the virus in the hospital, increasing the risk of virus spread to other patients, nurses and other health care workers. At least four RNs have tested positive since late May, the union says.

"With the virus spiking here and throughout Florida, now is the worst time to be ignoring dangerous safety conditions at the hospital," said Blake RN Kim Brooks.

"It is unconscionable to require exposed nurses to continue to be at the bedside when the science is clear that the virus continues to spread even when you are asymptomatic," Cordero said. "It is unconscionable to fail to replace a broken mask putting a nurse's life at risk. It is unconscionable, and unlawful, to threaten nurses for raising safety concerns. We will not be silent, and we will continue to speak out."

"When we are exposed, we are not safe, our patients are not safe, our co-workers are not safe, our families are not safe. If we are unable to be at the bedside, who will be there to take care of our patients," said Brooks.

Florida is one of the current epicenters of the pandemic nationally. The Florida Department of Health reported nearly 44,000 new cases last week, the highest weekly number of infections since the outbreak began. That included a 144 percent increase on Sunday confirmed cases over the previous Sunday.

Nationally, more than 100,000 nurses and other health care worker have been infected with COVID-19 infections, and deaths have also continued to rise. NNU which is tracking the national data, has record at least 144 RN COVID-19 deaths.

HCA has failed to guarantee the safest conditions despite receiving a $1 billion federal bailout, the New York Times recently reported.

NNU affiliates represent 10,000 HCA RNs from California to Florida.