Press Release
Bills introduced to protect patients by reforming Maryland's epidemic of medical debt lawsuits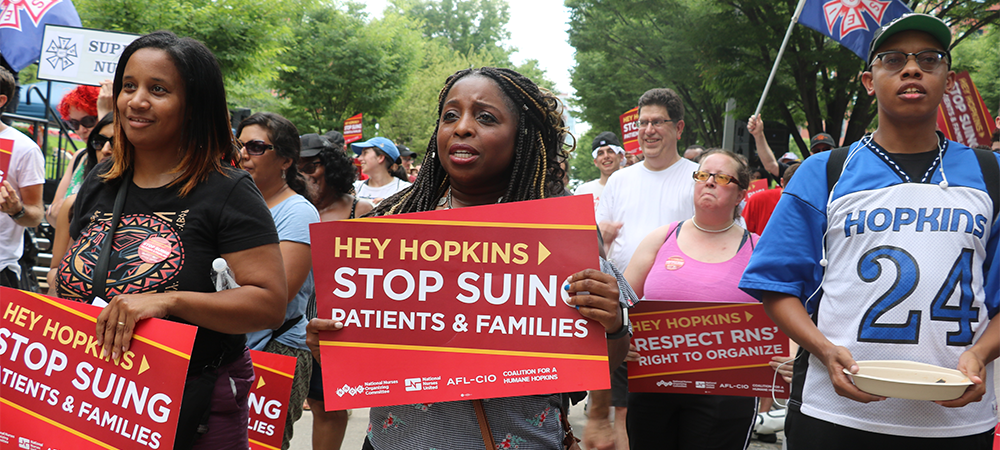 Extent of problem documented in revealing new report
Annapolis, Md. – In early February, Maryland state legislators, working with registered nurses, community activists, and consumer advocates, introduced bills in both the Senate and House of Delegates to reform current practices of hospitals suing low-income patients for medical bills that they likely qualify for financial help to pay, and to ensure Marylanders receive the hospital care they need without suffering disastrous financial consequences. Today a coalition of groups issued a new report titled, "Preying on Patients: Maryland's not-for-profit hospitals and medical debt lawsuits," which documents the severity of the problem which demands the need for these reforms.
"My duty as a nurse is to take care of my patients, at the bedside and beyond," said Claudine Castano, an RN at Johns Hopkins Hospital, whose parent corporation, Johns Hopkins Health System, was among the top three lawsuit instigators. "I think it is unconscionable that after my patients are discharged from Johns Hopkins, they are at risk of being targeted for medical debt lawsuits. Hopkins, and other Maryland hospitals, must do better by their patients."
 
The report, "Preying on Patients" is jointly issued by the groups National Nurses United, the AFL-CIO, Coalition for a Humane Hopkins, and the Maryland Consumer Rights Coalition (MCRC). The report shows there is no economic rationale for the state's hospital industry to have filed more than 145,000 lawsuits against patients from 2009-2018, that the impact of this litigation harms low-income Marylanders by likely deterring them from seeking medical care, and then urges the General Assembly to protect patients by passing reform legislation.
Maryland lawmakers are answering that call. The first bill, the Financial Assistance Policies and Bill Collections Act, is sponsored by Delegate Robbyn Lewis in the House as H.B. 1420 and by Senator Brian Feldman in the Senate as S.B. 875. This legislation would expand the steps hospitals must take to screen a patient's eligibility for financial assistance before sending bills to collections, reduce financial assistance paperwork for patients who have already established proof of their low income through other programs, require hospitals to provide written notice in the patient's preferred language, and give patients the right to sue hospitals to enforce state laws about financial assistance policies – among other provisions.
 
The second bill, the Medical Debt Protections Act, is sponsored by Delegate Lorig Charkoudian in the House as H.B. 1081 and also by Senator Feldman in the Senate as S.B. 873. This legislation would place much tighter restrictions on medical debt lawsuits and debt collection practices, including prohibiting litigation for $5,000 or less, prohibiting liens on patients' homes, requiring hospitals to offer reasonable payment plans, and banning lawsuits while appeals or applications for financial help are still pending – among other provisions.
 
"We need to protect Marylanders from the outrageous possibility that getting sick can lead to bankruptcy, homelessness, and destitution," said Charkoudian. "The stories we've heard from patients who have been sued are disturbing and heartbreaking. We can see the extent of the problem of medical debt collection lawsuits. We can also see that some hospitals use a range of other strategies to support patients to pay their bills and receive financial assistance. Predatory lawsuits are not necessary to keep hospitals solvent and they are not just. The legislation I have introduced adds guardrails to our system so that the legal system is not used to intimidate and discourage Marylanders from seeking medical care."
"One of the many great things about the Affordable Care Act is that it requires non-profit hospitals to provide free or reduced cost care to people with low or modest incomes," said Lewis. "Without this assistance, many families could face financial catastrophe. This bill helps those families by expanding eligibility for free or reduced-cost care. It will also help hospitals to meet their health care goals as well."
 
"Today in Maryland, 16 percent of households have a medical debt in collection; and of those medical debts, 20 percent are located in communities of color, which already struggle with disparities related to access to healthcare and social determinants of health," said Marceline White, the executive director of the Maryland Consumer Rights Coalition. "No one should lose their wages or their home because they or a family member fell ill. We know of far too many cases when someone should have qualified for financial assistance and instead ends up in court. We need strong reforms to assist households who qualify for assistance and protect patients and their families from unnecessary and predatory medical debt collection lawsuits."
 
"Preying on Patients" is the latest comprehensive look at medical debt lawsuits in Maryland and shows that between 2009 and 2018, the state's hospitals, all of which are run as not-for-profits, have filed 145,746 lawsuits seeking $2.69 million from patients – even as the overall hospital industry posted $5.68 billion in net income, handsomely paid its executives million-dollar salaries for a total of $1.6 billion in compensation over the last five years, and recouped millions more in money from the state's rate payers in subsidized charity care payments than it spent.
 
To read the full study and examine county-by-county data, please visit www.nationalnursesunited.org/preying-on-patients
About National Nurses United
National Nurses United is the largest and fastest-growing union and professional association of registered nurses in the United States with more than 150,000 members nationwide. NNU plays a leadership role in safeguarding the health and safety of RNs and their patients and has won landmark legislation in the areas of staffing, safe patient handling, infectious disease, and workplace violence prevention.
About the Maryland Consumer Rights Coalition (MCRC)
The Maryland Consumer Rights Coalition (MCRC) is a statewide coalition of individuals and organizations that advances financial justice and economic inclusion for Maryland consumers through research, education, direct service, organizing, and advocacy. Our 8,500 supporters include consumer advocates, practitioners, and low-income and working families throughout Maryland. MCRC: The Voice for Maryland Consumers. For more information, contact Marceline White, Executive Director of MCRC at Marceline@marylandconsumers.org or 410-220-0494. Find MCRC on the web at www.marylandconsumers.org, on Facebook at facebook.com/mdconsumers and on Twitter at twitter.com/mdconsumers