Press Release
Baltimore City Council Resolution Calls on Johns Hopkins Hospital to Allow Nurses to Conduct Union Organizing Activities Without Interference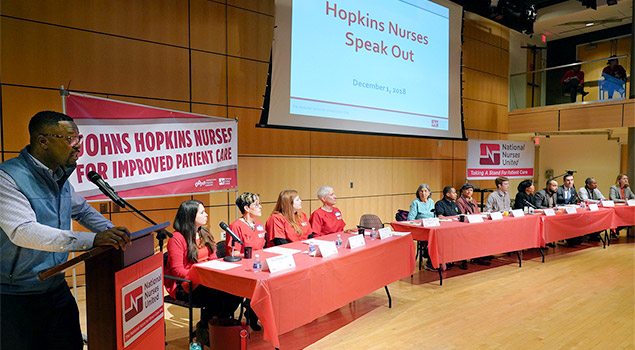 The Baltimore City Council has adopted a resolution, introduced by City Councilmember Shannon Sneed, encouraging Johns Hopkins Hospital to allow nurses at the hospital to conduct union organizing activities without interference.
The resolution was introduced in follow-up to a town hall event held Dec. 1, titled, "Hopkins Nurses Speak Out." At the town hall, Councilmember Sneed, US Representative Elijah E. Cummings, a number of other community leaders, and an audience of over 250 people, heard presentations on recent reports documenting Johns Hopkins abysmal charity care track record, and chronic problems with the quality of patient care at the hospital. Presenters also described how hospital management has actively sought to block nurses from exercising their legal right to organize a union.
"It means a lot to us that the Baltimore City Council resolution recognizes the vital role that nurses play in the health and well being of Baltimore and are speaking out in support of our organizing so we can more effectively fulfill that role," said Toni Fowler, RN, Vascular Access Team. "As the resolution states, everyone benefits as our communities grow stronger and more equitable, and we're thrilled the council recognizes how our campaign contributes to that vision."
"We are very pleased that the Baltimore City Council supports nurses' patient advocacy efforts and has passed a resolution calling on Johns Hopkins to honor our legal right to organize," said Lindsey Gaydos, RN, Outpatient Clinic. "We all want to provide optimal patient care for the Baltimore community. With the council's support, and continued organizing, we can create the work conditions that support this goal."
"My colleagues and I on the Baltimore City Council have adopted this resolution because we want to make it very clear that we stand with the nurses at Johns Hopkins and support their right to organize," said City Councilmember Sneed. "Voting to join a union means that nurses will be able to more effectively advocate for their patients. It will give them a stronger voice in workplace decision-making so that the decisions that are made are more accountable to them, their coworkers, and the Baltimore community. We recognize that the nurses' efforts are absolutely good for Baltimore, in multiple ways, and especially for our most vulnerable residents."
Recently the National Labor Relations Board (NLRB), found merit to a number of Unfair Labor Practice allegations filed by the National Nurses Organizing Committee/National Nurses United, on behalf of the nurses. The charges include: Prohibiting Hopkins RNs from talking about the union at work, the creation of the impression of surveillance, conducting unlawful interrogation, and promulgating and/or enforcing a rule barring off-duty RNs access to break rooms, outside patient care areas, in connection with union activity.
The resolution adopted by Baltimore's City Council recognizes that, "Nurses are a critical component of the health care delivery system," and that, "being able to come together in unions gives people – particularly women and people of color – a powerful voice for themselves, their families, and their communities, and unionizing helps ensure that they are treated with dignity and respect at work."
The resolution concludes: "Baltimore City Council encourages Johns Hopkins Hospital to adopt a policy of neutrality and non-interference relating to the ongoing unionization efforts of registered nurses with National Nurses United at Johns Hopkins Hospital and allow for registered nurses employed by the hospital to freely adopt or reject labor union representation."
In addition to the support of Councilmember Sneed, the resolution was co-sponsored by: City Council President, Jack Young, and Councilmembers, Bill Henry (4th), Brandon M. Scott (2nd), Kristerfer Burnett (8th), Robert Stokes, Sr. (12th), Leon F. Pinkett (7th), Zeke Cohen (1st), Sharon Green Middleton (6th), John T. Bullock (9th), Mary Pat Clarke (14th), Edward Reisinger (10th), and Ryan Dorsey (3rd).
The National Nurses Organizing Committee is affiliated with National Nurses United (NNU), the nation's largest nurses union with 150,000 members. NNU has won landmark health and safety protections for nurses and patients in the areas of staffing, safe patient handling, infectious disease and workplace violence protection.