Press Release
Austin nurses to rally for safer health care for newborns and open heart surgery patients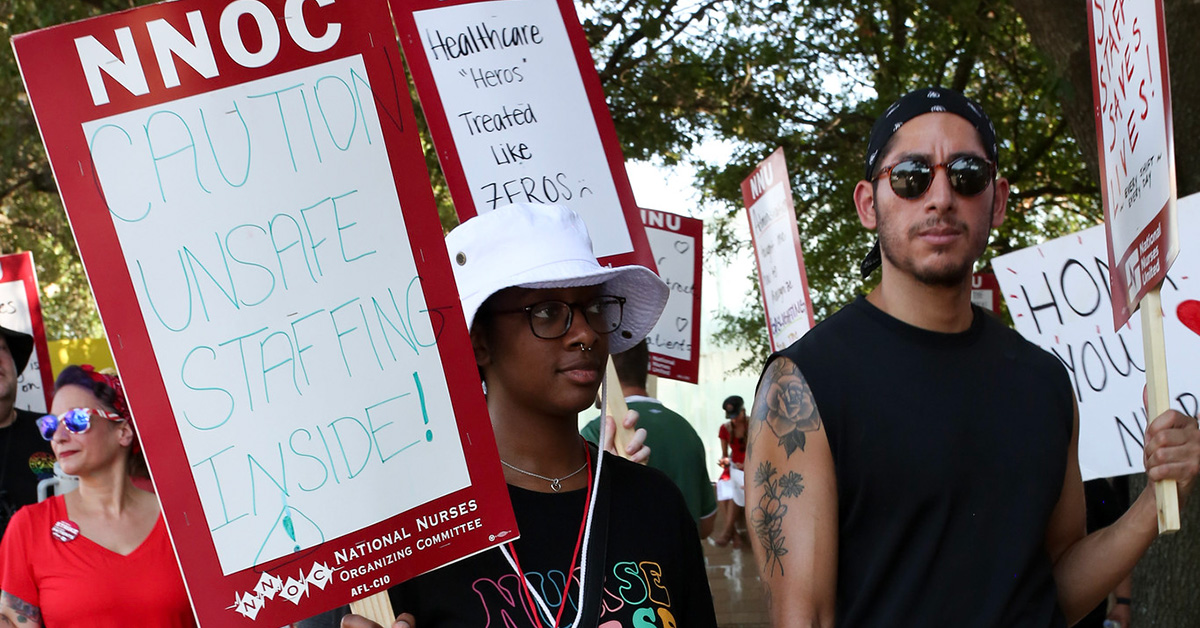 Nurses at Ascension Seton Medical Center Austin (ASMCA) will hold a press conference and rally to share their concerns about health care for open heart surgery patients, newborns, and new parents at their hospital, announced National Nurses Organizing Committee/National Nurses United (NNOC/NNU) today.
Nurses say that, as Ascension management builds a new tower for women's services, the company is failing to safely staff the existing labor and delivery unit and neonatal intensive care unit (NICU). Meanwhile, some shifts in the cardiovascular ICU begin with no nurses to cover patients leaving the cardiovascular operating room.
Who: Nurses at Ascension Seton Medical Center Austin
What: Press conference and rally for labor and delivery staffing
When: Wednesday, Sept. 27, 8 a.m.
Where: Ascension Seton Medical Center Austin, 1201 W. 38th St., at the corner of Medical Parkway and W. 35th St.
"Ascension is touting the capacity of the new construction, but what will that extra capacity be good for if they're not properly staffing the units we already have?" said Katherine Alvarado, RN in the labor and delivery unit. "Our labor and delivery unit is currently so short staffed that a single nurse is bouncing from one delivery to the next with no time to make sure protocols and assessments are done correctly. These babies are left cold, hungry, and unstable. Without enough nurses on staff, babies face complications that are totally preventable!"
Nurses say the staffing situation in the cardiovascular intensive care unit (CVICU) is similarly dire, as short-staffing means some patients come out of open-heart surgery into a unit without enough nurses to safely staff it. Management has attempted to float nurses from the medical intensive care unit (MICU), but nurses say that's not a solution.
"We are the most complex and specialized CCU in Central Texas," said Gary Blair, RN with 18 years experience in the CVICU. "It's a shame that patients come to our hospital expecting top tier care when we as nurses at the bedside know that, on any given shift, we routinely do not have the adequate staff to care for these patients. Every day, management's plan is to wait until there is a dire situation and beg nurses to come in or hope that a patient transfers out to free up an RN. This is a reckless way for Ascension to run such a critical unit and is not only unsafe, but also unfair for our patients. The community deserves better."
"Management knows this is a problem because a majority of CVICU and MICU nurses signed and delivered a petition asking for a meeting with them to address it two weeks ago," said Candice Jeffers, RN in the CVICU. "We are asking for a comprehensive plan to address short-staffing, but we haven't heard back."
"These dire situations for our patients are emblematic of how Ascension's management is negatively impacting patient care across our facility at ASMCA," said Megan Meier, RN in the ICU. "They're always focused on the new shiny thing that will look good on paper, but they never seem to care about what's actually happening inside our hospital. They never listen to us, the nurses, even though we're at the bedside every day and know what our patients need."
Nurses at ASMCA held a historic one-day strike earlier this year to draw attention to declining patient care as they fight for improvements in their first contract as members of NNOC/NNU.
---
National Nurses Organizing Committee is an affiliate of National Nurses United, the largest and fastest-growing union and professional association of registered nurses in the United States with nearly 225,000 members nationwide. NNU affiliates also include California Nurses Association, DC Nurses Association, Michigan Nurses Association, Minnesota Nurses Association, and New York State Nurses Association.