Press Release
Atlanta VA nurses to rally for respect for veterans and nurses, patient safety, and end to nurse moral distress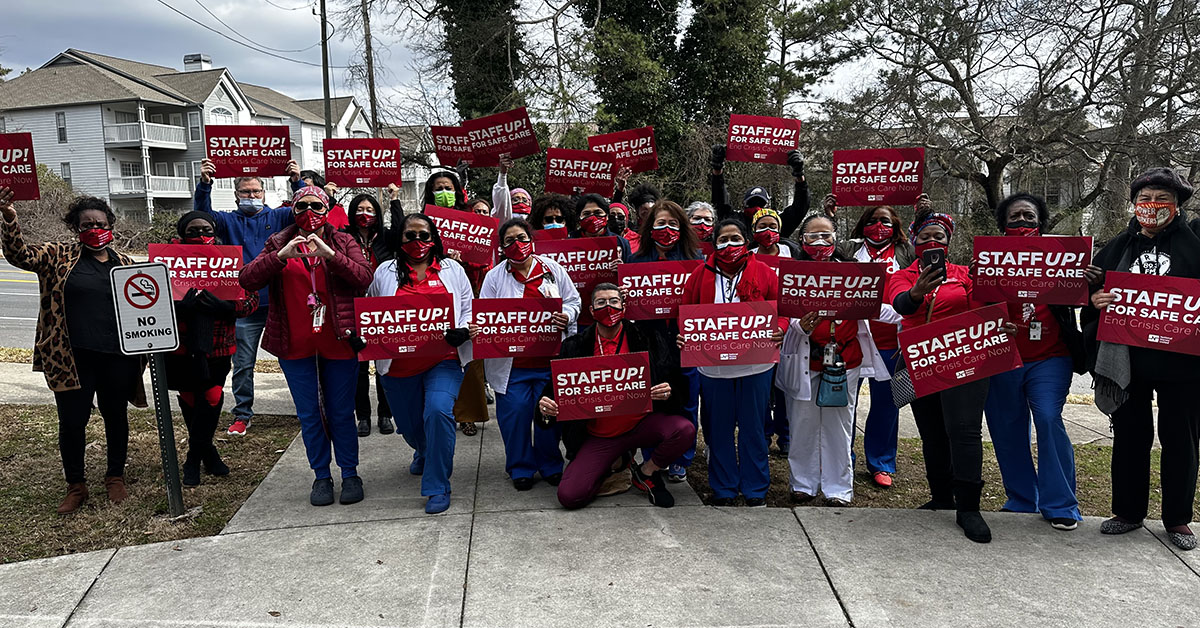 Registered nurses working for the Atlanta VA Health System (ATL-VAHS) in the metro Atlanta region will hold a protest on Thursday, Aug. 31, announced National Nurses Organizing Committee/National Nurses United (NNOC/NNU) today.
Nurses will highlight their increasing concerns about their patients' safety, on-going short staffing, the lack of respect shown to nursing staff by executive management, and the lack of work-life balance for nurses who are stretched to the limit. Nurses have also filed an Unfair Labor Practice charge with the Federal Labor Relations Authority against ATL-VAHS management for refusal to cease and desist from illegally implementing unilateral changes affecting many nurses.
Who:

RNs at Atlanta VA Medical Center

What:

Protest for Respect & Patient Safety

When:

Thursday, Aug. 31, at 11:15 a.m.

Where:

Atlanta VA Medical Center, 1670 Clairmont Rd., Decatur
"We believe in the VA as a system," said Teshara Felder-Livingston, an Atlanta VA RN who is also a veteran herself. "We just want to see management do better by us and our patients. Staffing is a huge problem, especially because management is failing to recruit and retain nurses. Right now, our vacancy rate for nursing positions is over 18 percent and as high as 25 percent in some units."
"We know the best solution is improving working conditions, and the change management can make today is the flexible scheduling policy already in effect at some VA facilities and on some units in our facility. Nurses request transfers to the units that have it," Felder-Livingston added. "But instead of expanding this successful policy, Atlanta VA's management is threatening to take it away from nurses, which will only drive more RNs away from our facilities."
"Executive management treats seasoned VA nurses like we're expendable when our patients and community know we're indispensable," said Dana Horton, RN at the Atlanta VA and NNU Atlanta Director. "Management can't stabilize high turnover or hire fast enough. The nurses they do hire nurses leave almost as soon as they start when they see the working conditions and how we're treated. But instead of taking steps to fix this, they're delaying or axing policies like flexible scheduling, which actually help recruit and retain nurses."
"Our community-based outpatient clinic in Stockbridge has been at half the necessary staff for over two years, which is why nurses are filing Assignment Despite Objection forms to document how unsafe it is," said Horton, referring to documents the union generates to keep a record of assignments nurses deem unsafe. "Management is now punishing nurses by taking away flexible scheduling when the VA's own data indicates that nurses who've left say this flexible scheduling policy might've convinced them to stay."
NNOC/NNU represents nearly 900 registered nurses at the Atlanta VA Health System.
---
National Nurses Organizing Committee is an affiliate of National Nurses United, the largest and fastest-growing union and professional association of registered nurses in the United States with nearly 225,000 members nationwide. NNU affiliates also include California Nurses Association, DC Nurses Association, Michigan Nurses Association, Minnesota Nurses Association, and New York State Nurses Association.