Press Release
Asheville workers to rally with North Carolina State AFL-CIO for health care justice and workers' rights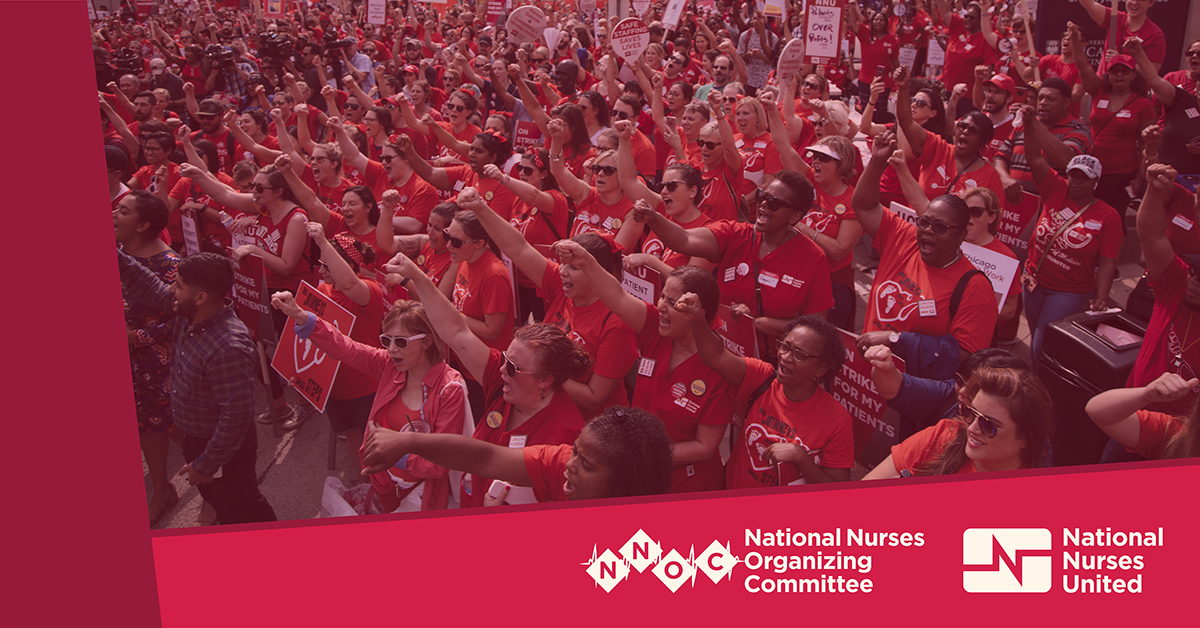 Hundreds of union members including nurses, electricians, food and beverage workers, and other workers from across North Carolina will rally for health care justice and workers' rights in downtown Asheville's Pack Square Park on Thursday, Sept. 7 beginning at 4 p.m.
The post-Labor Day event will feature speakers from a number of North Carolina labor organizations and unions, including Hannah Drummond, RN at HCA Mission Hospital and member of National Nurses Organizing Committee/National Nurses United (NNOC/NNU); Rick Sluder, Business Manager and Financial Secretary of International Brotherhood of Electrical Workers (IBEW) Local 238; Jamey Gunter, fast food worker and member of Union of Southern Service Workers (USSW); and MaryBe McMillan, President of the North Carolina State AFL-CIO, which represents more than 100,000 workers across the state.
"Now more than ever, working people support unions, so we're excited to come together to celebrate North Carolina's surging labor movement, from the grad students at Duke to the reporters at public radio stations and the Charlotte Observer to the food workers at Green Sage in Asheville, who all organized unions at their jobs recently," said President McMillan of the North Carolina State AFL-CIO, which is holding its annual convention in Asheville on Sept. 7 and 8.
"Workers are organizing to say, 'Count me in for better wages, better working conditions, and better health care, including for Medicaid expansion,' which is currently delayed in the legislature but could extend coverage eligibility to an estimated 600,000 North Carolinians," President McMillan added. "This rally will show the world how — and why — the labor movement is growing in North Carolina."
Who:    

NC State AFL-CIO Members and Community Organizations
What:    Rally for Health Care Justice and Workers' Rights
When:   Thursday, Sept. 7, 2023, 4 p.m. to 5 p.m.
Where:  Downtown Asheville's Pack Square Park at South Pack Square and
              Biltmore Ave.
Interviews will be available at the event.
"We're rallying to show bosses like HCA that we're fighting for our own rights and for health care justice," said Hannah Drummond, RN. "Health care justice means my patients don't wait in the ambulance bay for hours to be seen. Health care justice means my patients don't have to be lined up in hallway beds because of HCA's unwillingness to staff our hospital."
 "Labor is coming to Western North Carolina, and we are going to join with our community to support each other, worker-to-worker," said Rick Sluder of IBEW Local 238. "All workers from all professions deserve higher wages, greater benefits, guaranteed and consistent schedules, and most importantly, the right to organize collectively."
"Food and service workers are fighting to transform the service industry's low-wage, high-turnover jobs into good union jobs," said Jamey Gunter of USSW. "We can't even afford to live in the community where we work, and that is exactly why Asheville food and beverage workers are forming together as a union."
Rally sponsors include the NC State AFL-CIO, NNOC/NNU, IBEW Local 238, Asheville Food and Beverage United, the Western North Carolina Central Labor Council, and Just Economics, a coalition of labor, faith, and community groups focused on economic justice.
NNOC/NNU, the country's largest nurse union, represents more than 1,500 registered nurses at Mission Hospital.
---
National Nurses United is the largest and fastest-growing union and professional association of registered nurses in the United States with nearly 225,000 members nationwide. NNU affiliates include California Nurses Association, DC Nurses Association, Michigan Nurses Association, Minnesota Nurses Association, National Nurses Organizing Committee, and New York State Nurses Association.