Press Release
Arcata City Council Votes Unanimously to Support Healthy California Act SB 562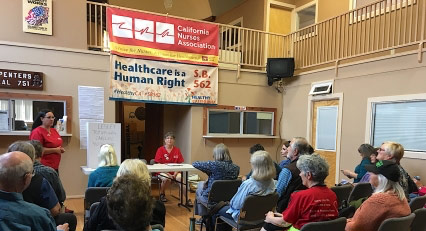 Eureka, Blue Lake and Manila CSD Also Call On Assemblymember Jim Wood and State Senator Mike McGuire to Support Single-payer Bill
The Arcata City Council voted unanimously Wednesday night to support SB 562 - the Healthy California Act, a bill that would guarantee healthcare, including comprehensive dental care, to all California residents, slash patient and family costs for care, and ensure real patient choice.
The Arcata City Council SB 562 endorsement follows the passage of similar resolutions throughout Humboldt County, including by the Eureka and Blue Lake City Councils in November and by the Manila Community Services District Board Tuesday.
"These resolutions send a clear message to our state legislators, Assemblymember Jim Wood and State Senator Mike McGuire, that it is their job to represent the will of their constituents by supporting SB 562," said Kathryn Donahue, who retired after working for 28 years at St. Joseph Hospital as an RN in the ICU, and now dedicates her time to advocating for quality healthcare for all. "As the chair of the Assembly Health Committee, Wood has a pivotal role to play in breaking the legislative logjam and moving this bill forward. That's his responsibility and we are holding him accountable for that."
The resolutions express support for the Healthy California Act SB 562 in light of Congressional and White House actions threatening to dismantle the Affordable Care Act (ACA) and also note that, despite advances under the ACA, premiums, deductibles and co-pays are still rising and many Californians remain under-insured or uninsured.
The single payer bill would be a boon to Humboldt County, and other rural counties, by bringing new health care dollars into the region to support much needed expanded access to providers and treatment, including for opioid, alcohol, and drug dependency, which is a big problem in Humboldt County, say advocates.
The recently passed resolutions also state that SB 562 would "provide an equity of service for rural communities while enhancing family unification and the freedom to choose where to reside without the fear of un-affordable or un-accessible healthcare coverage, and would reduce significant barriers to living, working and starting a business in rural California while encouraging entrepreneurial, economic independence and small business enterprise."
Since the introduction of SB 562 this past year, a growing coalition of organizations have been organizing support for the bill in Humboldt County through door-to-door canvassing, town halls and rallies, and the introduction of resolutions like the one passed in Arcata this week. The coalition includes: Humboldt/DelNorte Central Labor Council, Green Party, North Coast People's Alliance, Health Care for All Humboldt (HCA), California Nurses Association, and the Physicians for a National Health Plan (PNHP).