Press Release
AR Gould nurses deliver May Day basket on International Workers' Day to demand improved staffing for patient safety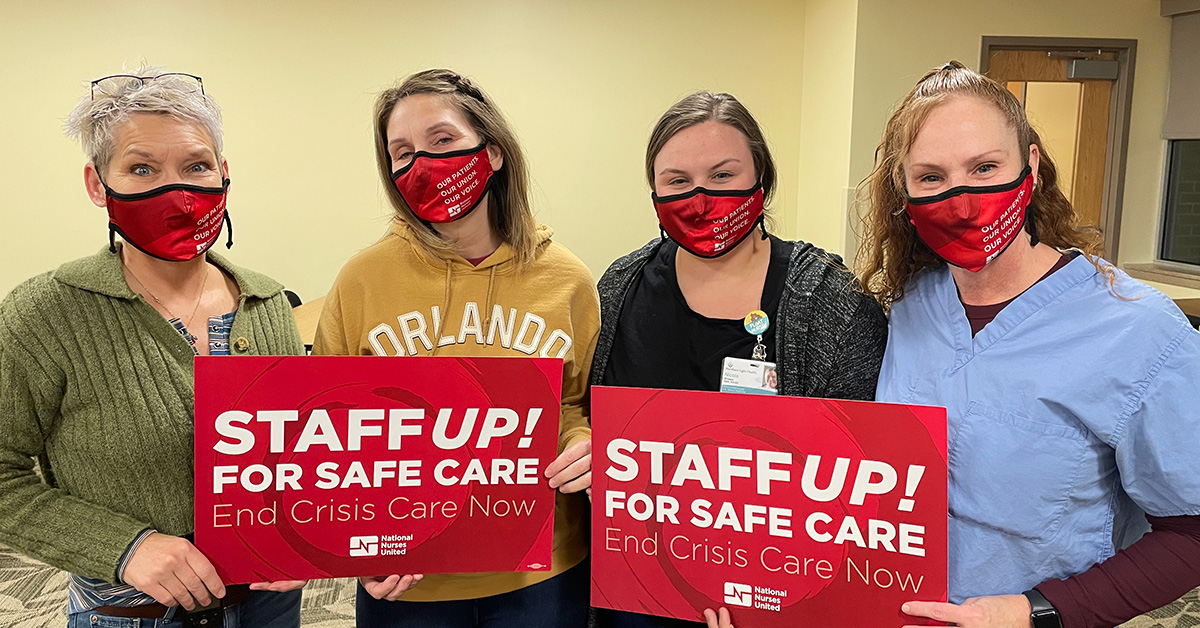 Union nurses at Northern Light AR Gould Hospital delivered a May Day basket today to AR Gould CEO Greg LaFrancois to demand movement at the bargaining table on issues involving safe staffing and staff retention in order to deliver patients the care our community deserves. Nurses at the hospital each placed their name on a flower in the May Day basket to show their support and determination to address these issues in a strong contract.
"The last couple of years have been an absolute challenge in the hospital," said chief steward and bargaining team member Lori McPherson, RN in the recovery unit. "We've had vacancies unfilled and we're working short, while at the same time treating sicker patients. This has left us scrambling to provide basic care and created safety issues."
"These issues can and must be addressed by retaining nurses, attracting nurses back into the hospital, and making sure the hospital is staffing appropriately," continued McPherson. "There is no nursing shortage, but there is a shortage of nurses who are willing to work under current conditions. The same environment that provides high-quality patient care is also the environment that nurses want to come to work in."
The union and hospital began negotiations in early February. The nurses' contract expired in early March.
"We've all seen so many fellow nurses leave because of the environment," said bargaining team member Nicole Bridges, RN in the float pool. "Nurses signed up to provide top care to their patients. When you have too many patients to provide the care you want to, there is a real moral injury that drives nurses away from the hospital setting and hurts the morale of nurses who remain."
"As a union, we have really focused in on the most critical issues in terms of staffing," said Bridges. "The extra support we have proposed is very reasonable and attainable and would go a long way to providing the best patient care possible."
Bargaining continues with four dates scheduled in May.
---
MSNA, the union for nurses in Maine, is affiliated with the National Nurses Organizing Committee and National Nurses United, the largest and fastest-growing labor union of registered nurses in the United States with nearly 225,000 members nationwide.