Press Release
Alhambra Hospital Medical Center nurses to hold informational picket for patient safety and safe staffing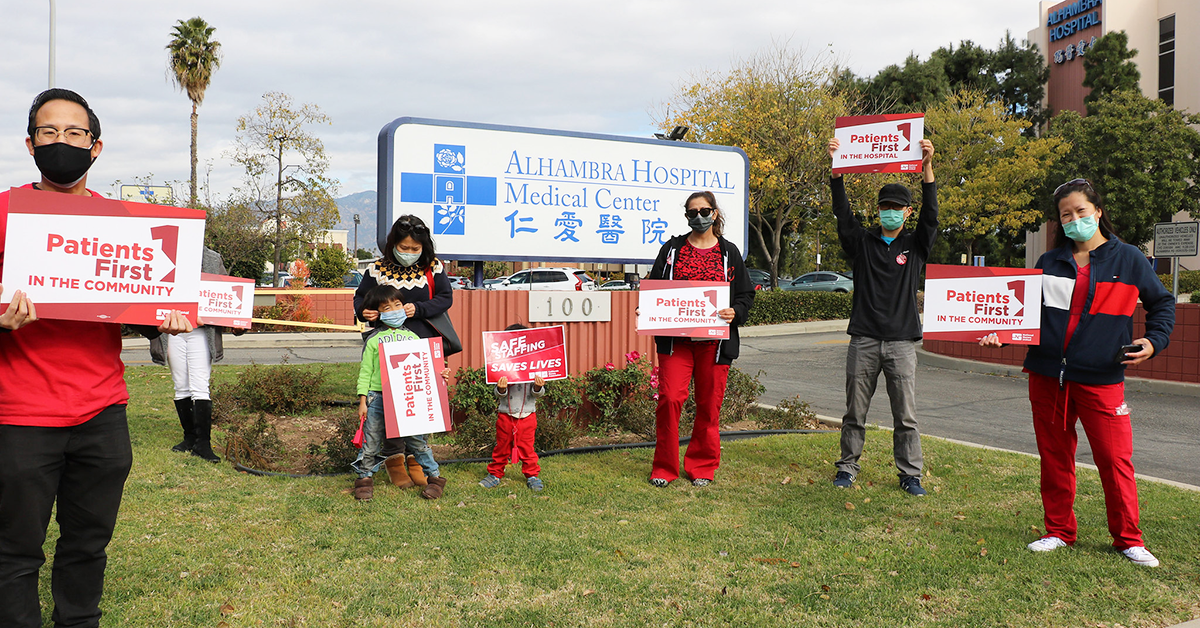 RNs demand Alhambra fulfill its promise to patients and nurses
Registered nurses at Alhambra Hospital Medical Center will hold a socially distanced informational picket on Wednesday, Dec. 22 to protest years of understaffing and ongoing patient safety concerns, announced the California Nurses Association/National Nurses United (CNA/NNU).
"Every day, nurses are told to care for 50 percent more patients than California's safe nurse-to-patient staffing ratio law allows," said ICU registered nurse Lourdes Morales. "Having 50 percent more patients means I am responsible for an unmanageable number of caregiving responsibilities, many of which are critical for safe patient care. I go home feeling guilty, exhausted, and morally distressed knowing my patients needed more. I don't feel like I'm giving the care that my patients deserve."
Nurses are demanding the hospital develop a staffing plan which includes hiring an optimal number of nurses to care for patients in accordance with California's safe-staffing law. In addition, nurses are calling on the management to invest in the recruitment and retention of qualified and experienced nurses.
What:

Registered nurses hold physically distanced informational picket for patient safety and safe staffing

When:

Wednesday, Dec. 22, 2021, 6:30 a.m. - 8:30 a.m.

Where:

Alhambra Hospital Medical Center, 100 S. Raymond Ave Alhambra CA 91801
Nurses say Alhambra administrators have ignored safe patient care ratios and can't retain RNs. 
"Over the past three years, we have seen the RN turnover rate hit 84 percent," said telemetry unit RN Sandy Ung. "We know that every time a nurse leaves our hospital, they take with them expertise, experience, and an understanding of our hospital that benefits our patients. Each day, we see the administration calling on nurses to float into units outside our scope of practice. This is not safe for the patients and leads to nurses leaving our hospital."
"We know safe nurse-to-patient staffing ratios save lives," said Zhao Chen, telemetry unit RN. "It's time the hospital stop the bleeding of experienced nurses from our hospital, stop asking for ratio waivers, and start negotiating a contract that takes a proactive approach to the staffing crisis."
CNA/NNU represents more than 150 registered nurses at Alhambra Hospital Medical Center.
CNA/NNU is the largest and fastest growing union and professional association of registered nurses in the nation with 100,000 members in more than 200 facilities throughout California and more than 175,000 RNs nationwide.