Press Release
Alhambra Hospital RNs Vote to Join CNA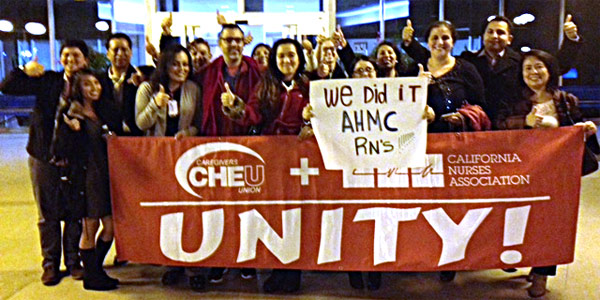 Resisting heavy-handed pressure by hospital managers, registered nurses at Alhambra Hospital Medical Center in Alhambra, Ca. voted Thursday to join the California Nurses Association/National Nurses United, CNA announced today.
The final count was 60 for CNA to 52 for the hospital administration in a secret ballot vote conducted by the National Labor Relations Board. A number of challenged ballots remain to be resolved by the NLRB. The election covers some 200 Alhambra RNs.
"I am proud of my colleagues for voting in favor of joining CNA.  It is a clear mandate that the nurses want to improve quality of patient care at Alhambra, including to improve staffing and retain experienced RNs.  Management should honor the outcome and stop violating the right of the nurses to union representation," said Alhambra RN Farah Gerami.
"We commend the courageous vote of the RNs to join CNA in the face of enormous pressure, including repeated violations of labor law protections. They are a model for nurses everywhere," said CNA Co-President Malinda Markowitz, RN.
In the days leading up to the vote, Alhambra management engaged in a number of heavy-handed tactics intended to intimidate RNs into voting against CNA, nurses say.
Those include threatening disciplinary actions as well as sustained and repeated harassment against CNA supporters, and threats of wage cuts, loss of health benefits and work hours, and even closure of the hospital if nurses vote for the union. CNA has filed unfair labor practices charges with the NLRB.
Alhambra Hospital is part of Southern California-based AHMC Healthcare.  CNA already represents the RNs at two other small AHMC hospitals, San Gabriel Valley Medical Center and Whittier Hospital Medical Center.
RNs at Alhambra are seeking wage parity with other AHMC hospitals, a stronger voice in patient care conditions, and a contract that requires the hospital to comply with the state's mandated nurse-to-patient ratio law to protect patient safety.
Alhambra is the most profitable hospital in the AHMC system. Overall AHMC reported over $80 million in profits the past five years. 
The California Nurses Association, the largest nurses organization in California is affiliated with National Nurses United, the largest union of registered nurses in the U.S. with more than 150,000 members nationwide.  CNA/NNU plays a leadership role in safeguarding the health and safety of RNs and their patients and has won landmark legislation in the areas of staffing, safe patient handling, infectious disease and workplace violence prevention.