Press Release
Alhambra Hospital RNs ratify a new contract with improvements for patient safety and nurse retention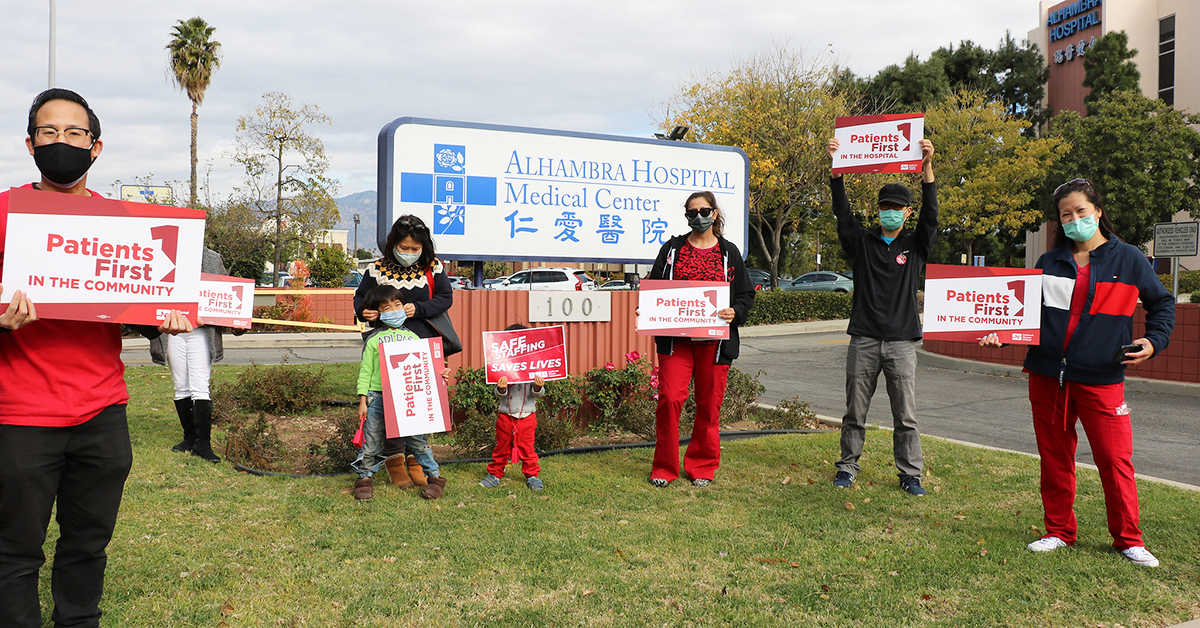 Nurses celebrate wins for patients and community 
Registered nurses at Alhambra Hospital Medical Center in Los Angeles, California, voted overwhelmingly in favor of ratifying a new three-year contract yesterday, winning protections to improve patient safety and nurse retention, the California Nurses Association (CNA) announced today. The collective bargaining agreement ratified by the nurses on Feb. 9 was the result of an almost six-month fight, which included an informational picket for patient safety and multiple other actions.
So Hee Park, an ICU RN at Alhambra, said, "We are so thrilled that after months of negotiations, we have ratified an agreement that provides substantial measures to ensure nurses feel supported and can continue to provide optimal patient care, as well as numerous provisions that will improve recruitment and retention of experienced nurses."
The contract includes several highlights that will help nurses create better outcomes for their patients, such as provisions for ensuring hospital compliance with existing registered nurse-to-patient safe staffing laws. The agreement also establishes a new Infectious Disease Task Force that will offer new protections against communicable diseases and guarantee levels of PPE supplies. The contract also expands workplace violence prevention plans for all hospital units, as well as stating that quality care be provided to all patients regardless of their immigration status.
Under the contract, nurses will also receive proper orientation when they're floated to new hospital units, improving care for patients. And, rather than being sent home at management's whims, RNs will be able to remain at work to provide meal and break relief to other nurses, bolstering safe staffing. These measures will ensure nurses are prepared to provide patients with the highest and safest levels of care possible, resulting in improved nurse retention at Alhambra, which will benefit the entire community long term.
"Thanks to the support of our union and collective action, including an informational picket and the tireless efforts of our bargaining team and Facility Council, we were able to win a contract that will help us limit turnover and improve the care we can offer our patients and the well-being of our community," said Lourde Morales, an Alhambra ICU RN. "I am particularly grateful that the employer guarantees improved meal/break coverage to ensure our patients always receive the best possible care."
Nurses also won broader nondiscrimination and harassment language, substantial pay increases over the contract's term, and holiday pay for working on Labor Day. Taken together with the new patient safety provisions, these measures will help boost RN recruitment and retention at Alhambra amid a national staffing crisis and after years of unsustainably high turnover among Alhambra's nursing staff, help keep experienced, expert nurses on staff.
CNA represents more than 150 registered nurses at Alhambra Hospital Medical Center.
CNA/National Nurses United is the largest and fastest-growing union and professional association of registered nurses in the nation with 100,000 members in more than 200 facilities throughout California and more than 175,000 RNs nationwide.