Press Release
'People's Health Committee' Convenes July 11 to Show Calif. Dems How to Guarantee Healthcare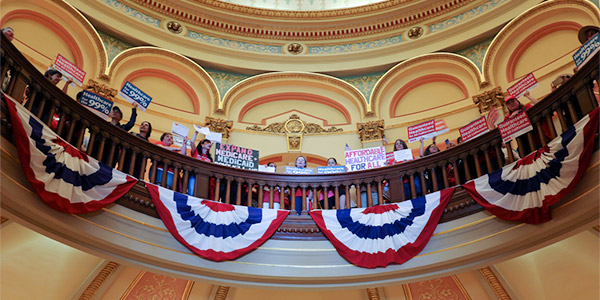 Patients, RNs, Community Conduct Own Health Committee Hearing on Stalled Healthcare Bill S.B. 562
With Assembly Speaker Anthony Rendon continuing to prevent California's single-payer healthcare bill, S.B. 562, from moving forward in the state Assembly, the Healthy California campaign—350 organizations representing more than six million Californians—will convene Tuesday, July 11 for a "People's Health Committee," featuring the people of California conducting their own health committee hearing for the stalled bill.
"Our patients cannot wait any longer while elected officials tell us it's never the right time for single payer," said Deborah Burger, RN, copresident of the California Nurses Association. "With the People's Health Committee, we're calling on California Democrats to stand up and do the work of enacting guaranteed healthcare, as a human right. The time is now, with the imperiled state of healthcare nationally, for our leaders to do all they can to protect the health of Californians."
The "People's Health Committee" will be taking place July 11, the day S.B. 562 would have gone through the health committee in the state Assembly, had it not been stalled. It will feature testimony from nurses, doctors, business owners, seniors and patients, as well as public comment on S.B. 562.
What: A People's Health Committee Hearing on S.B. 562
When: Tuesday, July 11, 12 noon to 1:30 p.m.
Where: California State Capitol, Sacramento—South Steps
"It is California's current healthcare system that is woefully incomplete," said Dr. Paul Song, cochair of the Campaign for a Healthy California—referring to Speaker Rendon's comment that S.B. 562 was "woefully incomplete."
"Nearly 3 million remain uninsured and 12 million delay seeking care because they cannot afford the copays and deductibles," said Song. "Meanwhile insurance rates have increased over 200 percent during the past 10 years, while workers, despite wage stagnation, have had to contribute more towards their own healthcare resulting in far less take home pay. Rather than suspend S.B. 562 and ignore these issues that plague Californians daily, the Speaker and the entire Legislature need to try to work with all of us to fix our broken system."
"The business sector stands to benefit enormously from S.B. 562," said Dan Geiger, codirector of the Business Alliance for a Healthy California. "As single-payer supporter Warren Buffett said, our healthcare system is 'the tapeworm of American economic competitiveness.' It must be fixed, now.
"S.B. 562 deserves to see the light of day. The Legislature should finalize the details of the bill and proceed with the democratic process. The Healthy California Act is good for California, and good for business."
The California Nurses Association sponsored a recent study by expert economists at University of Massachusetts Amherst on how to pay for S.B. 562—revealing that enacting the bill would save Californians $37 billion per year on healthcare. Thousands of everyday people have also been standing up all over the state at town halls and actions to fight for guaranteed healthcare. To that end, Tuesday's "People's Health Committee" will raise the question: Why are everyday, working people fighting harder than elected officials to protect the health of Californians?
"As nurses, we would love to be at the bedside, doing our jobs, not sponsoring the study on how to pay for single payer, not gathering in the capital advocating for our patients' very lives by demanding our legislators do THEIR jobs," said Burger. "But we will always go above and beyond for our patients, and we simply ask that California Democrats embody the same level of care about the people of California by moving forward S.B. 562."
The Healthy California Act, S.B. 562, passed the full Senate in June after a series of well-attended support rallies and town halls throughout the state, as well as marches and a packed public Senate health committee hearing in Sacramento. Advocates have continued the grassroots campaign for the bill throughout recent weeks, with canvassing in Assembly districts, including Rendon's 63rd district in Los Angeles.
State Sens. Ricardo Lara and Toni G. Atkins introduced the bill in February, joined by Sens. Benjamin Allen, Cathleen Galgiani, Mike McGuire, Nancy Skinner, and Scott Wiener as coauthors.  Assembly members Rob Bonta, David Chiu, Laura Friedman, Ash Kalra, Kevin McCarty, Adrin Nazarian, Mark Stone, and Tony Thurmond are also coauthors of the bill.
Healthy California is a coalition of 350 organizations representing more than 6 million Californians. The California Nurses Association is the largest organization of registered nurses in California, representing nearly 100,000 nurses statewide.
For more information: www.healthycaliforniaact.org