Press Release
Action at City Hall Today Calling on Mayor Young to Guarantee Baltimore's Major Non-profits Pay Their Fair Share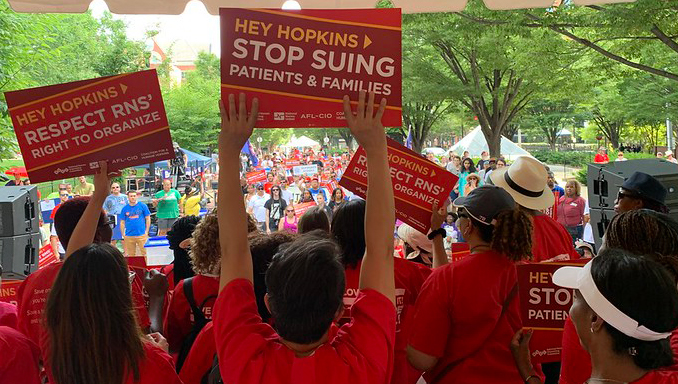 Monday Oct. 21, 2019 – 4:30 p.m.
New Report "Burdening Baltimore," Reveals Woeful Inadequacy of 2016 Non-profit Assessment Agreement
The Coalition for a Human Hopkins will deliver a letter to Mayor Young in front of City Hall today calling on him to renegotiate the 2016 "Non-profit Assessment Agreement," the city made with 15 of Baltimore's major non-profit hospitals, colleges and universities including Johns Hopkins Hospital and the University of Maryland Medical Center. The deal was originally negotiated by Mayor Stephanie Rawlings-Blake, mayor of Baltimore from 2010-2016.
The letter states that renegotiating the 2016 Payment in Lieu of Taxes (PILOT) agreement with Baltimore's medical and academic institutions would help provide "much-needed resources for the services our city so desperately needs. These needs are currently being met, as best as possible, by our organizations and community. The tax burden-most egregiously left by Johns Hopkins entities, is currently falling on homeowners, renters, and small organizations doing our best to get by." The letter notes that Baltimore's property tax rate of $2.248 per $100 in assessed value is by far the highest in the state of Maryland, at 222% of the state average.
What: Action Calling on Mayor to Renegotiate Agreement with Baltimore's Major Non-profits
When: Monday, October 21st, at 4:30 p.m.
Where: In front of Baltimore City Hall, 100 Holliday St. Baltimore, MD
"One of the most effective steps Baltimore can take to rectify the tremendous shortfalls in funding education in this city is to reopen and renegotiate Baltimore's current tax agreement with the major non-profits," said Baltimore Teachers Union President, Diamonté Brown. "These institutions absolutely can and must contribute more to ensure a brighter future for our children and our city."
A new report, "Burdening Baltimore: How Johns Hopkins Hospital and Other Not-for-Profit Hospitals, Colleges and Universities Fail to Pay their Fair Share," provides a detailed analysis of the 2016 Non-profit Assessment Agreement. The report, published by National Nurses United, notes that the methodology determining how much each Baltimore not-for-profit contributes to the combined annual sum of $6 million is not spelled out in the agreement. Nor does the agreement include any justification for the fact that the amount paid by Johns Hopkins Hospital, and Johns Hopkins Bayview Medical Center, constitutes the second to smallest percentage relative to the annual value of their tax exemptions, when compared with the other non-profits covered by the agreement.
The report concludes that the ten-year agreement "reflects poor fiscal management on the part of the city," and in light of the "corrupting influence of large not-for-profit organizations like the University of Maryland," revealed by the former mayor's Healthy Holly scandal, the agreement should be reopened and renegotiated.
"One reason Baltimore struggles is because deadbeat private hospitals, universities, and nonprofits are not paying their fair share of taxes, said Dr. Lawrence Brown, Associate Professor at Morgan State University. "To escape their tax obligations they use an alphabet soup of tax breaks, such as TIFs and PILOTs. The mayor must hold these deadbeat institutions accountable to ensure that Baltimore City has adequate resources for public schools and affordable housing, and for eliminating toxic lead exposures in the environment."
"The neighborhoods that these institutions claim to support, and that they use for research opportunities are consistently left behind," said Gretchen Tome, Runners4Justice. "If they truly want to strengthen the Black Butterfly neighborhoods, they must pay more of their fair share to our tax base and our elected officials, starting with the mayor, must show leadership to make this happen."
The letter to Mayor Young is signed by:
Maryland Consumer Rights Commission (MCRC)
Baltimore Housing Roundtable
National Nurses United
Baltimore Teachers Union
United Workers
Charm City Land Trust
Carol Ott, Tenant Advocacy Director, Fair Housing Action Center of Maryland
The Maryland Legislative Coalition
Oak Hill Center 
Dr. Lawrence Brown, PHD Associate Professor, Morgan State University
Coalition for a Humane Hopkins
Greater Baltimore DSA
Maryland Poor People's Campaign
Runners4Justice
Baltimore City Green Party
SEIU 500
Baltimore Non-Violent Center
SURJ (Showing Up For Racial Justice)
MD Food and Water Watch
Housing our Neighbors
Dr. Marisela Gomez, MD, PHD Social Health Concepts
Progressive Maryland
To view new report, "Burdening Baltimore: How Johns Hopkins Hospital and Other Not-for-Profit Hospitals, Colleges and Universities Fail to Pay their Fair Share," click here.