Press Release
60-80% of Insurance Denials Overturned or Reversed When Taken to Independent Medical Review – New Data

How to Stop Insurance Corporation Denials? Single Payer- SB 562
From 60 percent to 80 percent of health insurance denials are reversed by independent medical review by the California Department of Managed Health Care – according to data released today by the California Nurses Association/National Nurses United.
In 2016 alone, the most recent year for which the data, insurers file with the DCMHC:
60 percent of cases insurers denied as "not medically necessary" were either overturned by CDMCH independent medical review or ultimately reversed by the insurer.
80 percent of cases insurers denied as "experimental" or "investigational" were overturned or reversed by the insurer.
52 percent of cases where insurers refused to authorize payment for emergency or urgent care provided to a patient were overturned or reversed by the insurer.
"Patient care denials are Exhibit A in how big insurance corporations amass huge profits by collecting premiums and then refusing to authorize needed care when recommended by a physician," noted CNA Co-President Deborah Burger, RN. "It is the purest example of how insurance companies prioritize their bottom line over patient need."
"Our insurance/profit based healthcare system is fatally flawed. It works for highly paid executives, but not for the rest of us," said Burger.
"California can end this behavior and protect our families and neighbors by changing to a system based on patient need, as proposed by SB 562 which would guarantee coverage for everyone and eliminate premiums, deductibles, and insurance denials. The Assembly should act on the bill now."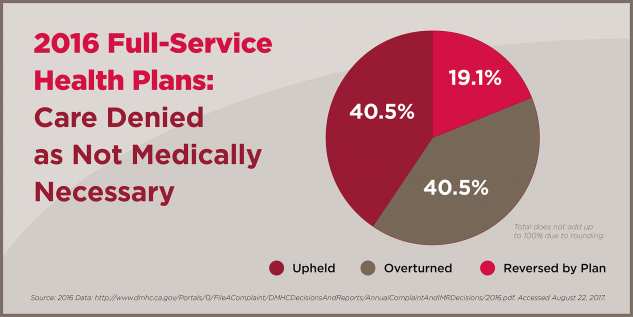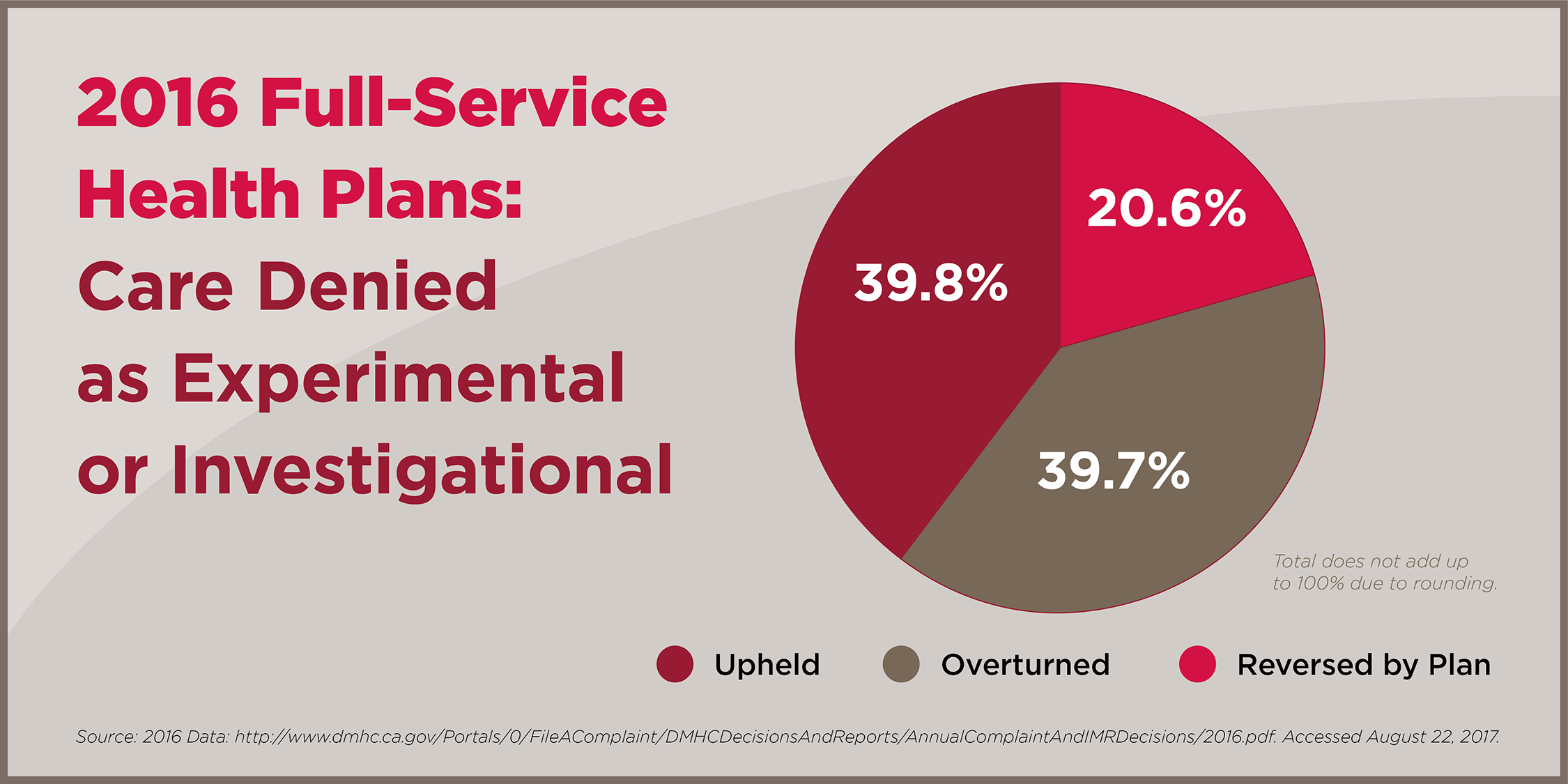 The independent medical review process is triggered after the insurer has denied a specific medical treatment, diagnostic test, referral to a specialist, or a certain prescription medication. First the patient most often has to file a grievance or appeal with the insurer, and allow 30 days for it to be processed, and if still denied may file a DMHC complaint.
A system rife with abuse
In most cases, members must first file a grievance with their insurer and allow 30 days for it to be processed before filing for an independent medical review. Yet, grievance systems are rife with abuse, says CNA, such as failure to establish a grievance system, failure to respond to patients in a timely manner, and similar violations. For the largest insurers, those with more than 400,000 enrollees, 64 percent of violations with monetary penalties were related to the insurer's improper grievance process.
"It's deliberately an arduous, burdensome process, buried in insurance fine print so that many patients are either unaware that they can appeal a care denial, or get so frustrated by the lengthy delay and bureaucracy that they stop fighting. That's the disgraceful game that insurance companies play with people's lives," Burger said.
For years, California insurers were required to report total numbers of claims denials, until CNA researchers uncovered that data and published findings that from 2002 through 2010, the state's largest insurance companies denied 26 percent of all claims.
After several media reported the data, state officials stopped requiring insurers to report it, presumably as a direct result of complaints by the insurance industry, which continues to hold enormous sway in Sacramento.
But, the enormous percent of denials overturned by independent medical review, "makes it abundantly clear this outrageous abuse has continued," Burger said.
In some especially egregious cases, CDMHC will impose fines on insurers for a care denial. In November, 2017, the agency fined the mega insurance corporation Anthem Blue Cross $5 million for what California Healthline characterized as "systemic violations and a long history of flouting the law" in trampling on consumer grievances.
But the penalties are "little more than a slap on the wrist," said Burger, "given the enormous profits the insurers reap by denying essential care."
CNA researchers found that from 2012 through 2016, average insurance profits were 1,389 times larger than penalties doled out. For that period, the state handed out $3.7 million in fines while insurers made over $5.2 billion in profits.
Anthem was the worst offender in this time frame, noted CNA. It's 2015 penalties, for example, were less than .02 percent of its expenses. A case study of an Anthem denial appeared in Vox last week.
A Kentucky woman in excruciating pain she thought was appendicitis went to an emergency room. After tests concluded it was ovarian cysts, Anthem refused to pay the $12,000 bill, telling her she had to pay it, then denied it a second time, only paying after grilled by a reporter. And, Anthem has initiated a new policy in several states of only paying for emergency visits under very limited conditions, such as heart attack or stroke.