Press Release
1,300 RNs to Begin 4-day Kaiser Los Angeles Strike Thursday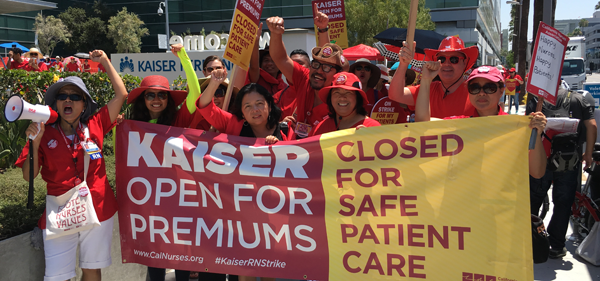 Nurses Call on Kaiser to Improve Staffing and Invest its $1.9 Billion in Profits Last Year into Patient Care
Some 1,300 registered nurses are set to begin a four-day strike Thursday at Kaiser Permanente's flagship Los Angeles hospital, continuing their campaign to insist the hospital/health insurance giant improve staffing for safer patient care.
Los Angeles Medical Center (Kaiser Permanente) Strike Schedule:
Four-day Strike – picketing begins 7 a.m. Thursday, June 23, 4867 Sunset Blvd., Los Angeles
Strike Rallies – Thursday, June 23, 12 noon; Sunday, June 26, 12 noon, 4867 Sunset Blvd., Los Angeles
Strike Ends – 7 a.m. Monday, June 27
See images of the strike on our Flickr album
No negotiations are currently scheduled. The RNs, who are members of the California Nurses Association/National Nurses United, are seeking a contract that will improve staffing to protect patient care as well as economic gains that will promote retention of experienced RNs and boost recruitment of new nurses.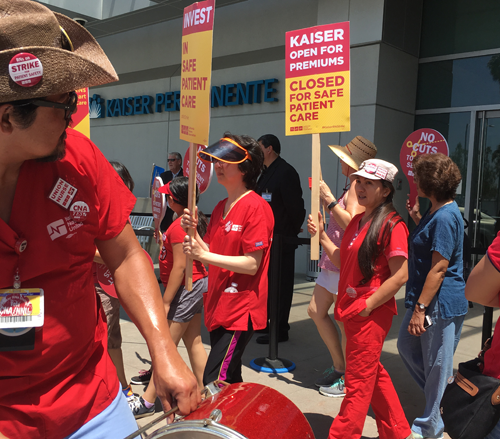 Inadequate staffing for the hospital's Tertiary Care center, short staffing for critically ill children in the hospital's Pediatric Intensive Care Unit, and lack of proper staffing to allow nurses to take rest and meal breaks are at the heart of the dispute.
"Within the last year nurses have reported to Kaiser executives over 500 incidences of unsafe staffing at Kaiser Los Angeles Medical Center.  We are concerned for our patients," said Tessie Costales, a critical care RN who has worked 30 years at the hospital.
"Kaiser spends millions of dollars advertising that Los Angeles Medical Center is a world class Tertiary Care Center.  Patients are transported to our hospital from Oregon, Colorado and Southern California.  Yet on most days we do not have a sufficient number of nurses to take care of our patients," said Costales.  "This needs to change."
"Many days we are so short staffed that many of us are not able to take our breaks," said Pediatric RN Sandra Hanke, who has worked at Kaiser LAMC for over nine years.
"This is dangerous for our patients and the profession of nurses.  Kaiser made $1.9 billion in profits last year.  When are they going to invest those dollars from the community back into the community?"  Hanke added.
LAMC's Pediatric ICU receives critically ill children from all over Southern California and yet is so short staffed that on a daily basis many there are so understaffed that nurses frequently are not able to take their breaks. Nurses are also seeking equitable wages with other CNA/NNU represented Kaiser RNs in Northern and Central California.
"This hospital is not just a place I work.  The patients and my fellow nurses are my community.  I am very disappointed that Kaiser refuses to invest in the nurses, so that our patients can get the care they need," adds LAMC RN Irma Dufelmeir.