Press Release
11,000 Veterans Affairs Nurses Ratify Contract at 23 Hospitals Across the Nation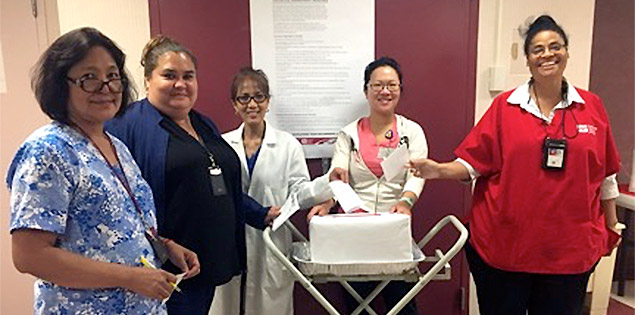 Registered nurses with National Nurses Organizing Committee/National Nurses United (NNOC/NNU), at the Department of Veterans Affairs (VA), voted by a 99% margin to ratify a new three-year contract. The contract, covering more than 11,000 registered nurses at 23 hospitals, features workplace violence protections, infectious disease training and emergency preparedness information for nurses.
"I am very excited about the workplace safety provisions that will improve the safety of our nurses and protect them from violence and injury," says Irma Westmoreland, registered nurse and National Nurses United board member. "Registered nurses have the right to work in an environment free of inappropriate behavior such as intimidation, harassment, bullying, whether from employees, patients or visitors.  Thanks to this contract, if an RN is physically assaulted, the VA will move to prevent further assaults. Furthermore, the VA has vowed to put workplace violence protection plans in place immediately."
Other highlights of the contract will help retain and recruit high quality nurses to the VA. Those included provisions which allow nurses to discuss health and safety concerns regarding the safety, functionality and quality of equipment, and the ability to use their accrued vacation time in a timely manner.
"This will certainly go a long way in keeping experienced nurses in the VA, as well as recruiting well-trained nurses," says Kenny McCall, RN, and a 20 year Air Force veteran. 
The contract agreement comes as NNOC/NNU and other union workers join with veterans to keep the moneyed interests from privatizing the VA and to stop the attacks on unions.
In June, President Trump signed into law the MISSION Act, which bolsters the ongoing effort by some in government to push veterans out of the VA and into the private sector. Some of those moneyed interests were unveiled publicly in August, when ProPublica reported on the "Mar-a-Lago council," a group of wealthy businessmen who were helping the Trump Administration shape VA policy.
Earlier this summer, the President issued a set of executive orders that sought to strip federal employees of their hard won-union rights. His move was later overturned in court.  In the decision, U.S. District Judge Kentanji Brown Jackson wrote the President is not authorized to issue executive orders that "eviscerate the right to bargain collectively as envisioned" by the federal labor-management relations statute.
"I am very proud that our bargaining team was able to secure this contract," says McCall. "Nurses need to feel that they are supported, and their rights respected in order to be best suited to advocate for our patients." 
The NNOC/NNU ratified contract is now before the Secretary of Veterans Affairs. The secretary has 30 days to approve the contract. The secretary is only allowed to disapprove the contract if it violates the law.