NNU Endorses Bernie Sanders for President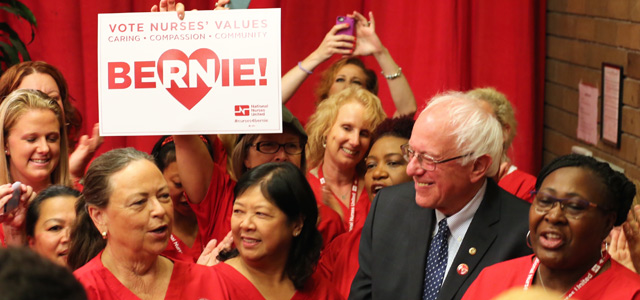 A champion of nurses, patients, and the people:

NNU Endorses Bernie Sanders for President
Hundreds of you gathered at NNU's Oakland offices Monday, and thousands more joined virtually, for a historic conversation with Bernie Sanders. In an hour-long Q&A, Sanders proved that on a broad spectrum of issues—including fighting for federal staffing ratios, championing healthcare for all, protecting VA nurses' rights and ending economic injustice—his values are nurses' values.
That's why we are pleased to announce that NNU has officially endorsed Bernie Sanders for president of the United States.
"What Bernie Sanders' campaign represents is an opportunity to not just speak truth to power, but to join movements together to change our country," said National Nurses United Executive Director RoseAnn DeMoro. "His issues align with nurses from top to bottom."
Sanders replied, "I am honored to have the support of the largest nurse's union in this country! Year after year, I have been proud to work with National Nurses United fighting to expand Medicare, to address the nursing shortage in this country, and to make sure that nurses at the VA and all over this country have the right to collectively bargain for decent wages and benefits, among many other things."
The NNU Executive Council voted to endorse Sanders, based on:
Sanders' long history of support for NNU, nurses and patients,
A 100 percent scorecard on a questionnaire NNU sent to all the Democratic and Republican Presidential candidates,
Overwhelming support for Sanders among NNU members in an internal poll, and
Sanders' response to issues before the AFL-CIO Executive Council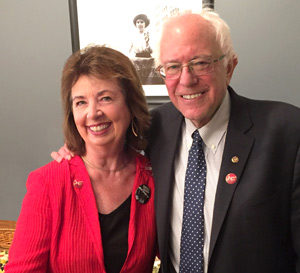 NNU Executive Director RoseAnn DeMoro with NNU-endorsed candidate Bernie Sanders.
"There is no other legislator who represents the same humanity, the same courage," DeMoro said, adding that for his track record of supporting the issues that matter most to nurses, the public and the planet, NNU is proud to endorse Sanders as a "president for all people."
Want to know more? Check out the links below:
Couldn't participate today—but wanted to?  It's not too late!
You can tweet support using the hashtag #Nurses4Bernie