News
Unionized Nurses at EMMC Vote to Authorize Strike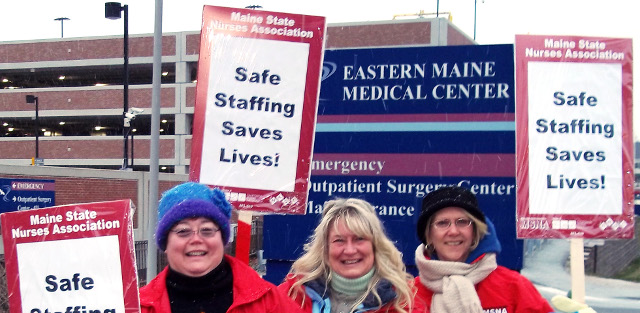 Unionized nurses at Eastern Maine Medical Center voted Thursday to authorize a strike if the hospital fails to better address their patient safety concerns, including "unsafe staffing."
The registered nurses are working under a contract extended through June 18, after their original contract expired on May 30, according to a news release from the Maine State Nurses Association/National Nurses Organizing Committee. The next bargaining session is scheduled for June 10.
The union represents about 800 nurses at EMMC.
The nurses said the new contract must address "critical issues impacting patient safety," to reduce injuries, infections and bedsores among patients treated at the hospital. Unionized nurses voted "overwhelmingly" to prepare to strike if "management continues to turn a blind eye to patient safety," according to the release.
"As nurses, our first priority is our patients," EMCC nurse Steve Akerley said in the release. "While we would always prefer to be providing care, at the bedside, the reason nurses voted to authorize a potential strike is because management is putting our patients' lives and health in jeopardy. We cannot stand by and let that happen."
The nurses union noted that the Medicare program penalized the hospital for high rates of complications and infections. Medicare cut payments to EMMC, along with five other Maine hospitals, by one percent this fiscal year as part of the government's nationwide crackdown on avoidable medical errors.
Improved staffing would reduce such errors, the union argued. As of late May, 39 registered nurse positions remained open at EMMC. Without a secure contract, the hospital has struggled to recruit and retain nurses, the union said.
Along with staffing, the union is also negotiating with the hospital on wages, benefits and other working conditions.
EMMC nurses have walked the picket line before. Union members ratified a one-year contract in May 2011 after eight months of often contentious negotiations that included a strike, work stoppage and lockout, with threats of a second strike and lockout. Even after ratifying the last contract, nurses said staffing remained a sticking point.
EMMC said during the last round of negotiations that setting strict patient-nurse staffing ratios, as the union wanted, would hamstring the hospital in adapting to fluctuating patient volumes and finances.
That three-year contract granted the nurses raises of at least 7 percent and beefed up security at the hospital.
EMMC did not immediately respond with comment.
Original post: http://bangordailynews.com/2015/06/05/health/unionized-nurses-at-emmc-vote-to-authorize-strike/