News
Nurses union readies push for Medicare for All bill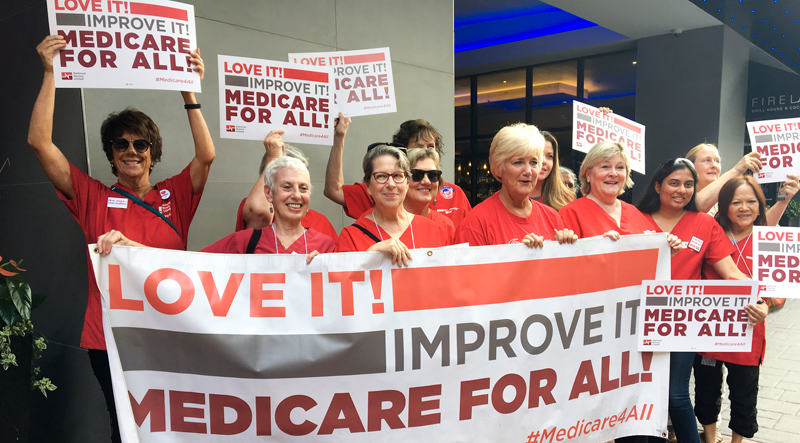 House Democratic leaders' efforts to avoid a messy fight over Medicare for All may be put to the test by a 150,000-member national nurses union that's mounting a campaign to force the issue to the top of lawmakers' to-do list. 
The union starting Monday will recruit volunteers in key congressional districts for anticipated rallies, phone-banking and other activities promoting a House Medicare for All bill and the need for hearings. 
"We need those ground troops to have the level of pressure needed to achieve a meaningful level of reform in this country," Bonnie Castillo, executive director of National Nurses United, told POLITICO. "The amount of suffering has gotten to be intolerable." 
Though House Democratic leadership has already announced hearings on the single-payer proposal in the Rules and Budget committees, there have been no commitments from the key health committees, Ways and Means and Energy and Commerce. The union's effort will primarily target lawmakers who sit on those committees. 
Middle school teacher Kent Haines in Birmingham, Ala., for example, will host a gathering next week to recruit community members to petition Ways and Means member Terri Sewell (D-Ala.) to endorse the policy. 
"She has to hear from enough of us that this is an issue motivating people in her district," Haines said. "She may feel like it's not politically viable, so we have to show her that it's a priority for her constituents." 
With the GOP-controlled Senate is opposed to advancing any expansion of public health insurance, House Democratic leaders are wary of making vulnerable members take a tough vote on a Medicare for All bill that has no chance of being enacted. Democratic leadership is especially sensitive to the needs of members representing swing districts that flipped blue in the midterm election. 
Aware of this dynamic, National Nurses United is also targeting some of those red-to-blue districts — including Pennsylvania's 7th congressional district, where Democrat Susan Wild won the seat of Republican Rep. Charlie Dent after he retired last year. 
Pennsylvania activists also hope to use their swing state status to influence the Democratic presidential primary. In 2016, the nurses union endorsed Sen. Bernie Sanders, who used his campaign to launch Medicare for All from the fringes to the Democratic Party mainstream. This time around, several prominent 2020 hopefuls, including Sanders, have endorsed both Medicare for All and more incremental coverage expansion plans. 
"We want to advance candidates who understand that half-measures aren't solutions," said Phila Back, a Lehigh Valley resident working with the nurses union on the Medicare for All campaign. 
The union's barnstorming is timed to coincide with Rep. Pramila Jayapal's introduction of a revamped Medicare for All plan, and as tensions escalate within the Democratic caucus about whether to rally behind legislation that would abolish private insurance or advance other measures to expand coverage.