News
Guest commentary: Community just can't allow Thunder Road to close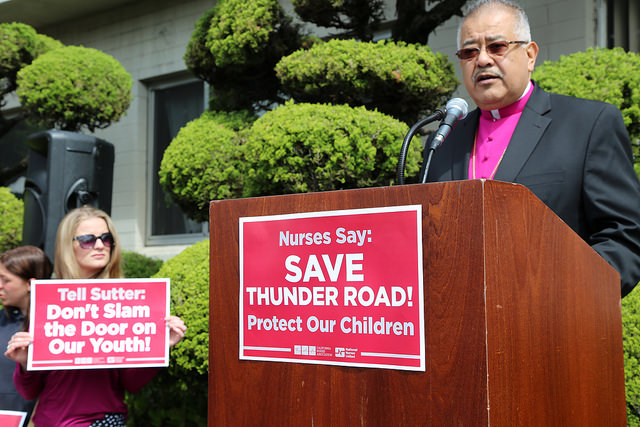 Over the past 15 years, the Alameda County Office of Education (ACOE) has partnered with the Thunder Road Adolescent Treatment Center to help thousands of youth struggling with drug and substance abuse.

For many of our youth, Thunder Road is the safest place they've ever known. It represents a safe haven where they receive wraparound assistance to help them regain control of their lives and successfully reenter their schools and communities.

As the only center of its kind in the nine-county Bay Area to serve these young people, Thunder Road is a vital resource to our community that cannot be lost.

Serving the county's most vulnerable youth is at the heart of our work at ACOE.

The 350 young people served annually by Thunder Road represent an incredibly vulnerable population that  is referred by the juvenile justice system or a medical facility when a higher level of care is needed.

The majority of these youth are from low income families or homeless, and as young as 12 years old. Youth currently served by Thunder Road are in danger of being caught in a vicious cycle of addiction and incarceration.

In conjunction with the clinical and therapeutic services provided by the residential program, ACOE operates a comprehensive educational program at Thunder Road to serve the academic needs of students while developing social-emotional learning skills.

Our program offers high school credits toward their diploma as well as job experience through Thunder Road's culinary arts program to support recovery and a healthy transition back into the community.

Thunder Road is the last facility of its kind that rehabilitates youth and empowers them to break from a dangerous cycle of addiction that affects not only them, but their families and the future of our community.

The closure of Thunder Road leaves few options for students and families in need.

As facilities serving similar populations in the greater Bay Area have dropped off the map, without this resource these youth could be forced back onto the streets or incarcerated.

To receive necessary care, our young people would have to travel hours to the nearest treatment program, pushed away from their families and community.

Keeping youth close to their families is not just more convenient, it's critical to their long term recovery and wellness.

Family engagement is an integral part of the program at Thunder Road, weaving loved ones into the healing process. Thunder Road provides a critical service that goes far beyond clinical treatment to support the hearts and minds of our youth and it's in our back yard.

We risk losing a program integrated into a strong, supportive community for 30 years.

To rebuild this level of support and service would take years. We cannot let this happen.

This is our community. These are our children. And for many, Thunder Road may be their last chance to change the trajectory of their lives.

As a vital community asset, it is our responsibility to work together to find a way to keep Thunder Road open.

L. Karen Monroe is Alameda County Superintendent of Schools.
Original post: http://www.contracostatimes.com/opinion/ci_27973765/guest-commentary:-community-just-can8217;t-allow-thunder-road-to-close