Additional Content
Program Overview
Description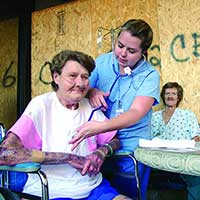 National Nurses United, in partnership with American University, is offering two Health Inequity and Care Certificate Programs, one at the undergraduate level and one at the graduate level. All classes are semester length and taught entirely online allowing nurses to easily fit classes into their busy schedules.
Rooted in social justice and structural analysis, the programs are taught by NNU educators through the Department of Anthropology, College of Arts and Sciences, but are interdisciplinary in nature. Courses draw upon subject areas such as geography, history, nursing, philosophy, political economy, public health, and sociology.
The Health Inequity and Care Certificate Programs provide nurses with new and critical approaches to cultural competency training, deepening comprehension of the structural determinants of health as well as the relationship between health inequities and technological restructuring, understood as replacing worker skills or judgment with automated equipment and computer software. The programs go beyond individual or cultural explanations of health, well-being, inequality, and justice to challenge the boundaries between healthcare and nursing practice, economic rights, and social justice advocacy. By tackling the underlying factors of health disparities, the Health Inequity and Care Certificate Programs enhance RNs' social and cultural sensitivity at the bedside and equip nurses with cutting-edge intellectual tools to study, evaluate, and fight against the structural causes of injustice in health and healthcare.
University Certificate Requirements
Five courses with grades of C or better. The courses are taught simultaneously at the undergraduate and graduate levels with additional assignments for the graduate level students. Students must have at least a 3.0 GPA in certificate courses in order to be awarded a certificate. Courses will fulfill undergraduate general education or elective requirements at most universities and colleges throughout the country. Graduate level courses also may transfer to other universities and colleges depending on the policy of the graduate program. Students not seeking a certificate may take only those courses that interest them.
Tuition and Scholarships
NNU RN members admitted to the Health Inequity and Care Certificate Programs will receive a tuition discount of twenty percent (20%). NNU members may also apply for a full-tuition scholarship for one or more courses. The online scholarship application is available here.
Testimonial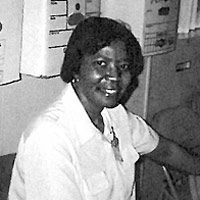 Having worked as an RN for thirty-four years, Jeanne Taverne is well-acquainted with the struggles her patients face. "Unjust social and economic policies contribute to health inequity," she says. "I have seen clients coming to our clinics that do not have access to health care because of lack of insurance. These clients need an advocate to help them navigate through the health system." Read more >>
More Information
For additional information, please email CertificatePrograms@NationalNursesUnited.Org or download our Printable Brochure.
Related Links
American University
American University, Department of Anthropology
American University, College of Arts and Sciences