Blog
Your Handy Guide to CNA Lobby Day, 2018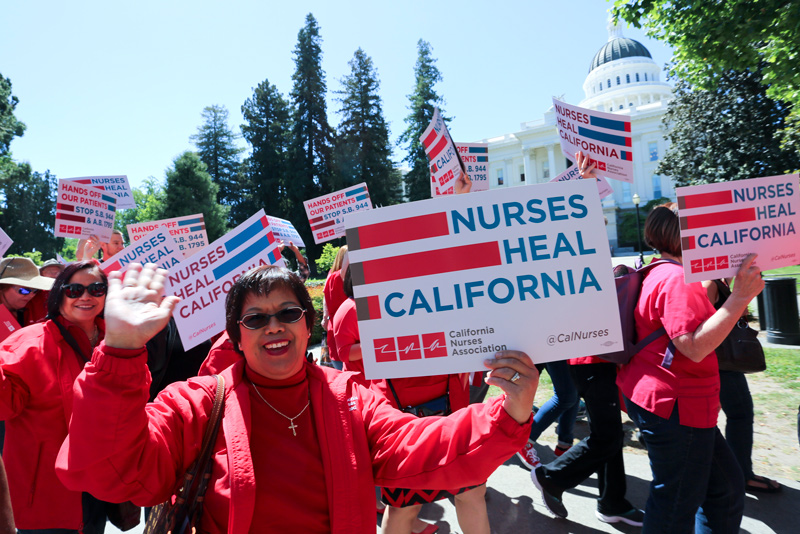 Sporting red scrub top? (And sometimes red sneakers, red earrings, and red fingernails.) Check.
Clutching red file folder filled with information about pending legislation that would help or harm patients in California? Check.
Representing the country's most trusted profession, registered nursing, and their most powerful union in California? Check.
It was just another day's work for more than 400 RNs from all corners of the state as they convened in Sacramento on May 1, the traditional May Day dedicated to honoring labor, for the California Nurses Association's annual Lobby Day. Their mission: To personally visit state representatives in the Senate and Assembly to share nursing positions and stories and ask for the elected official's support of or opposition to the bills in their red folders. 
Step 1: Like all responsible nurses, they needed to get report before clocking in for their lobbying shifts, so they first huddled in the morning at the Crest Theater to get psyched up and hear details about the three bills they would be discussing.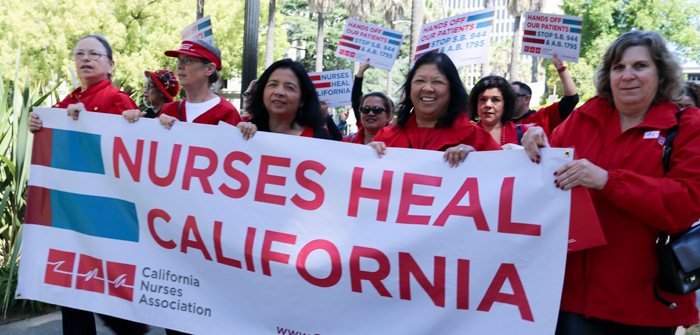 Bonnie Castillo, RN and the new executive director of CNA/NNOC as well as National Nurses United, spent a few minutes reminding the nurses why they kick ass and why the legislators should listen to what they had to say. "You have gained a reputation that is formidable, because you don't give up," said Castillo. "You are the most trusted profession in America. You are. You need to know that."
A few elected officials also came to show their love to the nurses. The California Senate's first woman president pro tempore, Toni Atkins, talked about her sister and mother in law, both nurses. Secretary of State Alex Padilla professed his love for nurses and admitted he was a little jealous of Atkins because her family has nurses. Assemblymember and state superintendent of instruction candidate Tony Thurmond told nurses that he gets the struggle of working people. "My family ate so much government cheese that I thought 'USDA' was a name brand," he joked.
The nurses then got down to business, learning details about the organization's support of A.B. 2874, authored by Thurmond, which would require hospitals to give the public longer notice before cutting services or whole facilities and make hospital closures subject to approval by the state attorney general.
They also got briefed about the organization's opposition to A.B. 1795 and S.B. 944, which would jeopardize patient safety and encroach on the RN scope of practice by allowing paramedics and EMTs to make clinical assessments out in the field about whether patients should be transported to emergency rooms or diverted to alternative treatment sites. It's not rocket science, either, to see that this arrangement basically sets up a two-tier health system for rich and poor patients: the insured go to the hospital while the uninsured or Medi-Cal patients get sent elsewhere. Pilot programs already show this.
"That's totally messed up," said Patrick Wilson, an RN who has undergone EMT training and understands how the two roles are completely different. "You don't gamble with people's lives."
Step 2: Lunchtime! Gotta make sure the nurses are well fueled and hydrated.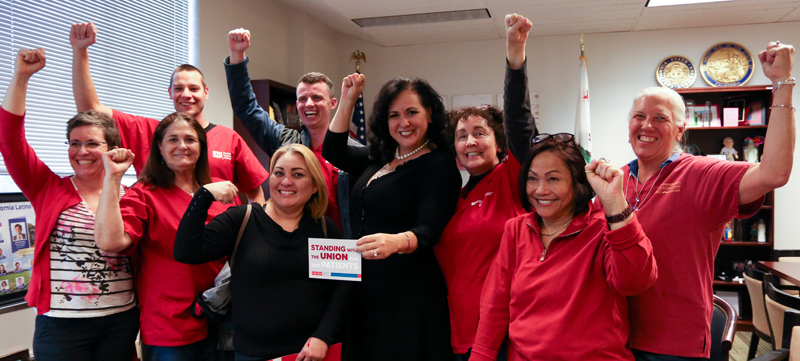 Step 3: Lobby! It was a sea of red as hundreds of nurses fanned out through the hallways, elevators, and stairwells to search out the offices of their legislators. Some legislators were obviously friendly, some sat politely or stony faced. Some nurses were lobbying pros, some were newbies. Some crowded into cubicles with legislative staffers, some sat down in conference rooms with the elected official face-to-face, and some even did their thing right in the hallway. Some were naturally eloquent, and some would passionately blurt out their comment. All spoke from the heart about protecting patient safety and health.
"I didn't know it was that easy," said Kate Echereodo, a telemetry nurse from Olympia Medical Center in Los Angeles who said she signed up to lobby for the first time because, as a new grad, she wants to say yes to and experience everything in her first year. "You just have to make an appointment and show up!"
Sounds like Echereodo is well on her way to Step 4: Signing up for next year!