Blog
Why I am striking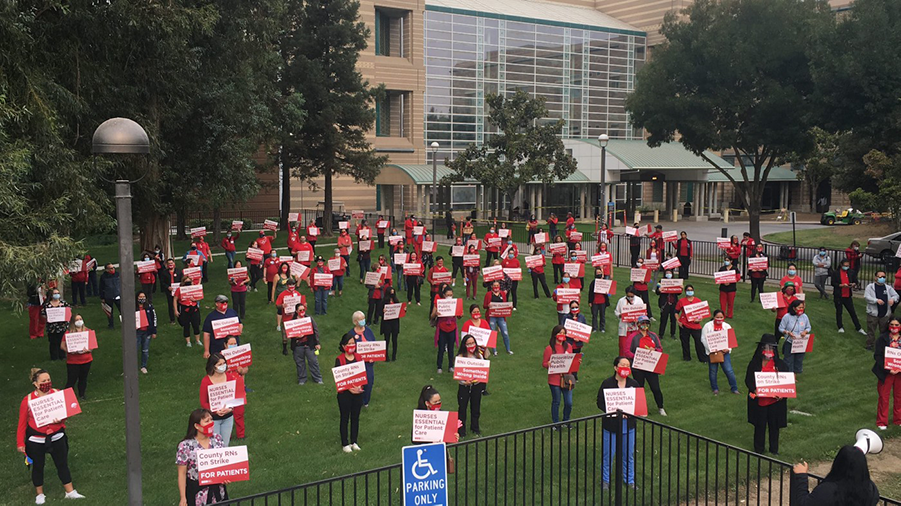 Everyone in San Joaquin County needs to know why the county's nurses are striking.
The county has $95.5 million in reserves yet the board of supervisors refuses to settle our contract. For nearly two years, county health administrators have failed to bargain in good faith and they have ignored our concerns about staffing, personal protective equipment (PPE), and safe patient care. All of this hurts the quality of medical care that you and your loved ones can expect to receive in our county facilities!
We feel undervalued and disrespected. That's why nearly 100 nurses have left since February. Instead of coming to the bargaining table, county administrators have spent millions of dollars on contract temp nurses. And we are still understaffed.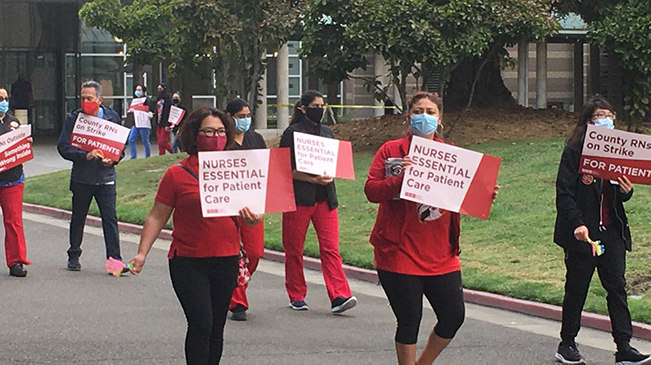 We are the nurses who work in the county's clinics, public health services, jails, and at the safety net hospital, San Joaquin General Hospital. We work for the county because we care about our community and our patients' health.
We can't recruit and retain experienced nurses without a strong contract. Retaining experienced nurses is so important to providing the best care for our patients. Experienced nurses also help train new nurses. But our wages are far behind other health care facilities in the area and the administration wants to make cuts to our contract.
Understaffing directly harms patient care. When we don't have enough nurses, we don't have enough time with each patient to provide the best care. For our hospital nurses, understaffing is particularly unsafe and puts patients in danger. In our hospital's critical care units, nurses are caring for more patients than the state's nurse staffing ratios law allows.
The county applied for a state waiver of minimum nurse-to-patient ratios, claiming the hospital met the criteria. But San Joaquin General didn't meet criteria as it continued and still continues to perform elective surgeries. In July, the hospital was granted a waiver by the California Department of Public Health. My union, California Nurses Association, has notified the hospital that it did not meet the criteria for a waiver.
Our hospital nurses face additional challenges. They are being forced to reuse single-use disposable personal protective equipment when caring for Covid-positive patients, which violates infectious disease protocol and puts nurses and patients at risk. When nurses raise concerns about safety, they are ignored at every level of county leadership, from the nursing manager all the way to the board of supervisors.
We did not make the decision to strike lightly. But the county left us with no other options. We have done everything we can to be heard. We held a town hall in September to call for the San Joaquin County Board of Supervisors to make the county's public hospital a top priority, to advance community health, and to treat health care workers with the respect they deserve. We held shift change actions in May and July, a two-day strike in March, and an informational picket in July 2019 to highlight our concerns about patient safety, staffing, and public health. But we are at an impasse, again.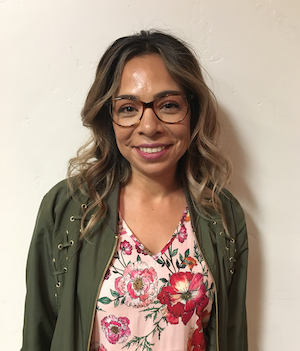 I became a public health nurse to help people. Registered nurses take the Nightingale Pledge when we graduate from nursing school. Part of that oath says, I will "devote myself to the welfare of those committed to my care."
We are committed to our patients and that is why we are striking. To date, the San Joaquin Board of Supervisors has refused to take action and address nurses' concerns. We demand that the board come to an agreement so we can fulfill our duty to stand up for what is best for our patients, our community, and ourselves.