Blog
Union Power is On the Rise, From Missouri to West Virginia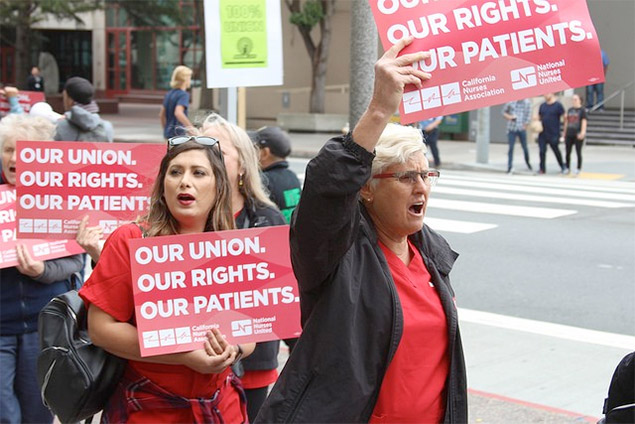 We're standing up to hold employers and elected officials accountable for protecting our right to work together.
For decades, under the outrageously misleading title "right to work," corporations and their allies have undermined workers' wages, benefits and protections by defining "freedom" as a worker's right to step away from their union.
But workers are standing up across the country. We are rising up to show corporate forces that we can define freedom for ourselves, because we know that the freedom to stand together in a union is the real source of our power and protection on the job.
Nowhere was that more obvious this week than in Missouri, where voters smashed an anti-union "right to work" law by a 2 to 1 margin. Nurses, who know that our collective voice keeps our patients safe, are proud of Missourians for standing up for workers' freedom to join a union.
And Missouri is just one recent example of union power on the rise. This year, we have already seen massive, multi-state movements of teachers striking for fair treatment, beginning in West Virginia and spreading to Oklahoma, Colorado and Arizona.
The defeat of "#RightToWork-for-Less" in Missouri is a victory for all workers!

And it's part of a growing wave of collection action happening across the US: from the Golden State to the Deep South, workers are standing together and fighting back! #UnionStrong #ThursdayThoughts pic.twitter.com/BkZ9yEm3Y5

— Bonnie Castillo (@NNUBonnie) August 9, 2018
AFL-CIO president Richard Trumka, who led the charge against the Missouri "right to work" statute, points out that, while pundits were forecasting the end for unions after a recent anti-union Supreme Court decision, "More than 260,000 workers joined unions in 2017–75% of them under 35" and "in a single week this April, 15,000 workers joined unions, from Harvard graduate assistants and Stanford nurses to JetBlue flight attendants and New Republic reporters."
National Nurses United is proud to be part of this organizing trend, with 15 hospitals and nearly 5,000 nurses and healthcare workers joining our union over the past year. NNU nurses are standing union strong, strengthening solidarity with our coworkers, knowing that for patient and RN safety, when you take on one of us, you must take on all of us.
For far too long, corporate forces have tried to hide the fact that "right to work" laws are really about unfettered corporate profits at the expense of worker health and safety. But masses of people refuse to believe their hype. Instead, we're standing up and calling the corporations out on their greed and divisiveness.
The right to act collectively in a union is what keeps American workers — and the public — safe and healthy. If Missouri and other recent events are any indication of things to come, Americans will continue to hold employers and elected officials accountable for protecting our right to work together.