Blog
The Underreported Side of the Ebola Crisis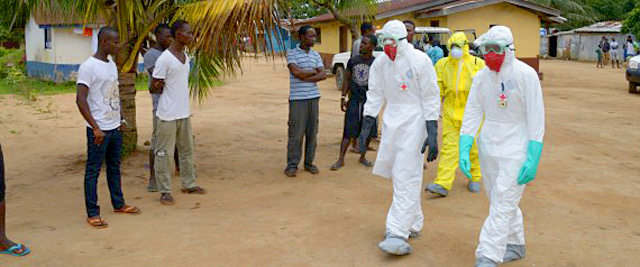 Amid the media accounts of the worst Ebola outbreak ever recorded some significant context is largely missing from the major media reporting.

Atop this list are links of the outbreak to the climate crisis and global inequality, mal-distribution of wealth, and austerity-driven cuts in public services that have greatly contributed to the rapid spread of Ebola.

Equally underreported is the inadequate disaster planning for U.S. health services and how poorly prepared U.S. hospitals are for epidemics like Ebola, other epidemics, and even natural disasters as a result of misplaced priorities in a profit-driven health care system and short sighted public health budget cuts.

Start with severely skewed, neo-liberal programs in a global economy dominated by international banks and the governments aligned with them that have starved health programs and other public services while shifting resources to transnational corporations and other wealthy interests.

Thus we have health systems in the global south teetering on the edge of collapse, unable to effectively respond to disease outbreaks, much less daily health crises, and international relief agencies begging for funds.

Even the World Health Organization, the United Nations agency who has as a prime purpose to "direct international health efforts, tackle epidemics and help in emergencies, (has been) badly weakened by budget cuts in recent years," the New York Times reported September 3.
The WHO, the Times noted has been hobbled in its ability to respond, and its "outbreak and emergency response units have been slashed" with a drain in the staff needed to help blunt Ebola and similar epidemics.

A Robin Hood Tax on the Banks Would Help

One way to reverse this trend would be further enactment of the Robin Hood tax to levy a transaction fee on the trading of stocks, bonds, derivatives and other financial instruments from the very banks and institutions that have so cratered the global economy. The proposed U.S. version is HR 1579.

Hundreds of billions of dollars would be raised by wider enactment of the Robin Hood tax, funds that could be used directly to attack under funding of health programs and poverty that contribute to the outbreaks and their rapid spread.

Robin Hood funds would also help mitigate the effects of the climate crisis, which also has links to Ebola. Drought conditions have accelerated deforestation and reduced animal habitats that have brought humans into closer contact with infected fruit bats and monkeys, and crop loss that results in more reliance on eating infected meat.

In 2008, Scientific American listed 12 major diseases likely to see upticks due to the climate crisis, including cholera, bird flu, lyme disease, yellow fever, malaria-related ailments, sleeping sickness, poisonous algal blooms, tuberculosis, plague and Ebola.

A dearth of Protective Gear for Embattled Health Workers

Inadequate funding of health resources is another major reason for the deadly shortfall of protective gear for nurses, doctors and other health workers.

Of the more than 2,000 who have already died in West Africa, about 10 percent are health workers, an "unprecedented" infection rate, says the WHO. "Health workers on the frontline are becoming infected and are dying in shocking numbers," noted Dr. Joanne Liu, president of Doctors Without Borders.

Many staff do not even have access to gloves and masks, much less full protective equipment, such as hazmat-style protective suits. Even in dedicated Ebola wards, protective gear is often scarce.

One nurse at a hospital in Monrovia, Liberia's capital, said she and her colleagues have resorted to cutting up their old uniforms or overalls and tying them on their heads. They cut holes in the fabric, so they can see.

Much of the gear must be destroyed after use, so wards need a constant flow of equipment. Doctors and nurses are overwhelmed by a surge of patients and there aren't enough hazard suits to keep them safe. Health care workers can go through thousands of the suits a week.

To protest the lack of protective equipment while risking their lives, nurses and other health workers have gone on strike in Liberia and Sierra Leone, two of the hardest hit countries.

Working directly with groups on the ground, primarily the International Medical Corps, National Nurses United, through our Registered Nurse Response Network is requesting donations to provide protective equipment for nurses. Here's how you can help:

Are We Prepared in the U.S.? No.

NNU is also warning of a dangerous lack of disaster planning and emergency preparedness in the U.S. The lack of preparation here illustrates the value we place on caring in a country that has no universal health care model and societal protection and has made profit the prime directive in healthcare.

Silence equals death was the legacy of years of neglect of the AIDS pandemic. Apparently the lesson has still not been learned.

Ebola scares have already occurred in several U.S. locales with the fears of the presence of patients who may have been exposed to the Ebola virus. While tests for those have so far proved negative, the screen has been pulled back on a disaster in waiting.

In a Sacramento, Ca. Kaiser Permanente hospital the patient who prompted the alarm there reportedly sat in the emergency room for at least a half hour without being screened or isolated.

Kaiser nurses say lack of patient screening is just one small example of a widespread failure to have in place disaster plans or training of RNs or other staff on how to handle emergencies - not just for Ebola but for other disease outbreaks, such as SARS, or natural disasters like earthquakes.

Our Interconnected World

"Like it or not we live in an interconnected world," was how Centers for Disease Control Director Tom Frieden aptly put it. Ebola is "not just a problem for West Africa, it's a problem for the world, and the world needs to respond."

An "interconnected world" where all of us are drawn together by global economics, political decisions, health and environmental crises, social structures, culture, and travel.

An "interconnected world" because factors that have spurred the spread of Ebola, the climate crisis, deforestation, cuts in public health services, poverty, and mal-distribution of wealth affect us all.

An "interconnected world" because U.S. hospitals and our fractured healthcare system are not equipped to handle an outbreak of Ebola here, or other pandemics that are sure to come.

Disasters are made not just in rural West African villages, but also in government and corporate offices, with decisions to slash public services, funding for health programs, or putting private profit over public protection

Emergency preparedness includes not cutting vital services at the behest of bankers and deficit-obsessed politicians that put millions at risk, or economic programs that leave much of the world population in poverty with few resources when disaster strikes.
Ebola Virus Fact Sheets
CDC: http://www.cdc.gov/vhf/ebola/resources/pdfs/ebola-factsheet.pdf

WHO: http://www.who.int/mediacentre/factsheets/fs103/en/