Blog
The True Price of Gas in Torrance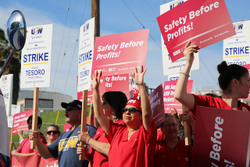 A plume of smoke blanketed the city of Torrance Wednesday, Feb. 18 after the ExxonMobil refinery explosion jolted local residents. It shook homes and schools, ripped through the city like an earthquake, injured workers, and rained ash that covered sidewalks with black soot. When nurses arrived to see the damage, the toxic air caused them nausea and choking that persisted through the day. Local authorities issued "shelter in place" warnings and asked nearby schools to stay indoors due to the health risks to children.
United Steel Workers oil workers saw this coming. They have been on strike for over twenty days at eleven refineries across the country, including the nearby Tesoro oil refinery in Carson, CA. They have been warning of the dangerous working conditions from being short-staffed and overworked. In a statement that USW released, USW International President Leo W. Gerard noted, "While employers have reaped billions of dollars in profits over the past several years, they have done little to improve conditions for workers and surrounding communities." According to the LA Times, which quoted Cal/OSHA records, the refinery has had over $100,000 in penalties for equipment and safety violations over five years of continuous inspections.
Long Beach nurses treated four workers injured from the refinery blast later that morning, but luckily those worker's injuries were minor. Unfortunately the adverse health effects on workers and surrounding communities breathing in these fumes are still to come. "Days later I can still smell the fumes," said a concerned Maria Vazquez, an RN at Providence Little Company of Mary Medical Center Torrance. "I imagine we are going to get an increase in patients admitted this weekend from those who can no longer avoid being outdoors."
"As nurses, we are very concerned about the health and safety of our community. Its members are our patients," continued Vazquez. "We see respiratory, cardio-vascular issues brought by these refineries on a daily basis." Chemicals produced by refineries are linked to cancers, reproductive issues, and lung and heart health. These gases are also linked to global warming.
The refinery in Torrance produces 155,000 barrels of crude oil a day and communities have been paying too high a price in lost health. This is the second explosion already this year, following one in Lima, Ohio. "We cannot afford preventable explosions," said Vazquez. "Nurses are demanding better safety and health standards for the workers. There's an alternative to our dependence on oil and gas. Green technology, green jobs should be the way to go."