Blog
Temple Tells Nurses: Constitution Doesn't Apply to You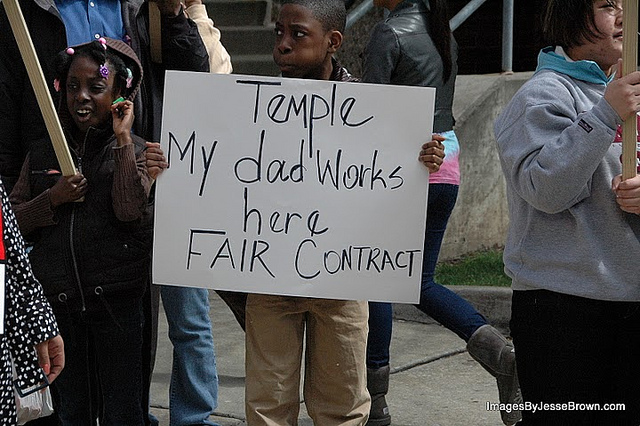 Wed Mar 31, 2010 at 05:22:18 PM PST
At the height of the rally, all 1,200 put their hands across their mouths to protest the hospital's proposed hospital gag order.  Under the hospital's last offer, individual Temple nurses and healthcare professionals could be disciplined or fired if the hospital believes they made a publicly disparaging comment about the hospital—what has become known as the "gag clause"—in other words any reporting of unsafe care or advocacy of patients.
The fallout of the gag rule was explained by PASNAP President, Patty Eakin, (an emergency department RN who has worked at Temple for two decades), in an interview in the Philadelphia City Paper last November.
What if Eakin wants to testify in Harrisburg about the dangers of low nurse-to-patient ratios, as planned? "How can I talk about that if I can't in some way reference my own workplace? They want to stifle our ability to advocate for things like that," she explained. "Clearly, we've been documenting inadequate staffing at Temple — and [administrators are] claiming, 'We need to keep things internal, and away from the public.' They want to have it both ways. 'Stay within the hospital walls and we'll fix things.' But they don't."
Safe Patient Care at Stake
Temple and conservative media want the  public to think this strike is about money. An article on the pending strike in yesterday's Temple News,, a student newspaper, garnered tons of comments mostly from Temple nurses expressing their primary motive--patient care.
A few examples:
"We are going on strike to protect the patients. Presently temple has inadequate supplies and staffing to provide the best care for there patients. But they pay their CEO's millions. If my parent was in temple I would transfer them out to another hospital."
"We work in the poorest section of the city, with the highest morbidity and mortality in Philadelphia. This community deserves people who will stand up for them and the care they deserve, because often they are not taken into account when politicians, and hospital administrators make decisions about healthcare. WE ARE THE VOICE FOR THOSE WHO HAVE NONE!! Most of our temple nurses have been at the hospital for an AVERAGE of 10-15 years and have at least 20-30 years of nursing experience within the community. We work for an organization that continuously charges the poorest, non-insured people the highest for health care."
"The nurse union is fighting for safe staffing for the patients, consistent working hours, adequate supplies and equipment, and the ability to STAND UP when we see something wrong WITHOUT threat of losing my job. It's not about money"

Temple is not afraid to spend tons of money to break the nurses
Temple banked a $23 million net profit in fiscal year 2008, so they have lots to spend. They are robo- calling nurses throughout the country and offering them $10,000 a week to work as replacements for union nurses. The scab agency they have hired at great expense has placed 850 scabs, which is 850 more than should exist.  
UPDATE: The Philadelphia Inquirer tonight also confirmed that figure, noting "the hospital's willingness to spend heavily on strike workers - advertising, through an agency, temporary positions paying as much as $10,388 a week."
The website of the primary strike breaking firm, Health Source Global. proudly proclaims the joys of strike breaking:  
"Travel with HealthSource Global Staffing and have the time of your life! We offer roundtrip airfare or mileage reimbursement and provide private housing to all of our customers."  
This is one of the largest strikes by nurses in history.  RNs  across the country send this support to the brave nurses, and we ask our allies to stand in solidarity as well.  You can:
Send Temple a message: http://templewatch.org
Call Temple President Ann Weaver Hart and tell her nurses CANNOT be silenced: 215-204-7405
Donate to Support the Temple Nurses, or follow them on Facebook/Twitter: http://templewatch.org/
We will bring you updates as we receive them...