Blog
Sutter's Fine - What Else Are They Hiding at Alta Bates?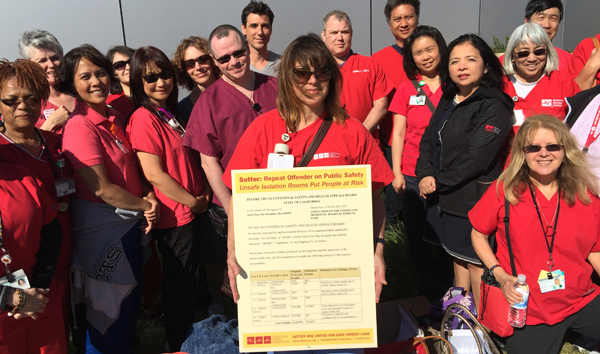 More than a dozen nurses from Sutter corporation's Alta Bates Summit Medical Center gathered outside the facility's Oakland hospital Wednesday afternoon to alert the public to ongoing safety problems at the hospital – even after it was slapped with a maximum fine by the California Division of Occupational Safety and Health (Cal/OSHA).
Cal/OSHA hit Sutter with a $71,275 fine, following a stipulated settlement, for willful safety violations for placing two dozen suspected tuberculosis patients in airborne isolation rooms that were inoperable, potentially exposing scores of staff, other patients, and visitors to TB or other serious infectious diseases.
Speaking out on the violation, Summit ICU RN Mike Hill refuted the hospitals statements to press that the Sutter management "immediately took steps to correct these violations," and that no patients or staff were put at risk."
Sutter's actions, said Hill, "could have potentially exposed" the nearly two dozen patients housed in the inoperable ICU isolation rooms surveyed by Cal/OSHA in late 2012 "and others to TB or other serious infectious diseases."
Further, hospital officials "had falsely told staff for some time prior to the investigation that the rooms were functioning properly despite engineering documentation indicating otherwise."
When the California Nurses Association alerted the media to the fine March 24, the hospital "sent out a memo to employees, physicians, and volunteers," Hill noted, "that they had immediately taken steps back in November of 2012 to correct the violations following the Cal/OSHA investigation."
But, said Hill, "the Medical Center knew long before this investigation that these rooms were not functioning and willfully chose to ignore those safety violations, exposing patients, staff and visitors. Since the citation violation (was first issued) in 2012, over two years ago, the Medical Center has taken no actions to repair these rooms to full operation and only recently made attempts to provide some additional although inadequate equipment to protect staff."
In addition to the fine – the maximum the state can levy for a "serious, willful" violation, Sutter is required to rebuilt to code the isolation room in the Summit ICU, which it has not done yet. It is also required to "provide a sufficient number of Powered Air Purifying Respirators in every unit to meet the needs of all staff so as to protect them from high hazard procedures performed on suspected or confirmed patients requiring airborne isolation."
CNA associate executive director Bonnie Castillo, RN, praised the Sutter RNs for their consistent efforts at whistleblowing safety violations in order to protect public, patient, and staff safety.
Hill also reminded nurses and the press about the history of Alta Bates Summit's safety violations. That includes a 2012 fine of $84,450 for willful misconduct in dangerously exposing staff to a serious illness that resulted in permanent disabilities for a respiratory tech and an Oakland police officer, a "2013 sewage failure that resulted in human waste dripping from the ceiling onto staff and the sewer fly infestation throughout ICU coming from the longtime non-functioning toilets."
"This continuous attitude of catch me if you can by Sutter," said Hill, "raises concerns about what other violations have yet to be uncovered at this and other Sutter facilities in the future."
"Hopefully this fine and other required actions," Hill concluded, "will put Sutter on notice that workplace safety protections need to be a top priority. These protections are in place to not only protect the staff but the patients and visitors from the community that Sutter says they are here to serve."