Blog
Support the VA Employee Fairness Act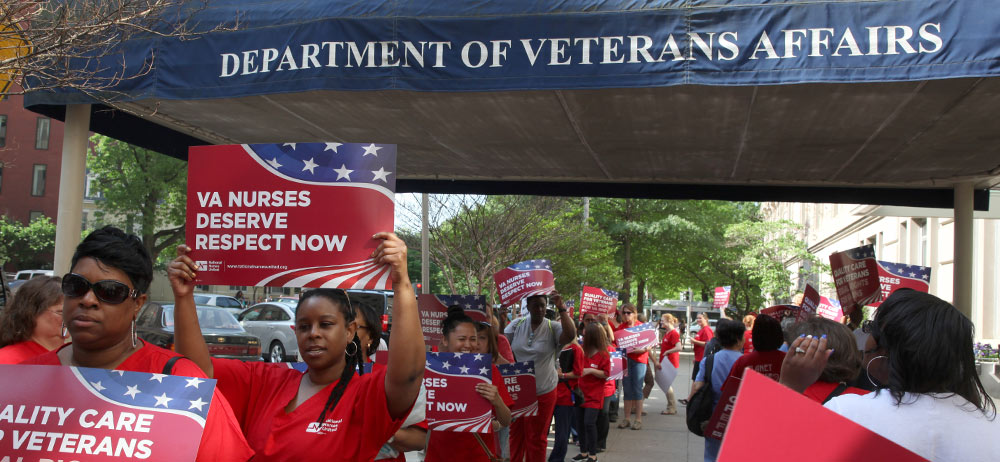 When ER nurses show up for work at the UC San Diego Hospital they don't know who will come through the door needing care; an elderly woman having a heart attack, a newborn struggling to breathe or an Alzheimer's patient, dehydrated and confused. But, they do know their employer is mandated by law to follow the California's strict nurse-to-patient ratios.
Yet across the street at San Diego's VA hospital, ER nurses have no such protections. It is not right, just or safe that ER nurses working literally yards apart do not have the same rights to fight for nurse-to-patient ratios. This is the reality for VA nurses. That is why it is imperative we support and pass the VA Employee Fairness Act now so RNs have the ability to collectively bargain for nurse to patient ratios.
The VA Employee Fairness Act is designed to give nurses at VA hospitals the same collective bargaining powers as nursing assistants, clinicians and nursing unit clerks at the VA.  The current issue centers on a piece of code: Section 7422 of Title 38 of U.S. code. Added in 1991, this code allows certain VA professionals, including nurses, to bargain collectively. Under this section, covered employees can negotiate, settle grievances, and arbitrate disputes over working conditions, except for matters concerning or arising out of professional conduct or competence, peer review, and the establishment, determination, or adjustment of compensation. Unfortunately, since the implementation of the code, the interpretation of the statute's exemptions to collective bargaining has broadened considerably, leaving registered nurses fewer meaningful collective bargaining rights. Under the current interpretation, VA nurses are not allowed to negotiate for nurse-to-patient ratios, they are not allowed to negotiate on compensation or on their pension .
These exemptions are unfortunate not just for nurses, but for patients. The collective bargaining process is key to providing healthcare that is safe and centered on the patient. Nurses, as the frontline workers in the healthcare system, are patient advocates. When their ability to speak out is threatened so is their ability to advocate for the highest quality care available for the heroic men and women who have put their lives and health on the line in defense of our country.
It is imperative that Congress supports the VA Employee Fairness Act that gives nurses the tools they need to speak up for patient safety and patient care.