Blog
Sen Sanders Joins Forces with Nurses and Students, Introduces "College For All Act"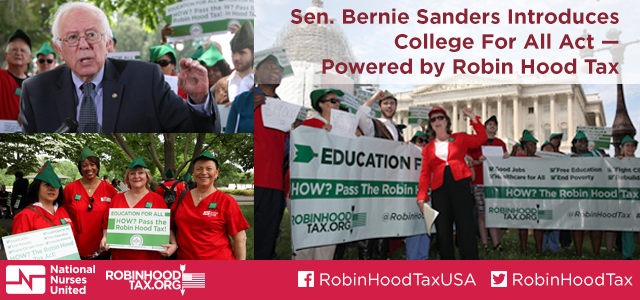 The Robin Hood Tax swooped into America's national spotlight when presidential contender Sen. Bernie Sanders joined with National Nurses United and student groups in Washington, D.C. at a press conference today to announce his introduction of two Senate bills  - the College for All Act and the Robin Hood tax bill that would levy a small tax on Wall Street financial transactions in order to fund free tuition at every public college and university in the United States, as well as slash interest rates on existing student loans.
The College for All Act and the Robin Hood Tax would set a 0.5 percent tax on most stock transactions, and a lesser tax on bond and derivative trades. Such a tax has been championed for years by NNU, the country's largest organization of registered nurses, and other healthcare and climate change groups and is already in effect in more than 40 countries around the world, including Britain, Germany, Switzerland, and China. A similar Robin Hood Tax bill, H.R. 1464, introduced by Rep. Keith Ellison, is pending in the House of Representatives. The tax is estimated to raise about $300 billion per year to fund programs such as free higher education, healthcare for all, and a reversal of climate change.
RoseAnn DeMoro, NNU's executive director, said that nurses often see the health results that a lifetime of accumulated debt, stress, and poverty cause.
"The nurses are here because we have fought long and hard for a Robin Hood Tax to fund education, healthcare, shoring up our environment, to fund everything that has to do with human suffering," said DeMoro. "Because what the nurses end up seeing at the bedside is all the unnecessary human despair and suffering when we don't have these things."
The country's young adults are currently drowning in about $1.3 trillion of student loan debt that is borrowed at rates often set higher than mortgage and car loan rates. This crushing debt is a huge burden that prevents many young people from advancing in their careers and lives, stopping them from buying a car, getting married, buying a house, or having children.
"The time is long overdue for the American Congress to start listening to the needs of the American people and not just Wall Street," said Sanders, flanked by students and registered nurses. "This is not a radical idea. Only in a Congress dominated by Wall Street and big money is this considered a radical idea
A huge student loan industry, as well as the federal government, has sprung up to service and profit off this need for loans, and student loans are currently bought and sold just like toxic mortgage debt was before the mortgage bubble burst in 2008. Some economists believe another bubble has ballooned around student debt, and is poised to pop soon, as well.
Sanders pointed out that many European nations make public secondary learning free for all qualified and willing students. Last year, Germany eliminated tuition at its public colleges. Denmark not only makes college free, but pays students to attend. In Sweden and Finland, public colleges are not only free to citizens but foreign students. Even in the United States, many public universities just a couple generations ago used to be free or at least very low cost.
Contrast that to today, when Sanders said that he cannot go anywhere in Vermont without parents coming up to him to discuss this crisis. "They come up to me and say, 'This is crazy,'" recounted Sanders. "The other day I talked to a young doctor who told me her crime, the crime of becoming a general practitioner, was $300,000 of student debt."
Some students at the press conference testified to not only the burden of graduating with major student loans, but how difficult it was to not be able to focus on their college studies while they were working two, three, four jobs to make ends meet – even with loans.
"While I was in school, I worked multiple jobs and often did not know whether I would have enough money to return to school the next semester," said Alexandra Flores-Quilty (pictured left) of the United States Student Association, a group that advocates for students. She graduated late from the University of Oregon and now owes about $20,000 in student loans as well as $30,000 to her single mom. "Education is the foundation of any country. A free education means a free society. We need Sen. Sanders legislation to make sure that education is a right, not a privilege."
Octavia Savage (pictured right), a recent accounting graduate from Bloomfield College, said that she worked day and night to afford college, on top of student loans. "When applying for college, the most important concern about college was, 'How am I going to pay for school?'" said Savage, who worked in the college library, at UPS, at Sprint, and at Wal-Mart to make ends meet and still graduated with $26,000 in debt. "Students shouldn't have to drown in debt to get the education they need to survive."
 NNU's DeMoro added, "People say, why are the nurses supporting a Robin Hood Tax? Because they experience despair and human suffering with every shift that is completely unnecessary."
Watch the Press Conference