Blog
RNs, Sierra Club survey Richmond neighborhoods on health impact of coal trains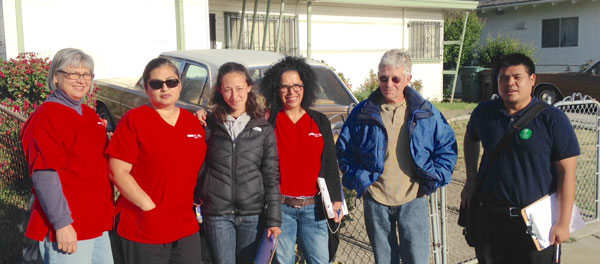 "You can't run if you can't afford to leave," says a middle-aged man with long, graying dreads. He's standing in the driveway of his home in Richmond, California. "But I do think they're trying to get rid of us, either by making us move, or by—"
His unfinished sentence hangs in the air, as he fills out a community health survey on the impact of the coal trains that are running through his neighborhood, their uncovered cars spewing toxic dust into the air.
Where is the dust coming from? Big corporations in Utah and Colorado use the rail lines to transport coal to East Bay Area shipping ports, where it can be exported to other countries as fuel. 
While moving toxic fuels means profit for corporate interests, local residents may be paying the price with their health. In addition to the trains, they also live adjacent to the Chevron refinery, which has been repeatedly cited for environmental violations. That's why RNs from the California Nurses Association have partnered with the Sierra Club on a Monday evening, to canvas Richmond's Parchester Village. They're surveying residents of the predominantly African American/Latino neighborhood for information on any health impact they may have experienced as a result of environmental toxins.
"Uncovered coal trains come in 125-car trains, twice a week, and they are polluting our community.  That's why we are doing this community health survey," says Ratha Lai, Sierra Club Conservation Coordinator and Richmond resident. "Through this, we are going to build some concrete, raw data that our elected official partners can take and advocate at the state level."
On this night, three CNA registered nurses have joined in the canvassing: Mary Roth, a Kaiser Vallejo advice nurse and 29-year Richmond resident; Johanna Lavorando, a Kaiser Richmond Medical/Surgical nurse and former Richmond resident of 8 years; and Maria Sahagun, a 10-year Richmond resident and former registered nurse at the recently closed Doctors Medical Center (DMC).
"I came out here tonight because healthcare and environmental discussion go hand in hand," says Sahagun, who wonders how residents will be treated for the symptoms they may experience as a result of the toxic trains, when the closure of DMC left a hole in access to healthcare. "West County is surrounded by these coal trains and a toxin-emitting corporation, and you removed the hospital? It's a blatant act of discrimination."
DMC closed on April 21, and now the more than 40,000 people—many of them low-income Medicare and Medi-Cal patients—who used the DMC emergency room each year are without close proximity to a hospital. Yet, as Sahagun points out, these residents are now experiencing a dearth in care, while living both in Chevron's backyard and adjacent to coal trains.
"Poor communities have to suffer such an assault on their health because of the way heavy industries are placed near them. And when we don't even have a healthcare system to help them deal with that stuff, it's really disturbing," agrees Roth, who explains that nurses wind up treating patients for asthma, heart disease and other illnesses that can be triggered by environmental toxins.
"I think it's important, from a public health point of view, for nurses to participate in community events," Lavorando adds. "With these coal trains, it's critical that we gather as much information as we can, and give it to officials who can try to change regulations.
"

Lavorando explains that at one stop during the evening's canvassing, a young father shared a lengthy list of symptoms, including vision and breathing problems. Yet, he hadn't been sure whether or not pollutants could be a factor.
"He said the doctor checked him out and told him he was okay, but he was telling us, 'I know I'm not okay,' because his chest was hurting and his throat was closing up," Lavorando says. "And his story wound up being the same story that a neighbor shared.  So again, that's why it's important as nurses to take part in these events and gather this information—to get people thinking about what kind of symptoms can be triggered by the environment."
At the end of the evening, Lai gathers the anonymous surveys to bring back to Sierra Club's offices, where they will be compiled with data gathered on future canvassing events, to eventually turn over to local and state representatives. Will the data herald change? For the RNs and the Sierra Club, a healthier community and a cleaner environment is worth the work of standing up to corporate interests.
"I'm glad someone cares. We tend to disappear," says the man filling out the form in his driveway. "I think you guys have a big fight. But it's good someone is ready to fight."