Blog
RNRN sends nurses to disaster areas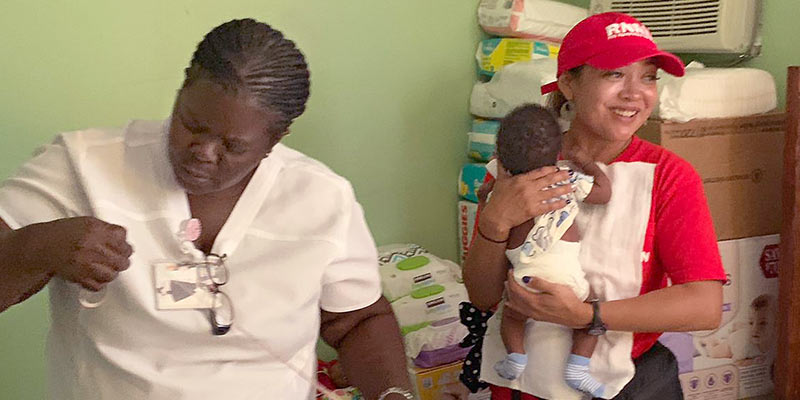 When a hurricane turns Category 5 of a massive earthquake devastates a region, it's a sure bet that the nurses of Registered Nurse Response Network are already recruiting nurse volunteers to help. A disaster relief program sponsored by National Nurses United and California Nurses Foundation, RNRN was organized in 2005 in the wake of hurricanes Katrina and Rita, which dramatically exposed America's flawed disaster relief system. RNRN volunteer nurses traveled to the devastated Gulf Coast to help provide care for the hundreds of thousands of people abandoned and without food, water, shelter, medical aid, nursing care, or even a basic evacuation plan. The program is special because it arranges for nurses to provide hand-on clinical care.
Volunteering as a nurse with the RNRN can be a life-changing experience. RNRN deployments often profoundly change a nurse's outlook on their work, said Cathy Kennedy, a registered nurse in Sacramento who has volunteered in Puerto Rico following Hurricane Maria and at shelters for asylum seekers in Texas and Arizona. "It changes the nurses' perspectives on health care, and society and humanity," said Kennedy. "They come back a different person. I came back a different person."
RNRN has a volunteer base of more than 26,000 RNs representing all U.S. states and territories as well as 21 countries around the world. RNRN nurses have cared for thousands of patients during disaster relief and humanitarian assistance deployments, including the Haiti earthquake (2010); Hurricanes Harvey and Maria (2017); Volcan de Fuego Relief in Guatemala (2018), and the Camp Fire in Butte County, Calif. (2018).
In 2019 RNRN sent teams of nurses to the Arizona border every week for six months to provide medical care to asylum seekers at a shelter in Tucson. When RNRN nurses made their assessments, they observed that while in detention, the asylum seekers did not get their basic food, water, hygiene, sleep, and medical needs met. "A 4-year-old girl we cared for was extremely dehydrated," said Kennedy. "We took her to the hospital twice because we were worried that she had an infection. She had to get IV fluids and antibiotics."
As fierce patient advocates, RNRN volunteers were shocked to witness the public health crisis at the border. The medical expertise and compassion of the RNs were sorely needed, as nearly all of the families presented with conditions ranging from upper respiratory infections to dehydration, fevers, and far worse.
Also this year RNRN sent teams of volunteer nurses to the Bahamas help the victims of Hurricane Dorian, the worst natural disaster to ever hit the Caribbean nation. RNRN volunteers learned about a man who held on to a tree for two days and then couldn't move his arms to let go when the storm finally passed. In addition to seeking medical care, people in the community often came by the clinic to talk, said Christine Grant, an RN from Washington, D.C. "Listening to what people have gone through is powerful," said Grant. "The listening itself is healing."
RNRN coordinates the deployments, provides support for volunteer nurses when disaster strikes, and takes care of everything else — including raising funds to cover airfare and lodging. With RNRN, nurses can focus on providing patient care.
The conditions during a deployment are likely to be very austere. Volunteers may sleep on cots or in sleeping bags. Depending on the type of emergency/disaster, there may be limited or no electricity, potable water, phone service, air conditioning, and other amenities. Volunteers will have to carry their own luggage and must be able to deal with stressful situations. The average deployment is between seven and ten days. To volunteer or donate to RNRN, go to nationalnursesunited.org/rnrn. 
Reprinted from the Fall 2019 issue of the BRN Report with permission from the California Board of Registered Nursing.